Traditions, folklore, history and more. If it's Irish, it's here. Or will be!
"People will not look forward to posterity who never look backward to their ancestors."
-Edmund Burke
---
Quotes

Library: Books, Movies, Music

Prints & Photos

Poetry

Jokes

---
---
Shops Ireland
---
Bunús na Gaeilge
(Basic Irish)

---
---
---
Himself/Herself
Write to Us
Readers Write..
Links/Link to Us
---
Advertise with us

---

Help keep us free
Throughout the site you will see many items available for purchase from well-known merchants such as Amazon. Not interested in what we're featuring? It doesn't matter. Click on any link and then shop for whatever you wish - we will still get credit, if you buy something.
Thanks for your help.

---
One

Michael Hartnett (b. Sep. 18, 1941 - d. Oct. 13, 1999)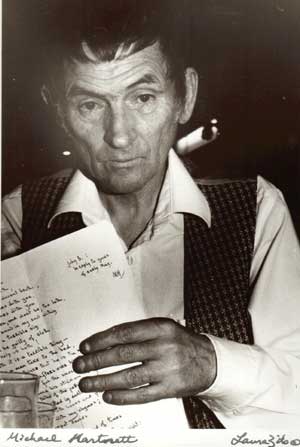 ...born in Croom or Newcastle West, Co. Limerick. He was raised in Camas by an Irish-speaking grandmother from Kerry. He attended the local primary and secondary schools in Newcastle West and went to Dublin in 1963. He studied for one year at UCD, failing in all subjects. He worked for some time on the Dublin telephone exchange (Post and Telegraph, Marlborough St.). He lived in London, and Madrid, settling in Limerick in 1974. After 1976, he was an occasional lecturer and taught creative writing at Thomond College, Limerick. He wrote Farewell to English in 1975 and then wrote in Irish only until 1985. He acted as the RTE presenter for 'Poems Plain', 1976-78; collaborated with Caitlín Maude on a play, An Lasair Choille. He won the American Ireland Literary Fund Award in 1975, 1980, and 1990.
He is survived by his partner Angela Liston, three children of his marriage to a Jewish Englishwoman and a child by a black woman living in Russia.1 Nuala Ní Dhomhnaill read at his funeral; Gallery Press issued out-of print volumes with others in his memory. The Collected Poems, prepared sometime before his death, were issued in 2002.
He left all too soon; thankfully, he left much of himself behind.

1Note: We recently received a note from Michael Hartnett's daughter providing us with much needed help.
She writes: "He was married to my Protestant mum, Rosemary - the Jew thing was a fiction that Dad liked to tell people for his own amusement and their bemusement! He only had two children with my mum, myself Lara and my brother Niall. As for the child with another woman, we are not sure!!"
I replied that he becomes more endearing the more I learn about him.

Death of an Irishwoman
by Michael Hartnett

Ignorant, in the sense
she ate monotonous food
and thought the world was flat,
and pagan, in the sense
she knew the things that moved
all night were neither dogs or cats
but hobgoblin and darkfaced men
she nevertheless had fierce pride.
But sentenced in the end
to eat thin diminishing porridge
in a stone-cold kitchen
she clenched her brittle hands
around a world
she could not understand.
I loved her from the day she died.

She was a summer dance at the crossroads.
She was a cardgame where a nose was broken.
She was a song that nobody sings.
She was a house ransacked by soldiers.
She was a language seldom spoken.
She was a child's purse, full of useless things.


We include this particular poem because Laura (see note below) mentioned that the page Michael is reading is a poem. The page also has a note : "In reply to one of yours." We can't say, but it is a thought that the poem is from Paul Durcan in reply to the following.

from Notes on My Contemporaries
The Poet as Black Sheep
for Paul Durcan
by Michael Hartnett

I have seen him dine
in middle-class surroundings,
his manners refined,
as his family around him
talk about nothing,
one of their favourite theses.

I have seen him lying
between the street and the pavement,
atoning, dying
for their sins, the fittest payment
he can make for them,
to get drunk and go to pieces.

On his father's face
in sparse lines etched out by ice,
the puritan race
has come to its zenith of grey spite,
its climax of hate,
its essence of frigidity.

Let the bourgeoisie beware,
who could not control his head
and kept it in their care
until the brain bled:
this head is a poet's head,
this head holds a galaxy.

That Actor Kiss
By Michael Hartnett

I kissed my father as he lay in bed
in the ward. Nurses walked on soles of sleep
and old men argued with themselves all day.
The seven decades locked inside his head
congealed into a timeless leaking heap,
the painter lost his sense of all but grey.
That actor kiss fell down a shaft too deep
to send back echoes that I would have prized—
'29 was' 41 was '84,
all one in his kaleidoscopic eyes
(he willed to me his bitterness and thirst,
his cold ability to close a door).
Later, over a drink, I realised
that was our last kiss and, alas, our first.


Excerpt from 'A Farewell to English'
by Michael Hartnett

This road is not new.
I am not a maker of new things.
I cannot hew
out of the vacuum-cleaner minds
the sense of serving dead kings.

I am nothing new.
I am not a lonely mouth
trying to chew
a niche for culture
in the clergy-cluttered south.

But I will not see
great men go down
who walked in rags
from town to town
finding English a necessary sin,
the perfect language to sell pigs in.

I have made my choice
and leave with little weeping.
I have come with meagre voice
to court the language of my people.


Note: The photo above is by Laura Zito, a recent internet acquaintance of ours. She is a brilliant photographer with countless fascinating pics. We hope to share much more of her work on this site and work up a way for you to have some of her photographs for yourself.
She tells me she has a photo of Michael Hartnett kicking up his heels. We will try to talk her out of a copy.

For more Poetry Click the Poetry Index.

One


Thu, Jul 9, 2015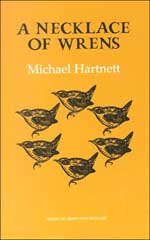 A Necklace of Wrens
by Michael Hartnett

These are bi-Language poems (Irish & English); in keeping with Hartnett's 'Farewell to English'.
In a return to the roots of bardic Ireland, Michael pursued his art (or craft, he may have said) in the company he met. Even to reciting his verse to pub patrons. He may have been paid in coin or pints; he didn't mind.
Click here for Necklace of Wrens.
---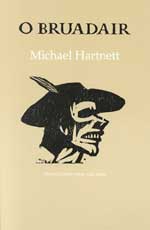 O Bruadair
Selected & Translated by Michael Hartnett

We suppose Michael selected out the bad language? There are only twenty poems extant but it is easy to understand what drew Hartnett to O'Bruadair. O'Bruadair is considered the last of the professional poets of old Ireland. He ended his days as an itinerant labourer and an itinerant poet. Michael may not have been a labourer but a poet itinerant he was - bless him.
Click here for Bruadair.
---
1000 Years of Irish Poetry: The Gaelic and Anglo Irish Poets from Pagan Times to the Present
by Kathleen Hoagland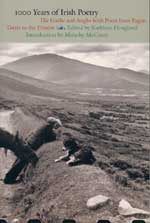 Interested in Irish Poetry?Here's the easy way to collect them all (well, almost all, anyway).
Malachy McCourt says in his introduction, "With the republication of this book, the Irish recover under their roof of stars all the great poets and writers who have been falsely claimed by the saxon crown and its minions - even our reprobates."
Amazon states this is out of stock. They still have used copies for almost nothing (except shipping - chuckle). If you would like a new edition, it was available at Powell's. We can't promise it's still there. Click here for Powell's 1000 Years.
Click here for used at Amazon.