Traditions, folklore, history and more. If it's Irish, it's here. Or will be!
"People will not look forward to posterity who never look backward to their ancestors."
-Edmund Burke
---
Quotes

Library: Books, Movies, Music

Prints & Photos

Poetry

Jokes

---
---
Shops Ireland
---
Bunús na Gaeilge
(Basic Irish)

---
---
---
Himself/Herself
Write to Us
Readers Write..
Links/Link to Us
---
Advertise with us

---

Help keep us free
Throughout the site you will see many items available for purchase from well-known merchants such as Amazon. Not interested in what we're featuring? It doesn't matter. Click on any link and then shop for whatever you wish - we will still get credit, if you buy something.
Thanks for your help.

---
Two
Edward FitzGerald (b. Mar. 31, 1809 - d. June 14, 1883)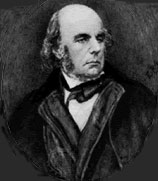 Born in Suffolk to Mary Fitzgerald and John Percell of Kilkenny. His father owned estates in England and Ireland.
Edward was educated at the King Edward Grammar School at Bury St.Edmunds and Cambridge and lived privately on a cottage on his father's estate at Boulge, and later at Woodbridge.
FitzGerald was unusually shy and had settled into the tranquillity of a wealthy man, when he took up the study of Persian with a friend, Edward Cowell. Thus, he stumbled on Omar Khayyam.

The Rubáiyát of Omar Khayyam (continued)
by Edward FitzGerald

22
For some we loved, the loveliest and the best
That from his Vintage rolling Time hath prest,
Have drunk their Cup a Round or two before,
And one by one crept silently to rest.

23
And we, that now make merry in the Room
They left, and Summer dresses in new bloom,
Ourselves must we beneath the Couch of Earth
Descend - ourselves to make a Couch - for whom?

24
Ah, make the most of what we yet may spend,
Before we too into the Dust descend;
Dust into Dust, and under Dust to lie,
Sans Wine, sans Song, sans Singer, and - sans End!

25
Alike for those who for TO-DAY prepare,
And those that after some TO-MORROW stare,
A Muezzin from the Tower of Darkness cries,
Fools! your Reward is neither Here nor There.

26
Why, all the Saints and Sages who discuss'd
Of the Two Worlds so wisely - they are thrust
Like foolish Prophets forth; their Words to Scorn
Are scatter'd, and their Mouths are stopt with Dust.

27
Myself when young did eagerly frequent
Doctor and Saint, and heard great argument
About it and about: but evermore
Came out by the same door where in I went.

28
With them the seed of Wisdom did I sow,
And with mine own hand wrought to make it grow;
And this was all the Harvest that I reap'd -
I came like Water, and like Wind I go.

29
Into this Universe, and Why not knowing
Nor Whence, like Water willy-nilly flowing;
And out of it, as Wind along the Waste,
I know not Whither, willy-nilly blowing.

30
What, without asking, hither hurried Whence?
And, without asking, Whither hurried hence!
Oh, many a Cup of this forbidden Wine
Must drown the memory of that insolence!

31
Up from Earth's Center through the Seventh Gate
I rose, and on the Throne of Saturn sate,
And many a Knot unravel'd by the Road;
But not the Master-knot of Human Fate.

32
There was the Door to which I found no Key;
There was the Veil through which I might not see:
Some little talk awhile of ME and THEE
There was - and then no more of THEE and ME.
33
Earth could not answer; nor the Seas that mourn
In flowing Purple, of their Lord Forlorn;
Nor rolling Heaven, with all his Signs reveal'd
And hidden by the sleeve of Night and Morn.

34
Then of the THEE IN ME who works behind
The Veil, I lifted up my hands to find
A lamp amid the Darkness; and I heard,
As from Without - THE ME WITHIN THEE BLIND!

35
Then to the Lip of this poor earthen Urn
I lean'd, the Secret of my Life to learn:
And Lip to Lip it murmur'd - While you live,
Drink! - for, once dead, you never shall return.

36
I think the Vessel, that with fugitive
Articulation answer'd, once did live,
And drink; and Ah! the passive Lip I kiss'd,
How many Kisses might it take - and give!

37
For I remember stopping by the way
To watch a Potter thumping his wet Clay:
And with its all-obliterated Tongue
It murmur'd - Gently, Brother, gently, pray!

38
And has not such a Story from of Old
Down Man's successive generations roll'd
Of such a clod of saturated Earth
Cast by the Maker into Human mold?

39
And not a drop that from our Cups we throw
For Earth to drink of, but may steal below
To quench the fire of Anguish in some Eye
There hidden - far beneath, and long ago.

40
As then the Tulip for her morning sup
Of Heav'nly Vintage from the soil looks up,
Do you devoutly do the like, till Heav'n
To Earth invert you - like an empty Cup.
41
Perplext no more with Human or Divine,
To-morrow's tangle to the winds resign,
And lose your fingers in the tresses of
The Cypress-slender Minister of Wine.

42
And if the Wine you drink, the Lip you press,
End in what All begins and ends in - Yes;
Think then you are TO-DAY what YESTERDAY
You were - TO-MORROW you shall not be less.

43
So when that Angel of the darker Drink
At last shall find you by the river-brink,
And, offering his Cup, invite your Soul
Forth to your Lips to quaff - you shall not shrink.

44
Why, if the Soul can fling the Dust aside,
And naked on the Air of Heaven ride,
Were't not a Shame - were't not a Shame for him
In this clay carcass crippled to abide?

45
'Tis but a Tent where takes his one day's rest
A Sultan to the realm of Death addrest;
The Sultan rises, and the dark Ferrash
Strikes, and prepares it for another Guest.

46
And fear not lest Existence closing your
Account, and mine, should know the like no more;
The Eternal Saki from that Bowl has pour'd
Millions of Bubbles like us, and will pour.

47
When You and I behind the Veil are past,
Oh, but the long, long while the World shall last,
Which of our Coming and Departure heeds
As the Sea's self should heed a pebble-cast.

48
A Moment's Halt - a momentary taste
Of BEING from the Well amid the Waste -
And Lo! - the phantom Caravan has reach'd
The NOTHING it set out from - Oh, make haste!
49
Would you that spangle of Existence spend
About THE SECRET - quick about it, Friend!
A Hair perhaps divides the False from True -
And upon what, prithee, may life depend?

50
A Hair perhaps divides the False and True;
Yes; and a single Alif were the clue -
Could you but find it - to the Treasure-house,
And peradventure to THE MASTER too;

51
Whose secret Presence through Creation's veins
Running Quicksilver-like eludes your pains;
Taking all shapes from Mah to Mahi and
They change and perish all - but He remains;

52
A moment guessed - then back behind the Fold
Immerst of Darkness round the Drama roll'd
Which, for the Pastime of Eternity,
He doth Himself contrive, enact, behold.

53
But if in vain, down on the stubborn floor
Of Earth, and up to Heav'n's unopening Door,
You gaze TO-DAY, while You are You - how then
TO-MORROW, when You shall be You no more?

54
Waste not your Hour, nor in the vain pursuit
Of This and That endeavor and dispute;
Better be jocund with the fruitful Grape
Than sadden after none, or bitter, Fruit.

55
You know, my Friends, with what a brave Carouse
I made a Second Marriage in my house;
Divorced old barren Reason from my Bed,
And took the Daughter of the Vine to Spouse.

56
For Is and Is-not though with Rule and Line
And UP-AND-DOWN by Logic I define,
Of all that one should care to fathom, I
was never deep in anything but - Wine.


The Rubáiyát Part One - - The Rubáiyát Part Three

For more Poetry Click the Poetry Index.


Thu, Jul 9, 2015
Short Stories of Padraic Pearse: Dual Language
Edited by Desmond Maguire


Pádraic Pearse, who played a prominent part in the 1916 rebellion, declared Ireland a Republic from the steps of the General Post Office in Dublin. He was executed, along with the other leaders, for his part in the Rising. But he was a gentle warrior at heart. These five stories show us that Pearse was a man of deep understanding with immense human awareness of the way of life of the average person. He analyses the sorrows and joys of the Irish people of his time, and writes of the tragedies of life and death from which they could never escape.
Review from Mercier Press
Click for Stories of P. Pearse.

---
Field Work
Seamus Heaney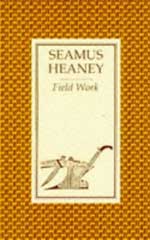 1000 Years of Irish Poetry: The Gaelic and Anglo Irish Poets from Pagan Times to the Present
by Kathleen Hoagland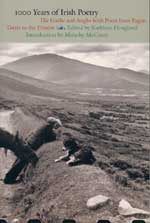 Interested in Irish Poetry?Here's the easy way to collect them all (well, almost all, anyway).
Malachy McCourt says in his introduction, "With the republication of this book, the Irish recover under their roof of stars all the great poets and writers who have been falsely claimed by the saxon crown and its minions - even our reprobates."
Amazon states this is out of stock. They still have used copies for almost nothing (except shipping - chuckle). If you would like a new edition, it was available at Powell's. We can't promise it's still there. Click here for Powell's 1000 Years.
Click here for used at Amazon.