Traditions, folklore, history and more. If it's Irish, it's here. Or will be!
"People will not look forward to posterity who never look backward to their ancestors."
-Edmund Burke
---
Quotes

Library: Books, Movies, Music

Prints & Photos

Poetry

Jokes

---
---
Shops Ireland
---
Bunús na Gaeilge
(Basic Irish)

---
---
---
Himself/Herself
Write to Us
Readers Write..
Links/Link to Us
---
Advertise with us

---

Help keep us free
Throughout the site you will see many items available for purchase from well-known merchants such as Amazon. Not interested in what we're featuring? It doesn't matter. Click on any link and then shop for whatever you wish - we will still get credit, if you buy something.
Thanks for your help.

---
Francis Ledwidge (b. Aug. 19, 1887 - d. July 31, 1917)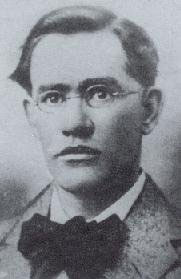 ...has been characterized as a war poet. An example is this brief biography, in that it was found on a very rich web site devoted to World War 1.

"Nationalist and poet, Francis Ledwidge was born in Slane the son of a poor labourer.
Leaving school at the age of 14 he worked in various manual labour positions while developing a love for and honing his own poetical talents.
It was in 1911 that Ledwidge first received notable recognition for his poetry. Having sent a collection of his poems to well-known author Lord Dunsany he received a favourable response, Dunsany assuming the role of mentor to Ledwidge, introducing him to the Dublin literary scene.
Though a strong nationalist, he enlisted in Dunsany's regiment, the 10th (Irish) Division, Inniskilling Fusiliers in October 1914 - to serve in France and Flanders during World War One.
Despite his initial reluctance to enlist he nevertheless argued that his service with the British during World War One was in no way incompatible with his nationalist views: rather, he believed he was furthering the cause of Irish independence from Britain.
Dunsany quoted Ledwidge: "I joined the British Army because she stood between Ireland and an enemy of civilisation and I would not have her say that she defended us while we did nothing but pass resolutions".
After the leaders of the Easter Rebellion were executed during his home leave, May 1916 he became depressed saying: "if someone were to tell me now that the Germans were coming in over our back wall, I wouldn't lift a finger to stop them. They could come!"
Nevertheless, he returned to the front, partly due to bad treatment from those who considered his enlistment treasonous to the cause of Irish freedom.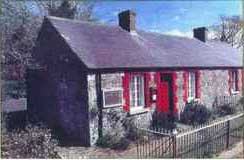 He died in Belgium with the British Army, killed by a shell while laying road in preparation for attack on Ypres, 31 July, at Boesinghe, near Ypres. He was buried in the Artillery Wood cemetery nearby.
The first stanza of his elegy for Thomas MacDonagh (see below) was carved on a memorial plaque to be set in a parapet of Slane Bridge and is now affixed to Ledwidge's Cottage.


The Call to Ireland
by Francis Ledwidge

We have fought so much for the nation
In the tents we helped to divide;
Shall the cause of our common fathers
On our earthstones lie denied?
For the price of a field we have wrangled
While the weather rusted the plow,
' twas yours and 'twas mine and 'tis ours yet
And it's time to be fencing it now.

This World War 1 site points out "...of the two hundred plus poems that he wrote only nine actually discussed the Great War to any extent."
Note: This is a very well crafted Site, we recommend it - FirstWorldWar.com.

Lament for Thomas McDonagh
by Francis Ledwidge

He shall not hear the bittern cry
In the wild sky where he is lain
Nor voices of the sweeter birds
Above the wailing of the rain.

Nor shall he know when loud March blows
Thro' slanting snows her fanfare shrill
Blowing to flame the golden cup
Of many an upset daffodil.

And when the dark cow leaves the moor
And pastures poor with greedy weeds
Perhaps he'll hear her low at morn
Lifting her horn in pleasant meads.

June
by Francis Ledwidge

Broom out the floor now, lay the fender by,
And plant this bee-sucked bough of woodbine there,
And let the window down. The butterfly
Floats in upon the sunbeam, and the fair
Tanned face of June, the nomad gipsy, laughs
Above her widespread wares, the while she tells
The farmer's fortunes in the fields, and quaffs
The water from the spider-peopled wells.

The hedges are all drowned in green grass seas,
And bobbing poppies flare like Elmo's light,
While siren-like the pollen-stained bees
Drone in the clover depths. And up the height
The cuckoo's voice is hoarse and broke with joy.
And on the lowland crops the crows make raid,
Nor fear the clappers of the farmer's boy,
Who sleeps, like drunken Noah, in the shade.

And loop this red rose in that hazel ring
That snares your little ear, for June is short
And we must joy in it and dance and sing.
And from her bounty draw her rosy worth.
Ay! soon the swallows will be flying south,
The wind wheel north to gather in the snow,
Even the roses split on youth's red mouth
Will soon blow down the road all roses go.

Thoughts at the Trysting Stile
by Francis Ledwidge

Come, May, and hang a white flag on each thorn,
Make truce with earth and heaven; the April child
Now hides her sulky face deep in the morn
Of your new flowers by the water wild
And in the ripples of the rising grass,
And rushes bent to let the south wind pass
On with her tumult of swift nomad wings,
And broken domes of downy dandelion.
Only in spasms now the blackbird sings.
The hour is all a-dream.

Nets of woodbine
Throw woven shadows over dreaming flowers,
And dreaming, a bee-luring lily bends
Its tender bell where blue dyke-water cowers
Thro' briars and folded ferns, and gripping ends
Of wild convolvulus.

The lark's sky-way
Is desolate.
I watch an apple-spray
Beckon across a wall as if it knew
I wait the calling of the orchard maid.
Inly I fell she will come in blue,
With yellow on her hair, and two curls strayed
Out of her comb's loose stocks, and I shall steal
Behind and lay my hands upon her eyes,
'Look not, but be my Psyche!'

And her peal
Of laughter will ring far, and as she tries
For freedom I will call her names of flowers
That climb up walls; then thro' the twilight hours
We'll talk about the loves of ancient queens,
And kisses like wasp-honey, false and sweet,
And how we are entangled in love's snares
Like wind-looped flowers.

For more Poetry Click the Poetry Index.



Thu, Jul 9, 2015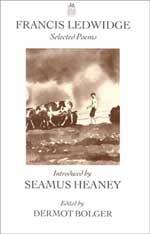 Francis Ledwidge: Selected Poems
With an introduction by Seamus Heaney
Click here for Francis Ledwidge.

---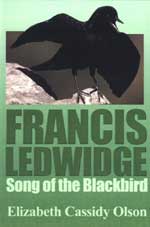 Francis Ledwidge: Song of the Blackbird
by Elizabeth Cassidy Olson
While the book is the story of Francis Ledwidge, it is also about the war and the symbolism of a blackbird in the poet's life. Life in Ireland at this time was very difficult and the author sensitively describes the person and the events that both hindered and helped his journey in a troubled place and time. Edited and adapted from an editorial review.
Click here for Song of the Blackbird.

---
1000 Years of Irish Poetry: The Gaelic and Anglo Irish Poets from Pagan Times to the Present
by Kathleen Hoagland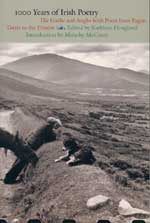 Interested in Irish Poetry?Here's the easy way to collect them all (well, almost all, anyway).
Malachy McCourt says in his introduction, "With the republication of this book, the Irish recover under their roof of stars all the great poets and writers who have been falsely claimed by the saxon crown and its minions - even our reprobates."
Amazon states this is out of stock. They still have used copies for almost nothing (except shipping - chuckle). If you would like a new edition, it was available at Powell's. We can't promise it's still there. Click here for Powell's 1000 Years.
Click here for used at Amazon.