Traditions, folklore, history and more. If it's Irish, it's here. Or will be!
"People will not look forward to posterity who never look backward to their ancestors."
-Edmund Burke
---
Quotes

Library: Books, Movies, Music

Prints & Photos

Poetry

Jokes

---
---
Shops Ireland
---
Bunús na Gaeilge
(Basic Irish)

---
---
---
Himself/Herself
Write to Us
Readers Write..
Links/Link to Us
---
Advertise with us

---

Help keep us free
Throughout the site you will see many items available for purchase from well-known merchants such as Amazon. Not interested in what we're featuring? It doesn't matter. Click on any link and then shop for whatever you wish - we will still get credit, if you buy something.
Thanks for your help.

---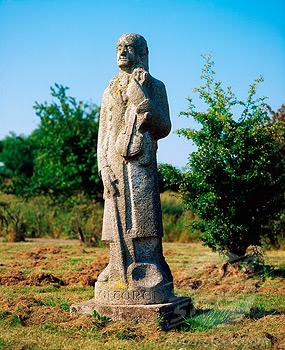 Antoine Ó Raifteirí (b. ??, 1779 - d. ??, 1835)

Also known as: Antoine Ó Reachtabhra, Antoine Raiftearaí and occasionally, Anthony Raftery he was born in Killeden, Kiltimagh, Co. Mayo. He was blinded by smallpox as an infant. A travelling bard, he was known as the 'Kiltimagh Fiddler' and passed most of his time in the Gort-Loughrea district of Co. Galway, writing on contemporary events such as Daniel O'Connell's Clare election victory and the hanging of Whiteboy Anthony O'Daly. Best-known for "Mise Raifteir File" (see below), "Contae Mhaigh Eo", and "Anuach Cuain" (a lament for those drowned at that place), he also wrote "Seanchas na Sceithe", a metrical history of Ireland. He was buried in Rahasane, near Craughwell, Co. Galway. His poems were edited by Douglas Hyde from oral tradition (Abhráin agus Dánta an Reachtahbhraigh, 1903).
I don't have much more as yet.


Mise Raifteirí an File
(I am Raftery, the poet)
by Antoine Ó Raifteirí

I am Raftery the poet,
Full of hope and love,
With eyes without light,
Calm without anguish.

Going back in my travels
With the light of my heart
Weary and tired
To the end of my journey.

Look at me now
And my back to the wall,
Playing music
To empty pockets.

Cill Aodain
(Killeadin)
by Antoine Ó Raifteirí
translated by Gerard Cunningham

Now Spring is here, the days will grow shorter,
And after Bridgets Day, I'll head for the hills,
I'm set in my head, and I won't rest again,
'Til the day that I stand in the middle of Mayo.
First to Claremorris, there I'll spend the first night,
And then nearby Balla, where I'll start drinking,
In Kiltimagh then, I'll hold court for a month,
Close to two mile from nearby Ballinamore.

Now that the cream has rose up in my heart,
Same as wind rises and same as fog clears
When I'm thinking of Carra or Gallen below it
Or of Sgahaghaveele or of the sweet plains of Mayo
Of Killeadin, the place where everything grows,
Blackberries, strawberries, everyberries
And if I was there in the midst of my people
Age would rise from me, I'd be young again


For more Poetry Click the Poetry Index.


Thu, Jul 9, 2015
No matter who does the collecting, the works stand on their own but this is an excellent compilation and well worth adding to your library.
Click here for Yeats.
---
1000 Years of Irish Poetry: The Gaelic and Anglo Irish Poets from Pagan Times to the Present
by Kathleen Hoagland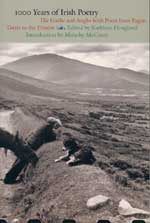 Interested in Irish Poetry?Here's the easy way to collect them all (well, almost all, anyway).
Malachy McCourt says in his introduction, "With the republication of this book, the Irish recover under their roof of stars all the great poets and writers who have been falsely claimed by the saxon crown and its minions - even our reprobates."
Amazon states this is out of stock. They still have used copies for almost nothing (except shipping - chuckle). If you would like a new edition, it was available at Powell's. We can't promise it's still there. Click here for Powell's 1000 Years.
Click here for used at Amazon.