Traditions, folklore, history and more. If it's Irish, it's here. Or will be!
"People will not look forward to posterity who never look backward to their ancestors."
-Edmund Burke
---
Quotes

Library: Books, Movies, Music

Prints & Photos

Poetry

Jokes

---
---
Shops Ireland
---
Bunús na Gaeilge
(Basic Irish)

---
---
Did You Know?
---
Himself/Herself
Write to Us
Readers Write..
Links/Link to Us
---
Advertise with us
---
Awards & Testimonials

Submissions Guide
---

Music Review Ghosts of our Past - The Bible Code Sundays
by Bridget Haggerty

"Bottle Slammin' London irish Rock" - that's how this band describes itself. It's no word of a lie - especially the bottle slammin' bit.

We sometimes go to a popular Irish bar in our hometown where they often have live bands. Usually, they're so loud you can't hold a decent conversation. So everyone gives up the talkin' and joins in the foot tapping, hand clapping and singing along (if you know the words). The drinks flow fast and go down far too easily in this kind of atmosphere and it isn't long before you've convinced yourself that these local lads are so talented, they must be the Pogues playing incognito! Given half the chance, you'd buy every CD they're selling - except that at some point - usually the next day nursing a hangover, you face the truth. They really were just local lads riling up a stout-sodden crowd with hackneyed songs of rebellion. And they weren't that great.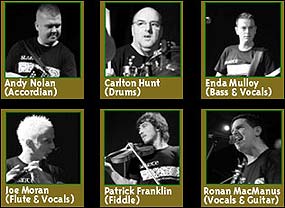 Fortunately, that isn't the case for The Bible Code Sundays. At least, that's the opinion of this reviewer who listened to their debut album cold sober and alone. Not having heard of them before, I also checked out their web site and learned they started out a few years ago and were originally called 'Slainte', cutting their teeth on the Irish music scene in London, England. They played the circuit for a while with various musicians until they finally settled on the current lineup. With a combination of musical pedigrees and great musicianship, the band soon became popular and in 2006 they won the title of 'Best Band on the London Circuit', nominated and voted by readers of The Irish World newspaper.

The group is comprised of Ronan MacManus (son of Ross & brother of Declan aka Elvis Costello), Andy Nolan (ex Shane MacGowan & the Popes), Carlton Hunt (ex Bad Manners), Enda Mulloy (son of Tom from the legendary Mulloy Brothers), Joe Moran (ex All-Ireland champion) and one of the best young fiddle players in London - Patrick Franklin. And what about that unusual name for the group itself? It came about from regular sunday gigs and drink-fuelled conversations about conspiracy theories!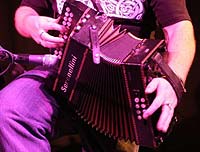 As for the music - it's not edgy enough to be described as Irish punk as in Dropkick Murphys and it's definitely not in the trad genre of the Chieftains or the Dubliners. The Bible Code Sundays stands by itself somewhere in-between, echoing classic Irish folk while blending the contemporary beat of today's Celtic rock. The result is a unique sound which is also comfortably familiar - and very enjoyable. And to their credit, most of the songs are originals written by Ronan McManus or Andy Nolan with one track written by Enda Mulloy. Their often thought-provoking lyrics and catchy melodies are cleverly arranged and enhanced by the addition of the fiddle, accordian and whistles which richly embellish the bass, drums and guitar foundation for your usual standard rock band.

Originally released in the UK in 2006, Ghosts of Our Past has been re-released in the USA and no doubt, will soon have hundreds of new fans. Of particular interest to the American audience will be the track "The Boys of Queens" - a tribute to the bravery of FDNY firefighters on 9/11. You can hear this track and many others on the band's web site here: Bible Code Sundays music.

Another track with an American connection is "Whitey" which is about Joseph "Whitey" Bulger, Jr. an irish mob boss from South Boston who is wanted for a long laundry list of alleged crimes and as of this writing, is still at large. The tune is catchy, the lyrics are tough. It's a compelling combination.

Overall, there is something to commend every track. I particularly enjoyed the only instrumental - Plunckster as well as the title tune Ghosts of Our Past. That one resonated with me, an Irish girl surnamed O'Flaherty who grew up in London during the 1950s.

"Now I think of the future and the ghosts of our past.
The young ones, the good ones, sure built to last,
Just like our fathers, the stories remain,
The love and the hardship, the tears and the strain."

Just one negative note about this recording. A track from the original was not included on this CD. "Christmas in London." Why not? I've read the lyrics and can only imagine what the tune might sound like. Here are a tantalizing few lines:

"So it's Christmas on your strand, hold me close, take my hand
As we gaze once again across your waters,
Close your eyes from the chill. let the London streets draw still
And all the blessings of the year shine down before us.

Lovely stuff altogether as my Dublin born mother would say. And what were the CD producers thinking? Perhaps someone should remind them of the huge hit by Shane McGowan "Fairytale of New York?"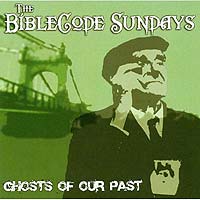 Exciting, innovative and proudly unfettered from the frustration of playing other people's compositions, The Bible Code Sundays is, as the newspaper the irish World described the group, "a breath of fresh air for irish music." It's foot-tapping, hand-clapping music by anyone's definition. And it's most definitely bottle slammin' music if you're listening to them while putting down a pint or more at the pub. Best of all, they'll sound just as good when you listen to them cold sober the next day.

To hear samples of each track please click: Amazon Ghsts of our Past.

To learn more about the band and upcoming tours, please click Bible Code Sundays.


Wed, Jan 3, 2018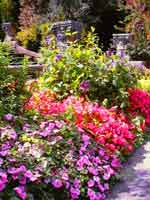 Ilnacullen, Co. Cork - an Island Garden
Located in the sheltered harbour of Glengarriff in Bantry Bay. Ilnacullin, which means island of holly, is a small island known to horticulturists and lovers of trees and shrubs all around the world as an island garden of rare beauty.
The vivid colours of Rhododendrons and Azaleas reach their peak during May and June, whilst the hundreds of cultivars of climbing plants, herbaceous perennials and choice shrubs dominate the midsummer period from June to August.
Because of its sheltered situation and the warming oceanic influence of the Gulf Stream, the climate is favourable to the growth of ornamental plants from many parts of the world.
Even for those who aren't particularly interested in gardens, there are many other scenic views, especially in the surrounding waters where seals frequent the rocks on the southern shore.
The cover photo on Bridget's book The Traditional Irish Wedding shows a wrought iron garden gate on Ilnaculen. I took that photo. To see it, go to the home page. It's part of the opening paragraph Failte.
—Russ
Resource: Copy and Image - Cork Guide

Click for More Culture Corner.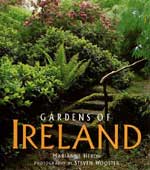 Gardens of Ireland
Visit 30 of Ireland's most beautiful gardens. Includes a stunning collection of 200 full-color photos.