Traditions, folklore, history and more. If it's Irish, it's here. Or will be!
"People will not look forward to posterity who never look backward to their ancestors."
-Edmund Burke
---
Quotes

Library: Books, Movies, Music

Prints & Photos

Poetry

Jokes

---
---
Shops Ireland
---
Bunús na Gaeilge
(Basic Irish)

---
---
Did You Know?
---
Himself/Herself
Write to Us
Readers Write..
Links/Link to Us
---
Advertise with us
---
Awards & Testimonials

Submissions Guide
---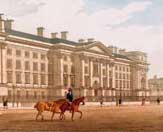 The Video Library

Click here for: Books | Music | Prints & Photos

What is the top Irish movie of all time?
That is what Jameson whiskey in conjunction with 'The Dubliner' magazine asked 10,000 people in a July 2005 poll. Throughout these pages we have marked the top ten at the top of each and its ranking.

For nearly an hour, the armchair tourist can absorb the natural wonders, history and heritage of Ireland's six northern counties. Accompanied by an informative narrative and traditional Irish airs, this very well-done video tape is a great introduction to all of the scenic and cultural attractions that draw thousands of tourists to the north each year.
Click here for Northern Ireland Video.



A camera suspended from a helicopter provides a serene, gliding bird's-eye view of rolling green hills, majestic cliffs, proud stone towers, stirring cathedrals, and picturesque ruins. As this lush scenery rolls past, a woman's musical Irish lilt tells tales of St. Patrick, legendary giants, kings, monks, and the Blarney Stone, all backed with Irish jigs and Celtic strings.
Click here for Visions of Ireland.


"Beautifully filmed and tastefully narrated, this video is a pleasure to watch. It provides an in-depth look at Ireland's five major national parks; Killarney, Wicklow, Connemara, Glenveagh, and the Burren. Detailed observation of Ireland's flora and fauna are given throughout. 65 minutes long and worth every penny." Amazon Review.
Click here for Ireland's National Parks



This series is a journey through the great country homes of Ireland, visiting each one through the changing seasons. Along the way, the crafts, music and history of local communities are linked to the several country homes featured in each program.
See review
Click here for Irish Country calendar


Ireland by Rail
by Michael Phaelin


See Ireland by rail through the eyes of Michael Phaelin. From the city of Derry to Co. Kerry, Michael offers interesting snippets of history and culture, as well as interviews with popular Irish personalities. It's all presented with his great sense of humor - and, the scenery as a backdrop to the journey is awe-inspiring. As one reviewer from Boston said it so well: "...seeing Ireland by rail looks to be the way to go!"
Click here for Ireland by Rail




Great Golf Courses of Ireland
starring Christy O'Connor

Released in 1969, a rare VHS copy is still available. Fingers crossed you might be lucky enough to add this to your collection. As one reviewer said, the greens don't get much greener than in this tour of the best courses Ireland has to offer including Ballybunion, Ballyconneely, Killarney, Tralee, Carlow, Waterville, Royal Co. Down, Rosses Point, Royal Portrush, and Lahinch. And your tour guide is none other than golf legend Christy O'Connor!
Click here for Great Golf Courses of Ireland.




Tapestry Series: Portrait of Ireland
Multiple Artists


Internationally renowned flutist James Galway, singing sensation Enya, and ambassadors of Irish folk music, The Chieftains, provide the enchanted sounds that accompany this unforgettable look at Ireland's old world pubs and villages, dramatic shores and cliffs, historic rock-walled countryside, mystical ruins, and romantic castles. This will make a wonderful addition to the video library of anyone Irish - or wishes they were.
Click here for Portrait of Ireland.



Travel with Kids: Ireland is a great DVD both for those seriously contemplating a family visit to Ireland and for armchair families who just want to vicariously enjoy the experience. Following the Roberts family as they explore Ireland's storied history and culture of Ireland, travel hints and tips include suggestions for great accommodations (even staying in a real castle!), transportation, and activities. A bonus "Ireland At Home" section with language, crafts and recipe suggestions rounds out this useful travel prep guide and tribute to all things Irish. Highly recommended. Edited from Midwest Book Review on Amazon.
Click here for Travel with kids - Ireland.

---
Click here for Movies by category: Animals | Comedy | Christmas | Drama | Heritage | Music | History | Romance | Saints & Legends | Scenic & Documentary

Scenic Page: 1

Fri, Feb 2, 2018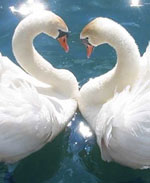 Irish God and Goddess of love
Oengus is the Irish God of love, beauty and youth. According to the old folklore, his kisses became birds. It is also said that he dreamed of a beautiful maiden, named Caer, for whom he searched all over Ireland. Eventually, he found her chained to 150 other maidens, destined to become swans at the time of Samhain. Legend has it that Oengus transformed himself into a swan and was united with his love.
Aine of Knockaine is the Irish Goddess of love. She is also known as the Fairy Queen of Munster and as a goddess of fertility beause she has control and command over crops and animals, especially cattle. Another name by which she is known is Aillen. To learn more about Irish mythology, please click Irish Myths & Legends.
Photo Credit: Wikipedia

Click for More Culture Corner.

Can't Find it?!

Our Library is compiled from what we know and like. If you can't find what you're looking for read on.
• First: go to Amazon -
There's no escaping the fact that they are the largest catalog.
Note: There are multiple Amazons and they do not carry exactly the same items. Any one of the U.S., U.K. and Canada sites may not have the item but another Amazon will. Each site will ship anywhere in the world. Try them all before you give up.
Click here for Amazon.US.
Click here for Amazon.UK.
Click here for Amazon.Canada.
• Second: Amazon doesn't have it? Alright, try ALibris they are the place for 'books you never thought you'd find'. They now carry videos. The prices vary, since they are offered from various sources.
Click here for ALibris.

• Last: Nothing Worked?
E-Mail us, we'll give it a go. Click for Russ & Bridget.
---
All contents copyright © 2001 through 2011 inclusive - all rights reserved.
March 4, 2011

Rollover button Images:
Wedding LaRose, Kids Reading & Kitchen Apples and Tea from All Posters prints.
The information provided on this site is offered as-is, without warranty. This site's owners, operators, authors and partners disclaim any and all liability from the information provided herein.
Any trademarks or registered trademarks on this site are the property of their respective owners.

This Web Site Bashed, Kicked & Glued together by Russ Haggerty.