Traditions, folklore, history and more. If it's Irish, it's here. Or will be!
"People will not look forward to posterity who never look backward to their ancestors."
-Edmund Burke
---
Quotes

Library: Books, Movies, Music

Prints & Photos

Poetry

Jokes

---
---
Shops Ireland
---
Bunús na Gaeilge
(Basic Irish)

---
---
Did You Know?
---
Himself/Herself
Write to Us
Readers Write..
Links/Link to Us
---
Advertise with us
---
Awards & Testimonials

Submissions Guide
---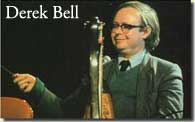 The Music Library
---
By passing over too-familiar Christmas songs in favor of less-well-known melodies, Brian O'Donovan, the host of the Celtic Sojourn radio show, has come up with that rarest of all holiday treats - a gift that both surprises and delights. Edited from a review by Michael Simmon.
Click here for A Celtic Christmas Sojourn


White Christmas
Bing Crosby


We include this classic because of our favorite cut - Christmas in Killarney. But the rest of the recording isn't half-bad! For all the Bing fans, we're just kidding - this is one of the best Christmas recordings ever.
Click here for White Christmas.




The Bells of Dublin
The Chieftains


We've owned The Bells of Dublin for about ten years and it remains one of our favorite Christmas recordings. The Chieftains are impeccable as always but, in addition to their traditional Irish sound, they team up with a group of contemporary vocalists; for the most part, the mix works well. In fact we like every cut except one.
See Review
Click here for The Bells of Dublin


The Darkest Midnight
by Noírin Ní Rain


The wonder and mystery of the Nativity are brought to life in this unique collection of holiday religious music from Ireland. Shifting from exuberance to rapture, from solemnity to celebration, Nóirín Ní Riain and the monks of Glenstal offer hymns and songs of praise to the sacred season. Sung in English, Latin, and Irish.
Click here for The Darkest Midnight.



According to the 30 or more reviews we've read, if you own just one Irish Christmas recording, this should be it. Featuring Anthony Kearns, Ronan Tynan and John McDermott, we are treated to both solo and trio performances of a dozen or more best loved holiday airs, sung in their trade-mark Irish tenor style. As one reviewer cleverly observed, if these three sang the phone book, she'd buy it!
See Review
Click here for Home for Xmas


On Christmas Night
Cherish The ladies

This is not only a top-notch Christmas album, but generally a top-notch Celtic album as well. Cherish the Ladies is undoubtedly one of the finest Irish groups in the world, not to mention one of the finest all-female groups! This album is a great collection of classic Christmas tunes, some common, some obscure, that will make for such a nice change come this holiday season. Amazon Review
Click here for On Christmas Night.

---
Fri, Feb 2, 2018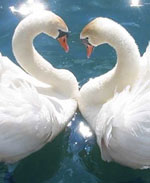 Irish God and Goddess of love
Oengus is the Irish God of love, beauty and youth. According to the old folklore, his kisses became birds. It is also said that he dreamed of a beautiful maiden, named Caer, for whom he searched all over Ireland. Eventually, he found her chained to 150 other maidens, destined to become swans at the time of Samhain. Legend has it that Oengus transformed himself into a swan and was united with his love.
Aine of Knockaine is the Irish Goddess of love. She is also known as the Fairy Queen of Munster and as a goddess of fertility beause she has control and command over crops and animals, especially cattle. Another name by which she is known is Aillen. To learn more about Irish mythology, please click Irish Myths & Legends.
Photo Credit: Wikipedia

Click for More Culture Corner.

Can't Find it?!

Our Library is compiled from what we know and like. If you can't find what you're looking for read on.
• First: go to Amazon -
There's no escaping the fact that they are the largest catalog.
Note: There are multiple Amazons and they do not carry exactly the same items. Any one of the U.S., U.K. and Canada sites may not have the item but another Amazon will. Each site will ship anywhere in the world. Try them all before you give up.
Click here for Amazon.US.
Click here for Amazon.UK.
Click here for Amazon.Canada.
• Second: Amazon doesn't have it? Try BMG. They are one of the largest Music stores - period. Click here for
BMG Music.
We recommend you search for artist or title words.
• Third: Still can't find It? Alright, try ALibris they are the place for 'books you never thought you'd find'. They now carry music (even vinyl). The prices vary, since they are offered from various sources.
Click here for ALibris.

• Fourth: Is it in print, at least?
Try Irish Music International, they'll go out of their way to obtain any item currently available.
Click for Irish Music International.
• Last: Nothing Worked?
E-Mail us, we'll give it a go. Click for Russ & Bridget.
---
All contents copyright © 2001 through 2011 inclusive - all rights reserved.
March 4, 2011

Rollover button Images:
Wedding LaRose, Kids Reading & Kitchen Apples and Tea from All Posters prints.
The information provided on this site is offered as-is, without warranty. This site's owners, operators, authors and partners disclaim any and all liability from the information provided herein.
Any trademarks or registered trademarks on this site are the property of their respective owners.

This Web Site Bashed, Kicked & Glued together by Russ Haggerty.