Traditions, folklore, history and more. If it's Irish, it's here. Or will be!
"People will not look forward to posterity who never look backward to their ancestors."
-Edmund Burke
---
Quotes

Library: Books, Movies, Music

Prints & Photos

Poetry

Jokes

---
---
Shops Ireland
---
Bunús na Gaeilge
(Basic Irish)

---
---
Did You Know?
---
Himself/Herself
Write to Us
Readers Write..
Links/Link to Us
---
Advertise with us
---
Awards & Testimonials

Submissions Guide
---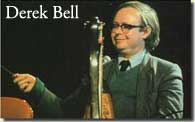 The Music Library
---

The Best of Celtic Christmas
Narada

A captivating double CD that is sure to set the right tone for a more reverential Christmas feast, and/or revelry. Packed with fiddles, flutes, and angelic voices, the first disc features a variety of Ireland's most loved traditionalists, from Altan and Natalie MacMaster to the Boys of the Lough and De Dannan's Frankie Gavin, plus many others. Disc 2 highlights the award-winning Galway group Dordan, in a collection of jigs, reels, and carols, many sung in Gaelic, such as "Silent Night" and "Christmas Eve."
Click here for Best of Celtic Christmas.



Loreena McKennitt's primary instrument is the harp, but her signature technique is to take a traditional folk song and supersize it with strings, modern rhythms, and lush orchestration. It's a style that works ideally with this material. Her takes on "The Wexford Carol" and "The Stockford Carol" will make you rethink holiday songs. Other highlights include "The Seasons" and "In Praise of Christmas," all songs that are weepy enough to please Nana but never so sappy they sound fake. Review by Charles R. Cross
Click here for To Drive Cold Winter Away.




Celtic Christmas I
Windham Hill

Fans of Planxty, the Bothy Band, Silly Wizard, and Capercaillie will embrace the performances here by individual members of those critically acclaimed and popular groups. Nightnoise singer Triona Ní Dhomhnaill sings a haunting piece called "Solus," while her brother and former Bothy Band fiddler Kevin Burke create an enchanting place on "On a Cold Winter's Day/Christmas Eve."
Click here for Celtic Christmas I.




Celtic Christmas III
Windham Hill

Bright pennywhistles, lonesome fiddles, mysterious flutes, strumming guitars, the brushed and pounding bodhran sounding like a horse at gallop over snowy roads, and female voices so clear and focused they might be angels calling out through the ether of time. All these elements combine to shape Celtic Christmas III. Among the more sterling tracks are David Agnew and David Downes's "Wexford Carol" and the original compositions by Lisa Lynne - "Circle of Joy," "Home", and Brian Dunning and Jeff Johnson in "A Raven in the Snow".
Click here for Celtic Christmas III.




Celtic Christmas IV
Windham Hill

With contributions from Uillean piper Liam O'Flynn, Dire Straits guitarist Mark Knopfler, former Skara Brea singer Maighread Ní Dhomhnaill, harpist Patrick Cassidy, and country singer Ricky Skaggs, the fourth in Windham Hill's Celtic Christmas sampler series is a varied and somewhat austere collection of winter ballads and yuletide airs. Guitarist William Coulter turns in a lovely arrangement of J. Scott Skinner's "Cradle Song," while harp and mandolin player Lisa Lynne, backed with bouzouki and double-bass, performs the two-beat "Morning Star." W.G. Snuffy Walden's lyrical "St. Stephen's Green" sums up the album's moody yuletide sentiment.
Click here for Celtic Christmas IV.


Celtic Christmas - Silver Anniversary Edition Windham Hill

Traditional Celtic instrumentation always sounds beautiful on holiday classics, but Celtic Christmas is different than what its title might suggest. This oddly compelling album is composed entirely of modern New Age Celtic musicians playing their own compositions and obscure traditional folk tunes. Only three of the tracks contain any vocals, and only one of those--Karan Casey's "On a Winter's Day"--appears to be in modern English. It creates a mood, reflecting the meditative side of the holidays as opposed to the festive or religious. Bill Holdship
Click here for Celtic Christmas Silver Anniversary Edition.




An Irish Holiday
Phil Coulter and other artists


Among the many artists joining Phil on this recording are Rona Downey, the Children's Choir of the Slane National School, The Voice Squad, the Celtic Tenors, Brian Kennedy, and Maura O'Connell. From seasonal favorites to traditional tunes, including Oh Holy Night and the Parting Glass, it's a thoroughly enjoyable CD that will transport the listener back to a typical Christmas at home in Ireland.
Click here for An Irish Holiday.




An Irish Christmas
by Craig Duncan

With Penny Whistles, uilleann pipes, bodhran and other Celtic instrumentation, these traditional carols evoke vivid images of Christmas on the Emerald Isle. Listen to samples!
Click here for An Irish Christmas.


Christmas in an Irish Castle
Various artists


Delight in Christmas carols, traditional Irish songs, jigs, reels, master musicians on harps, fiddles, drums and Irish pipes, stories told by the hearth - all celebrating an Irish Christmas and Winter Solstice. In a spectactular setting, rejoice with the voices of men, women and children singing to greet this holy and joyous time. Editorial review
Click here for Christmas in an Irish Castle.

---
Wed, Jan 3, 2018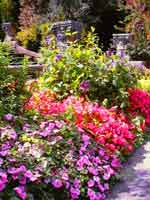 Ilnacullen, Co. Cork - an Island Garden
Located in the sheltered harbour of Glengarriff in Bantry Bay. Ilnacullin, which means island of holly, is a small island known to horticulturists and lovers of trees and shrubs all around the world as an island garden of rare beauty.
The vivid colours of Rhododendrons and Azaleas reach their peak during May and June, whilst the hundreds of cultivars of climbing plants, herbaceous perennials and choice shrubs dominate the midsummer period from June to August.
Because of its sheltered situation and the warming oceanic influence of the Gulf Stream, the climate is favourable to the growth of ornamental plants from many parts of the world.
Even for those who aren't particularly interested in gardens, there are many other scenic views, especially in the surrounding waters where seals frequent the rocks on the southern shore.
The cover photo on Bridget's book The Traditional Irish Wedding shows a wrought iron garden gate on Ilnaculen. I took that photo. To see it, go to the home page. It's part of the opening paragraph Failte.
—Russ
Resource: Copy and Image - Cork Guide

Click for More Culture Corner.

Can't Find it?!

Our Library is compiled from what we know and like. If you can't find what you're looking for read on.
• First: go to Amazon -
There's no escaping the fact that they are the largest catalog.
Note: There are multiple Amazons and they do not carry exactly the same items. Any one of the U.S., U.K. and Canada sites may not have the item but another Amazon will. Each site will ship anywhere in the world. Try them all before you give up.
Click here for Amazon.US.
Click here for Amazon.UK.
Click here for Amazon.Canada.
• Second: Amazon doesn't have it? Try BMG. They are one of the largest Music stores - period. Click here for
BMG Music.
We recommend you search for artist or title words.
• Third: Still can't find It? Alright, try ALibris they are the place for 'books you never thought you'd find'. They now carry music (even vinyl). The prices vary, since they are offered from various sources.
Click here for ALibris.

• Fourth: Is it in print, at least?
Try Irish Music International, they'll go out of their way to obtain any item currently available.
Click for Irish Music International.
• Last: Nothing Worked?
E-Mail us, we'll give it a go. Click for Russ & Bridget.
---