Traditions, folklore, history and more. If it's Irish, it's here. Or will be!
"People will not look forward to posterity who never look backward to their ancestors."
-Edmund Burke
---
Quotes

Library: Books, Movies, Music

Prints & Photos

Poetry

Jokes

---
---
Shops Ireland
---
Bunús na Gaeilge
(Basic Irish)

---
---
Did You Know?
---
Himself/Herself
Write to Us
Readers Write..
Links/Link to Us
---
Advertise with us
---
Awards & Testimonials

Submissions Guide
---

I Dreamed a Dream - Susan Boyle

I Dreamed a Dream does not disapoint. Overall, this is a beautiful album with every track a gem. Fans of Ms. Boyle and of good music in general will love this debut effort. Adapted from amazon reviews.
Click here for Susan Boyle




Irish Songs of Rebellion, Resistance and Reconciliation


From the haunting speeches of Easter 1916 and Robert Emmet's last words to the finale of "A Nation Once Again", all of the performances on this superb recording are both stirring and thought-provoking. As one reviewer said - buy this with confidence.
Click here for Songs of Rebellion.




Mother: Songs Celebrating Mothers & Motherhood
by Cathie Ryan, Robin Spielberg, Susan McKeown


Mother is a lovely recording of Celtic traditionals, lullabies, and original compositions. All of the reviews on amazon give it 4 stars or more and the audio samples are a treat to listen to.
Click here for Mother: Songs.




Shots
by Damien Dempsey


Known to his many fans as "Damo", Dempsey's earthy, satirical, wrong-side-of-the-Liffey, tell-it-like-is style remains intact as he addresses the bitterness of poverty, teenage angst, drug addiction and other urban ills that so often afflict working class people. The USA release features three live bonus tracks, "Negative Vibes", "Factories" and "It's All Good", taped during his sold-out 2005 Olympia Theater (Dublin) performances and accompanied by an impromptu chorale of audience members who have clearly committed every single word to memory.
Click here for Shots.




Dancing at Lughnasa
Music by Bill Whelan

Bill Whelan's orchestral soundtrack for "Dancing At Lughnasa" is simply gorgeous. The music aptly conveys the feelings of longing, alienation, sadness, and uncertainty, as well as times of joyful exuberance, as revealed by the film's endearing characters.
I find that the music also perfectly suggests the transition of the winding-down of summer and the coming of autumn, just as the film's characters also face a severe change of season in their personal lives.
Even without the wonderful film, the music that Bill Whelan has created here stands on its own as a cohesive, moving, emotive work.
Highly recommended! Amazon reviewer
Click here for Dancing at Lughnasa.



Composer Stephen Endelman leans on traditional Celtic folk touches and skillfully weaves them into an orchestral context that ranges from the gently pastoral to emotionally detached minimalism. Anchored by vocal performances from Van Morrison and Sissel, and featuring a couple of good-natured pub songs by Brosnan himself, it's an inviting soundtrack rooted in Irish traditions, yet one savvy enough to contrast them against a more modern emotional landscape. Edited from a review by Jerry McCulley.
Click here for Evelyn.






Songs of the Civil War
Various artists

This remarkable recording includes two versions of When Johnny Comes Marching Home - a vocal rendition as well as an instrumental. The song was composed by Patrick Gilmore who was originally from Gialway. The CD begins with the haunting Ashoken Farewell made famous in Ken Burns' Civil War documentary and ends most appropriately with Taps which was also composed in the Civil War era. Amazon reviewers, including history buffs bent on separating fact from fiction, give the CD 5 stars. We concur.
Click here for Songs of the Civil War.




Songs of the Irish Immigrants by Golden Bough

Golden Bough put together a great mix of Irish 'standards" in this collection which they have arranged and adopted to their own Celtic music style.
Click here for Songs of the Irish Immigrants.



To Win Just Once
Best of The Saw Doctors

With a history stretching back over two decades, they are the definition of journeymen rockers. The band are now regarded as national heroes in Ireland and and have recently enjoyed a huge resurgence. This CD, for example was originally released in 2009 and currently it's at number 22 on the top 100 album/CD chart as compiled by IRMA - Irish recorded music association for the week ending January 5, 2012.
Click here for To Win Just Once.
To Win Just Once Video, please click You Tube.


---
Fri, Feb 2, 2018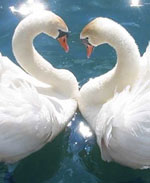 Irish God and Goddess of love
Oengus is the Irish God of love, beauty and youth. According to the old folklore, his kisses became birds. It is also said that he dreamed of a beautiful maiden, named Caer, for whom he searched all over Ireland. Eventually, he found her chained to 150 other maidens, destined to become swans at the time of Samhain. Legend has it that Oengus transformed himself into a swan and was united with his love.
Aine of Knockaine is the Irish Goddess of love. She is also known as the Fairy Queen of Munster and as a goddess of fertility beause she has control and command over crops and animals, especially cattle. Another name by which she is known is Aillen. To learn more about Irish mythology, please click Irish Myths & Legends.
Photo Credit: Wikipedia

Click for More Culture Corner.

Can't Find it?!

Our Library is compiled from what we know and like. If you can't find what you're looking for read on.
• First: go to Amazon -
There's no escaping the fact that they are the largest catalog.
Note: There are multiple Amazons and they do not carry exactly the same items. Any one of the U.S., U.K. and Canada sites may not have the item but another Amazon will. Each site will ship anywhere in the world. Try them all before you give up.
Click here for Amazon.US.
Click here for Amazon.UK.
Click here for Amazon.Canada.
• Second: Amazon doesn't have it? Try BMG. They are one of the largest Music stores - period. Click here for
BMG Music.
We recommend you search for artist or title words.
• Third: Still can't find It? Alright, try ALibris they are the place for 'books you never thought you'd find'. They now carry music (even vinyl). The prices vary, since they are offered from various sources.
Click here for ALibris.

• Fourth: Is it in print, at least?
Try Irish Music International, they'll go out of their way to obtain any item currently available.
Click for Irish Music International.
• Last: Nothing Worked?
E-Mail us, we'll give it a go. Click for Russ & Bridget.
---
All contents copyright © 2001 through 2011 inclusive - all rights reserved.
March 4, 2011

Rollover button Images:
Wedding LaRose, Kids Reading & Kitchen Apples and Tea from All Posters prints.
The information provided on this site is offered as-is, without warranty. This site's owners, operators, authors and partners disclaim any and all liability from the information provided herein.
Any trademarks or registered trademarks on this site are the property of their respective owners.

This Web Site Bashed, Kicked & Glued together by Russ Haggerty.