Traditions, folklore, history and more. If it's Irish, it's here. Or will be!
"People will not look forward to posterity who never look backward to their ancestors."
-Edmund Burke
---
Quotes

Library: Books, Movies, Music

Prints & Photos

Poetry

Jokes

---
---
Shops Ireland
---
Bunús na Gaeilge
(Basic Irish)

---
---
Did You Know?
---
Himself/Herself
Write to Us
Readers Write..
Links/Link to Us
---
Advertise with us
---
Awards & Testimonials

Submissions Guide
---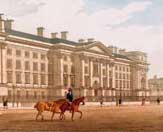 The Book Library

Click here for: Music | Videos | Prints & Photos

Click here for Books about:
Fiction | Classics | Heritage | History | The Troubles | Sports | Scenic | Humour | Folklore/Superstitions | Blessings & Prayers | Quotes & Trivia | Animals | Literature | Kitchen & Food | Kids Stories | Travel | Poetry | Weddings | Genealogy | Biographical | Crafts | Christmas | Irish Dancing | Miscellaneous | Irish Language | Supernatural | Irish America | Music
Supernatural Page: 1


Irish Ghosts & Hauntings
by Michael Scott


What is it about Ireland's past that so haunts the imagination? More than one answer can be found in Michael Scotts's powerful new collection of 29 tales. In a newly Christianized Ireland, monks do battle with a devilish monster that has killed a river. In fact, all the water in these stories - from rivers to lakes, conceal dangers that men and women would best avoid. Adapted from an intro by the publisher.
Click here for Irish Ghosts.



Great Irish Tales of Horror
Edited by Peter Haining


A collection of short Irish horror stories, drawn from 200 years of writing. Authors include Bram Stoker, Joseph Sheridan Le Fanu, George Bernard Shaw, Jack Higgins and Neil Jordan.
Click here for Tales of Horror.




12 Irish Ghost Stories
Edited by Patricia Craig


There's nothing like a good ghost story, and the Irish have traditionally excelled at them. The specters who haunt these pages include massacred Spanish sailors, a silver-robed woman who plies her guests with poison, a mutilated peddler, a benign but icy embrace, and the devil himself. Energetically inventive, and infused with a relish of the supernatural, these classic tales still retain their original power to unsettle and surprise. This is one chilling anthology no fan of the genre will want to be without. Edited and adapted from an amazon editorial review.
Click here Ghost Stories.




The Book of irish Weirdness
by Mairtin O'Griofa


Travel back to the old country and be bewitched by these tales of strange phenomenon and ghostly, bizarre happening. Witty, odd and always entertaining, this last testament to the wonderful talent of author and editor - and Ballinadee's favorite son - MMairtin O'Griofa (who died in the bogs of West Cork before its release - itself a strange coincidence), is a must-have for any student of Celtic folklore or historical Irish storytelling. Editorial review
Click here for The Book of Irish Weirdness.




The Twilght Hour
Simon Marsden

In this beautifully produced work, internationally acclaimed photographer, Simon Marsden offers haunting black and white photographs to illustrate the fictional texts borrowed from famous writers of the gothic and the macabre.
Click here for The Twilight Hour.


Great Irish Stories of the Supernatural
Edited by Peter Haining


No country is more richly endowed with faerie folk and restless spirits than Ireland, and Irish folklore contains hundreds of tales of ghosts, devils and witches. This collection includes chilling tales by writers ranging from Brams Stoker to W.B. Yeats with stories grouped according to the type of spirit. Intriguing titles include The Spectre Lovers by Le Fanu, The Fairy Goose by Liam O'Flaherty, The Eyes of the Dead by Daniel Corkery and many more.
Click here for Stories of the Supernatural.





The Lively Ghosts of Ireland
by Hans Holzer

The haunts investigated in this book range from castle to coast and involve spectres both of recent passing and those who have haunted Ireland for hundreds of years. Not your usual attempt to be a scary ghost book, this is an in-depth study of the paranormal conducted by an expert in the field. Edited and adapted from amazon reviews.
Click here for The Lively Ghosts of ireland.




Dracula
by Bram Stoker


Dracula an Irish book? Yes, indeed! Abraham "Bram" Stoker was born near Clontarf, Co. Dublin on November 8, 1847. He is referred to by his own nephew, Daniel Farson, as "one of the least known authors of one of the best known books ever written."
See our Article on Bram Stoker
Click here for Dracula
---
Fri, Feb 2, 2018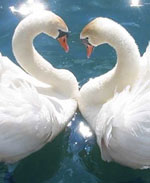 Irish God and Goddess of love
Oengus is the Irish God of love, beauty and youth. According to the old folklore, his kisses became birds. It is also said that he dreamed of a beautiful maiden, named Caer, for whom he searched all over Ireland. Eventually, he found her chained to 150 other maidens, destined to become swans at the time of Samhain. Legend has it that Oengus transformed himself into a swan and was united with his love.
Aine of Knockaine is the Irish Goddess of love. She is also known as the Fairy Queen of Munster and as a goddess of fertility beause she has control and command over crops and animals, especially cattle. Another name by which she is known is Aillen. To learn more about Irish mythology, please click Irish Myths & Legends.
Photo Credit: Wikipedia

Click for More Culture Corner.

Can't Find it?!

Our Library is compiled from what we know and like. If you can't find what you're looking for read on.
• First: go to Amazon -
There's no escaping the fact that they are the largest catalog.
Note: There are multiple Amazons and they do not carry exactly the same items. Any one of the U.S., U.K. and Canada sites may not have the item but another Amazon will. Each site will ship anywhere in the world. Try them all before you give up.
Click here for Amazon.US.
Click here for Amazon.UK.
Click here for Amazon.Canada.
• Second: Amazon doesn't have it? Try Powells. They are the largest book source in New York and they have a good selection of 'out of print' books. Click here for Powells.
This link brings you to a list of 600 Irish titles; if you're looking for something else, just Search.
• Third: Still can't find It? Alright, try ALibris they are the place for 'books you never thought you'd find'. We've found everything we were after. Click here for ALibris.

• Last: Nothing Worked?
E-Mail us, we'll give it a go. Click for Russ & Bridget.
---
Elegant bookmark is made of silver over pewter. It measures 3" x 1". When in use, the pretty Celtic design sticks out of your book. Or choose Trinity Knot or Celtic Heart.

Click for Celtic Book mark.

---
All contents copyright © 2001 through 2011 inclusive - all rights reserved.
March 4, 2011

Rollover button Images:
Wedding LaRose, Kids Reading & Kitchen Apples and Tea from All Posters prints.
The information provided on this site is offered as-is, without warranty. This site's owners, operators, authors and partners disclaim any and all liability from the information provided herein.
Any trademarks or registered trademarks on this site are the property of their respective owners.

This Web Site Bashed, Kicked & Glued together by Russ Haggerty.