Traditions, folklore, history and more. If it's Irish, it's here. Or will be!
"People will not look forward to posterity who never look backward to their ancestors."
-Edmund Burke
---
Quotes

Library: Books, Movies, Music

Prints & Photos

Poetry

Jokes

---
---
Shops Ireland
---
Bunús na Gaeilge
(Basic Irish)

---
---
Did You Know?
---
Himself/Herself
Write to Us
Readers Write..
Links/Link to Us
---
Advertise with us
---
Awards & Testimonials

Submissions Guide
---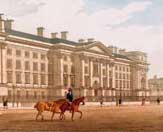 The Book Library

Click here for: Music | Videos | Prints & Photos

Click here for Books about:
Fiction | Classics | Heritage | History | The Troubles | Sports | Scenic | Humour | Folklore/Superstitions | Blessings & Prayers | Quotes & Trivia | Animals | Literature | Kitchen & Food | Kids Stories | Travel | Poetry | Weddings | Genealogy | Biographical | Crafts | Christmas | Irish Dancing | Miscellaneous | Irish Language | Supernatural | Irish America | Music
Music Page: 1


Ireland in Songs and Ballads
Stories and articles by Sarah McQuaid
Music setting by John Canning


This unique treasury features the musical notation for 50 of the finest Irish songs and ballads and also explores their origins and inspiration. Included are tales of the Famine, emigration and the Irish in America, street ballads and ancient airs, stirring patriotic tunes and sweetly sentimental love songs. Superbly written and lavishly illustrated with period photos from every county in Ireland. Hardcover.
Click here for Ireland in Songs and Ballads.



I was in a small pub in Baltimore for the ceili beginner's nights they have, and was asking some of the advanced regulars about good books with Irish music. They showed me a copy of this book and told me it was "the Bible of Irish music," and that's just what it is. With about 240 pages of more than 1000 jigs, reels, slip jigs, hornpipes, set dances, and Carolan's compositions, this book has it all.
Amazon review
See our Article on Francis O'Neill
Click here for O'Neill's Music


A Harvest Saved
by Nicholas Carolan


Not a tune book, this is simply one of the best presented, most interesting and carefully researched books available on O'Neill and the history of Irish music. Nicholas Carolan is the Curator of The Traditional Music Archives in Dublin
See our Article on Francis O'Neill
Click here for A Harvest Saved.




Bringing it all Back Home
by Nuala O'Connor


Blending social history, interviews with major Irish musicians, and analysis of musical techniques, this book tells how Irish music emigrated to America and England and eventually wound its way back to Ireland, enriched and reinvigorated. The author won an Emmy for writing a one-hour version of Bringing It All Back Home for the Disney Channel. Excerpted from an Amazon editorial review.
Click here for Bringing it All Back Home.



In 1975, four teenagers from Mount Temple School in Dublin gathered in a crowded kitchen to discuss forming a band. The drum kit just about fit into the room, the lead guitarist was playing a homemade guitar, the bassist could barely play at all and nobody wanted to sing. Over thirty years later, Bono, The Edge, Adam Clayton and Larry Mullen Jr are still together, bound by intense loyalty, passionate idealism and a relentless belief in the power of rock and roll to change the world.
Told with wit, insight and astonishing candor by the band themselves and manager Paul McGuinness, with pictures from their own archives, 'U2 by U2' allows unprecedented access into the inner life of the greatest rock band of our times.
Click here for U2 by U2.


---
Fri, Feb 2, 2018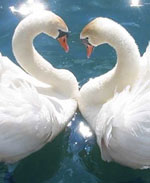 Irish God and Goddess of love
Oengus is the Irish God of love, beauty and youth. According to the old folklore, his kisses became birds. It is also said that he dreamed of a beautiful maiden, named Caer, for whom he searched all over Ireland. Eventually, he found her chained to 150 other maidens, destined to become swans at the time of Samhain. Legend has it that Oengus transformed himself into a swan and was united with his love.
Aine of Knockaine is the Irish Goddess of love. She is also known as the Fairy Queen of Munster and as a goddess of fertility beause she has control and command over crops and animals, especially cattle. Another name by which she is known is Aillen. To learn more about Irish mythology, please click Irish Myths & Legends.
Photo Credit: Wikipedia

Click for More Culture Corner.

Can't Find it?!

Our Library is compiled from what we know and like. If you can't find what you're looking for read on.
• First: go to Amazon -
There's no escaping the fact that they are the largest catalog.
Note: There are multiple Amazons and they do not carry exactly the same items. Any one of the U.S., U.K. and Canada sites may not have the item but another Amazon will. Each site will ship anywhere in the world. Try them all before you give up.
Click here for Amazon.US.
Click here for Amazon.UK.
Click here for Amazon.Canada.
• Second: Amazon doesn't have it? Try Powells. They are the largest book source in New York and they have a good selection of 'out of print' books. Click here for Powells.
This link brings you to a list of 600 Irish titles; if you're looking for something else, just Search.
• Third: Still can't find It? Alright, try ALibris they are the place for 'books you never thought you'd find'. We've found everything we were after. Click here for ALibris.

• Last: Nothing Worked?
E-Mail us, we'll give it a go. Click for Russ & Bridget.
---
Elegant bookmark is made of silver over pewter. It measures 3" x 1". When in use, the pretty Celtic design sticks out of your book. Or choose Trinity Knot or Celtic Heart.

Click for Celtic Book mark.

---
All contents copyright © 2001 through 2011 inclusive - all rights reserved.
March 4, 2011

Rollover button Images:
Wedding LaRose, Kids Reading & Kitchen Apples and Tea from All Posters prints.
The information provided on this site is offered as-is, without warranty. This site's owners, operators, authors and partners disclaim any and all liability from the information provided herein.
Any trademarks or registered trademarks on this site are the property of their respective owners.

This Web Site Bashed, Kicked & Glued together by Russ Haggerty.