Traditions, folklore, history and more. If it's Irish, it's here. Or will be!
"People will not look forward to posterity who never look backward to their ancestors."
-Edmund Burke
---
Quotes

Library: Books, Movies, Music

Prints & Photos

Poetry

Jokes

---
---
Shops Ireland
---
Bunús na Gaeilge
(Basic Irish)

---
---
Did You Know?
---
Himself/Herself
Write to Us
Readers Write..
Links/Link to Us
---
Advertise with us
---
Awards & Testimonials

Submissions Guide
---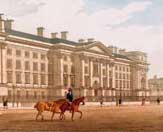 The Book Library

Click here for: Music | Videos | Prints & Photos

Click here for Books by category:
Fiction | Classics | Heritage | History | The Troubles | Sports | Scenic | Humour | Folklore/Superstitions | Blessings & Prayers | Quotes & Trivia | Animals | Literature | Kitchen & Food | Kids Stories | Travel | Poetry | Weddings | Genealogy | Biographical | Crafts | Christmas | Irish Dancing | Miscellaneous | Irish Language | Supernatural | Irish America | Music

Irish Language Page: 1


Green Speak: Ireland in Her own Words
by Paddy Sammon

...an excellent compilation of not only intetesting Anglo-Irish/Hiberno-English words, but also fascinating little-known terms and facts pertaining to Irish folklore and culture. Everyone who loves Ireland should have this book. Edited from an Amazon review by Dr.M.G.Sfaellou
Click here for Greenspeak




Teach Yourself Irish Conversation


An entertaining, non-intimidating way for beginners to start building conversational proficiency. Each audio course covers ten key situations—from greetings and buying food and drink to shopping, asking for directions, and visiting locals—and includes two conversations per topic.
Click here for Teach Yourself Irish Conversation.




Irish Grammar
by Noel Mogonagle


This book is excellent for beginners who are wanting a book that gives basic grammar without all the extra information that confuses beginners. The book is well laid out, with information very easy to find. Amazon Reviewer

Here is a good follow-on to our words and phrases.
Click for Irish Grammar.


Collins Gem Mini-Dictionary

Oxford Pocket Dictionary



These two (either or both) are the handy-references needed to go with a good grammar or 'teach yourself' course.
We would need both (and some other help) if found wandering in a Gaeltacht late at night.
Click for Collins Gem
Click for Oxford Pocket.



Learning Irish
by Micheal O'Siadhail


The Best Irish Course Available! Three years ago I decided to learn Irish, and in the next two years I bought three different courses. The first two were simply useless, (that's the obvious reason for my buying new courses) you could learn some phrases, but not construct sentences yourself. Learning Irish, on the other hand, is an excellent book, which gives you a thorough vocabulary and grammatical knowledge. It consists of 36 lessons, all containing vocabularies, grammar instructions, texts and excercises. Amazon Reviewer.

Click for Learning irish




Children's Irish Dictionary
by Hippocrene Books

As a total beginner in Irish, this has taught me quite a few words. The illustrations are beautifully done, and best of all, each word is given a rough English spelling of its pronunciation. Edited from an amazon review.
Click here for Kid's Irish Dictionary.


Slanguage
by Bernard Share


...for all 'decent skins', 'crawthumpers', horse-protestants', 'hard chaws' and 'strong farmers'...a dictionary of Irish slang that's as amusing as it is informative.
See our Article A Bit of the Blather
Click here for Slanguage


Some phrases are free to learn and listen to, but with a gold membership to Irish Sayings, you can hear well over 450 commonly used words and phrases spoken in the Munster, Ulster and Connacht dialects for a one-time fee of just $22.95. Impress your friends and astound your Irish relatives!
For complete details, please click Irish Sayings.
Image Credit: Gaelscoil Osraí



Wicked Irish
by Howard Tomb


While I wouldn't recommend you use many of these phrases, this is a terribly funny book. I picked it up after leafing through it at the store and finding phrases about sheep and inns and the hazards of driving in Ireland without insurance. Each little section starts out innocuously enough, then quickly degenerates into truly funny comments. If you like Monty Python or BlackAdder, this will really make you laugh. If you liked the Father Ted tv show, this little book will make you keel over giggling. Ah, go on, ya eejit, buy it already! Amazon Reviewer
(We want this, you may see a few on these pages - watch out).
Click for Wicked Irish



Teach Yourself Irish Complete Course
by Diarmuid O'She & Joseph Sheils


An easy-to-use program for learning on your own, or can be used as supplemental material for your classes. These new editions have been thoroughly revised and updated to include the engaging dialogues and helpful exercises you have come to expect from the Teach Yourself series.
Click for Teach Yourself


---
Fri, Nov 3, 2017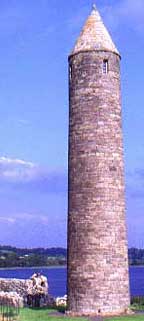 The Round Towers
The Round Towers of Ireland are remarkable among the world's ancient monuments; one author has called them 'Elegant, free-standing pencils of stone.' Today, 65 survive in part or whole. Hand-crafted in native stone and cemented with a sand, lime, horsehair and oxblood mortar - a technique imported from Roman Britain - it's said by many historians that they were built by monastic communities to thwart Viking invaders. And yet, there's reason to believe that the towers were built long before Christianity came to Ireland. Whatever their origins, monasteries did indeed flourish where the round towers existed. And why not. These imposing edifices provided a watch tower, a keep and a refuge.
Image: By kind permission of Stephen Cassidy, The Cassidy Clan.


Click for More Culture Corner.

Can't Find it?!

Our Library is compiled from what we know and like. If you can't find what you're looking for read on.
• First: go to Amazon -
There's no escaping the fact that they are the largest catalog.
Note: There are multiple Amazons and they do not carry exactly the same items. Any one of the U.S., U.K. and Canada sites may not have the item but another Amazon will. Each site will ship anywhere in the world. Try them all before you give up.
Click here for Amazon.US.
Click here for Amazon.UK.
Click here for Amazon.Canada.
• Second: Amazon doesn't have it? Try Powells. They are the largest book source in New York and they have a good selection of 'out of print' books. Click here for Powells.
This link brings you to a list of 600 Irish titles; if you're looking for something else, just Search.
• Third: Still can't find It? Alright, try ALibris they are the place for 'books you never thought you'd find'. We've found everything we were after. Click here for ALibris.

• Last: Nothing Worked?
E-Mail us, we'll give it a go. Click for Russ & Bridget.
---
Elegant bookmark is made of silver over pewter. It measures 3" x 1". When in use, the pretty Celtic design sticks out of your book. Or choose Trinity Knot or Celtic Heart.

Click for Celtic Book mark.

---
All contents copyright © 2001 through 2011 inclusive - all rights reserved.
March 4, 2011

Rollover button Images:
Wedding LaRose, Kids Reading & Kitchen Apples and Tea from All Posters prints.
The information provided on this site is offered as-is, without warranty. This site's owners, operators, authors and partners disclaim any and all liability from the information provided herein.
Any trademarks or registered trademarks on this site are the property of their respective owners.

This Web Site Bashed, Kicked & Glued together by Russ Haggerty.