Traditions, folklore, history and more. If it's Irish, it's here. Or will be!
"People will not look forward to posterity who never look backward to their ancestors."
-Edmund Burke
---
Quotes

Library: Books, Movies, Music

Prints & Photos

Poetry

Jokes

---
---
Shops Ireland
---
Bunús na Gaeilge
(Basic Irish)

---
---
Did You Know?
---
Himself/Herself
Write to Us
Readers Write..
Links/Link to Us
---
Advertise with us
---
Awards & Testimonials

Submissions Guide
---

St Patrick's Day Greetings 2007 from President McAleese
Beannachtaí na Féile Pádraig ar chlann mhór dhomhanda na nGael, sa bhaile agus ar fud na cruinne, ar ár lá náisiúnta ceiliúrtha.
A very happy St Patrick's Day to all those taking part in this year's festivities which link Ireland's global family and its many friends in a huge celebration 'of the green' all over the world. It was Irish emigrants who introduced their vibrant culture to a multitude of new homelands and we have them to thank for the tide of affection and enthusiasm which the name of St Patrick evokes far and wide. Today a prosperous Ireland is itself attracting immigrants from many far-off shores and they are adding greatly to our legendary cultural buoyancy. The Irish love of music, dance, fun and friendship will be showcased in every continent thanks to the work of countless committees whose passion for Ireland and her unique heritage has seen the St Patrick's Day pageant grow into a truly global phenomenon. I thank them all for this outstanding network which connects Ireland to her children and her friends in such a joyful way. I hope that their commitment and dedication will be repaid by the best St Patrick's Day celebrations ever.
Enjoy them wherever you are and may St Patrick bless each one of you.

MARY McALEESE
PRESIDENT OF IRELAND
Photo Credit: Irish World Heritage Centre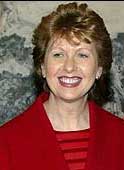 President's St. Patrick's Day Message - 2006
by Mary McAleese

Beannachtaí na Féile Pádraig oraibh go léir, sa bhaile agus ar fud an domhain.

I wish to send warm greetings on this St Patrick's Day to Irish people at home and abroad, and to Ireland's friends around the globe.

Today is a day of celebration in Ireland and for our global Irish family throughout the world. Over many decades the people of Ireland, resolute in their belief in freedom, democracy and human rights and the pursuit of truth, justice and peace, have worked to create the successful Ireland of today. We can all bear witness to the arduous trials of our predecessors. Yet, through it and perhaps because of it, we have built a new confidence and sense of direction – our collective aim to create a better Ireland and a better life for our children and our children's children.

Many years of hard work have gone into our economic development which has blossomed in recent years. We have created a society in which the traditional welcome for the stranger is extended to people from many countries whose endeavours have contributed hugely to our economy and to enriching our cultural diversity. We are building new communities, transforming inhabitants into neighbours and neighbours into friends. Our national emblem, the shamrock, itself teaches us to honour unity in diversity even as it celebrates diversity in unity.

Our country today is vibrant, cosmopolitan and filled with energy and, with our own distinctive national character and our international relations are playing an important part in our maturing as a nation and deepening our understanding of our place in the world. The world is ever-changing and we accept that we need to change with it. Greater understanding of our fellow members of the European Union, and of the wider world, is a central part of meeting the challenges and seizing the opportunities which lie before us. I am confident that the strength of Ireland's culture and values will stand to us in the future.

To my fellow Irish citizens, and to our friends celebrating this day with us, may I say, in the words of St Patrick himself:

A blessing on their peaks,
On their bare flagstones,
A blessing on their glens,
A blessing on their ridges.
Like the sand of the sea under ships,
Be the number in their hearths;
On slopes, on plains,
On mountains, on hills, a blessing.

I wish all of you a very happy and peaceful St Patrick's Day.
Go mbainimís ar fad sult agus aoibhneas as an lá speisialta seo.



Mary McAleese
President of Ireland


A Brief Biography
Ireland's President was born Mary Leneghanon 27 June, 1951. She married Martin McAleese in 1976 and they have three children, Emma, Saramai and Justin.

After graduating from Queen's University Belfast, Mary was called to the Northern Ireland Bar and practised mainly in criminal and family law.

In 1975 she was appointed Reid Professor of Criminal Law, Criminology and Penology in Trinity College Dublin, a position she held until 1979 when she joined RTÉ as a journalist and presenter. She returned to the Reid Professorship at Trinity in 1981, while still continuing part-time with RTÉ.

In 1987, Mary McAleese was appointed Director of the Institute of Professional Legal Studies which trains barristers and solicitors for the legal profession in Northern Ireland. In 1994, she was appointed a Pro-Vice Chancellor of Queen's University Belfast.

On 11 November, 1997, Mary McAleese was inaugurated as the eighth President of Ireland.

Resources: Speexch, photo and bio from Irish Government Online

Click here for President McAleese's 2004 & 2005 speeches.

Click here for President McAleese's 2003 & 2002 speeches.


Fri, Nov 3, 2017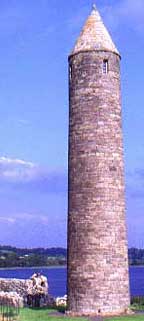 The Round Towers
The Round Towers of Ireland are remarkable among the world's ancient monuments; one author has called them 'Elegant, free-standing pencils of stone.' Today, 65 survive in part or whole. Hand-crafted in native stone and cemented with a sand, lime, horsehair and oxblood mortar - a technique imported from Roman Britain - it's said by many historians that they were built by monastic communities to thwart Viking invaders. And yet, there's reason to believe that the towers were built long before Christianity came to Ireland. Whatever their origins, monasteries did indeed flourish where the round towers existed. And why not. These imposing edifices provided a watch tower, a keep and a refuge.
Image: By kind permission of Stephen Cassidy, The Cassidy Clan.


Click for More Culture Corner.