Traditions, folklore, history and more. If it's Irish, it's here. Or will be!
"People will not look forward to posterity who never look backward to their ancestors."
-Edmund Burke
---
Quotes

Library: Books, Movies, Music

Prints & Photos

Poetry

Jokes

---
---
Shops Ireland
---
Bunús na Gaeilge
(Basic Irish)

---
---
Did You Know?
---
Himself/Herself
Write to Us
Readers Write..
Links/Link to Us
---
Advertise with us
---
Awards & Testimonials

Submissions Guide
---
St. Patrick's Day 2012 Message from President Michael D. Higgins
I wish to send warm greetings on this St Patrick's Day to Irish people at home and abroad and to our wider Irish family around the world.
St Patrick's Day is an opportunity for the global Irish family, wherever they are living, to joyously acknowledge our shared heritage and culture and to celebrate and make our commitment to an Irishness of which we all can be proud. The life story of St. Patrick is one of perseverance through adversity, generosity overcoming cruelty and a people being transformed through the power of spiritual idealism. Just as St. Patrick brought a vision of hope and renewal to his people, we in our time have our own Aisling - our dream of a better, kinder, fairer shared world.
In pursuing this dream, we build on firm foundations and draw from old wisdoms. We Irish are a creative, resourceful, talented and warm people, with a firm sense of decency and justice. The natural strengths that have built and continue to enhance our reputation include our community spirit, social solidarity, rich culture, humanitarian and peace-keeping work abroad and our powerful bond with the global Irish family. The Irish are a diasporic people and we are both proud of what they have achieved in their adopted homelands and grateful for their continuing commitment to their homeland of birth or origin.
On this day, we think in particular of those Irish men and women who, over recent years, have been separated from their homeland through involuntary emigration. While wishing them happy and fulfilled lives in their new countries, we firmly hope that economic circumstances will in time allow them to consider returning home to Ireland – to their families and friends who cherish them so dearly.
On St. Patrick's Day, it is our shared culture that is at the heart of our celebrations as we come together to enjoy the best of Irish literature, music, dance and pageantry. The fact that these forms of artistic expression enjoy international appeal enhances our sense of joy and pride. Even more joyful is that, in keeping with the inclusive and generous spirit of St. Patrick, our celebrations accommodate all ages, all communities and all ethnicities. Our love for life and our sense of fun are also constants, as is our core value system that extols pride of place, community cohesion, intergenerational solidarity and an innate spirit of hope and optimism.
In celebrating our Irishness, we also remember that the Irish are an enterprising and resilient people. While navigating very difficult economic conditions, we refuse to succumb to defeat or fatalism. This indefatigable spirit has in the past ensured our survival and is now a source of our creativity and purpose. It will again be a vital force in regenerating a sustainable economy, securing a fairer and happier society, renewing the Republic and making Ireland a country of which we can be even more proud.
All of the Irish and those who are with them, wherever they may be and in whatever circumstances, are in all our thoughts on this day we share with the world. I wish all of you a very happy and peaceful St Patrick's Day.
Photo credit: Limerick Leader


Thu, Apr 20, 2017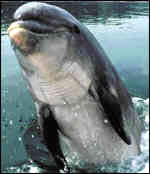 Fungie, the Dolphin of Dingle Bay
The dolphin is one of Ireland's most fascinating mammals and Fungie is the most famous. He is a fully- grown bottlenose who is 13 feet (4 meteres) long and weighs about 500 lbs or around one-quarter tonne.
Fungie was first noticed in 1984 when Paddy Ferriter, the Dingle Harbour lighthouse keeper, began watching a lone wild dolphin escort the town's fishing boats to and from port.
Later that year, it became officially recorded that Fungie was a permanent resident of the entrance channel to Dingle and the self-appointed "pilot" of the fleet.
Over the years Fungie has developed from a timid but inquisitive observer of the human visitors into a playful, though mischievous, companion. From observation of marks on his body, it seems that he does 'interact' with other whales, dolphins or porpoises, proving perhaps he is neither hermit nor outcast from his own kind, but rather that he is simply content to spend most of his time in and around Dingle Bay.


Click for More Culture Corner.