Bunús na Gaeilge - Basic Irish Language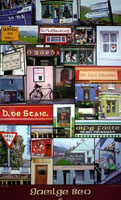 There is no other way to revive Irish than for a crowd of people to spread it.
- Douglas Hyde

On these pages, we will make a valiant effort to provide you with useful words and phrases. One of our subscribers, Aideen, grew up speaking Irish at her mother's knee. She has generously agreed to help us with our lessons. We have put her comments and pronunciations in green.

Note: The spellings and pronunciations used by Aideen are based in her own natural use of Connemara Irish but they have been kept simple, so as to be readily understood in any part of Ireland where there are differences in the language.
For example, the word 'feicfidh' is used only in Connemara Irish; in Leinster, Ulster and Munster the word is 'cífidh'. There are two pronunciations; Leinster/Munster - kee-fee; Ulster - chee-fee.

The biggest problem for people whose native language is English is that the soft 't' and 'd' are in the Irish language, but not in the English language; it's difficult to 'reproduce' them in writing in English. Where I use 'th' and 'dh' here, they are best achieved by putting your tongue gently behind your front upper teeth."

Click here for our words & phrases Index.

---

Oysters
In the Irish calendar, there's always something special going on. In September, Oysters are back on the menu!
Of course, this is the first month after summer with an 'R' in it and an old rule (still a wise rule) insists 'never eat shellfish unless the month has an 'R' in it.' After avoiding oysters for months we have the Galway and Clarenbridge Festivals; both in September and celebrating the Galway Oysters with gusto. So, let us talk about it.

Word: Oyster/Oysters
Irish: oisre/oisrí
Pronunciation: ush-reh/ush-ree
Phrase: Fresh oysters
Irish: Oisrí nua
Pronunciation: ush-ree noo-ah
Phrase: Irish oysters
Irish: Oisrí Éireannach
Pronunciation: ush-ree ayr-un-ukh
Phrase: Native or natural oysters
Irish: oisrí dúchasacha
Pronunciation: ush-ree dhoo-khahs-ukh
Word: Lemon/lemons
Irish: liomóid (í)
Pronunciation: lim-oh-idj (ee)
Word: Shuck/shell (open)
Irish: oscail
Pronunciation: us-kill
Phrase: Oyster knife
Irish: scian oisre
Pronunciation: shkeen ush-reh
Word: Horseradish
Irish: raidis fhiain (literally: 'fiery' radish)
Pronunciation: rad-ish ee-un
Phrase: Hot sauce
Irish: anlann te
Pronunciation: ahn-lahn tcheh
Word: Festival
Irish: Féile
Pronunciation: fay-leh
Word: Shell/half-shell
Irish: blaosc/leath-bhlaosc
Pronunciation: blee-usk/lah-vlee-usk
Word: Baked
Irish: bácálthah
Pronunciation: bawk-awl-thah
Word: Steamed
Irish: galtha
Pronunciation: gahl-thah
Word: Chowder
Irish: anraith éisce (literally: fish soup)
Pronunciation: ahn-reh aysh-keh

Word: Raw
Irish: ámh
Pronunciation: awv
Word: Grilled
Irish: gríosctha
Pronunciation: greesk-thah
Word: Casserole
Irish: casaról
Pronunciation: casserole

Phrase: I'd like a dozen oysters on the half-shell.
Irish: Ba mhaith liom leath-dhosaen oisrí leath-bhlaosc.
Pronunciation: bah wye li-um lah-gus-ayn ush-rii blee-usk/lah-vlee-usk
Phrase: I'd like an order of raw oysters, brown bread and a pint of Guinness.
Irish: Is mian liom oisrí ámh, arán donn agus pointa Guinness a chuir in ordú.
Pronunciation: iss meen li-um ush-re awv, ah-rawn dhown ah-gus pih-un-thah Guinness ah khurr in ur-dhoo
Phrase: Galway international oyster festival
Irish: Féile Ghaillimh Idirnáisiúnta na nOisrí
Pronunciation: fay-leh ghah-lihv idjir-naw-shoon-thah na nush-ree
Phrase: Clarenbridge Oyster festival
Irish: Féile Dhroichead Chláirín na nOisrí
Pronunciation: fay-leh ghreh (hard 'g')-udh khlaw-reen nah nush-ree
Phrase: Thanks to refrigeration, it's safe to eat oysters year round.
Irish: Ní mór a bheith buíochach don chuisniú gur sábháilte é oisrí a itheadh i rith na mbliana uilig.
Pronunciation: nee mohr ah veh bwee-khuk dhun kwish-nioo gur saw-wawl-tcheh ay ush-ree ah ih-heh ih rih nah bleen-ah ill-ig
Phrase: The Irish oyster festivals are held in (the month of) September.
Irish: Is i mí Mean Fomhair a mbíonn Féiltí na nOisrí.
Pronunciation: iss ih mee mahn oh-wir ah mee-un fayl-tchee nah nush-ree
Phrase: If you like oysters, you should visit Galway in September.
Irish: Más mian leat oisrí a ghlachadh ní mór duit cuairt a thabhairt ar Ghaillimh i rith mí Mean Fomhair.
Pronunciation: maws meen li-ahth ush-ree ah ghlah (hard 'g')-kah nee mohe gwitch coo-irtch err ghah-lihv ih rih mee mahn oh-wir.

Phrase: Oyster opening/shucking championship
Irish: Féile Oscailt na nOisrí
Pronunciation: fay-leh uss-kill-tcheh nah nush-ree
Phrase: Oyster shucking contest
Irish: Comórtas Oscailt na nOisrí
Pronunciation: kum-ohr-thahs uss-kill-tcheh nah nush-ree

Phrase: Oyster season
Irish: Séasúr na nOisrí
Pronunciation: say-soor nah nush-ree

Phrase: Bi-valve mollusc
Irish: sliogánach dhá-chomhla
Pronunciation: shlug-awn-ukh gaw-khoh-lah

Phrase: One oyster has only seven calories
Irish: Níl ach seacht calraí in aon oisre amháin
(Note: 'aon' and 'amháin' - meaning 'one' and 'only' are both used here for emphasis)
Pronunciation: neel ahkh shockth kahl-ree inn ayn ush-reh ah-waw-in

Phrase: Oysters are very nutritious
Irish: Is an-bheathúil iad na h-oisrí
Pronunciation: iss ahn-vah-hoo-il eedh nah hush-ree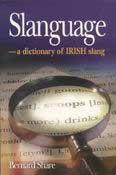 Note: This caught our eye. Yes, we know it isn't gaeilge, but it is fascinating. If nothing else, it is certainly language (and Irish language as well.)
Slanguage
by Bernard Share
...for all 'decent skins', 'crawthumpers', horse-protestants', 'hard chaws' and 'strong farmers'...a dictionary of Irish slang that's as amusing as it is informative.
Click here for Slanguage


For More Basic Irish please click here: Irish Index

Image: Gaeilge Beo from All Posters and Prints.