Bunús na Gaeilge - Basic Irish Language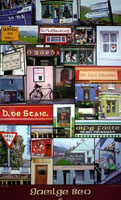 There is no other way to revive Irish than for a crowd of people to spread it.
- Douglas Hyde

Note: The spellings and pronunciations used are based on Aideen's own natural use of Connemara Irish but they have been kept simple, so as to be understood where there are differences in the language.
For example, the word 'feicfidh' is used only in Connemara Irish; in Leinster, Ulster and Munster the word is 'cífidh'. There are two pronunciations; Leinster/Munster - kee-fee; Ulster - chee-fee.

The biggest problem for people whose native language is English is that the soft 't' and 'd' are in Irish, but not in English; it's difficult to 'reproduce' them in writing. Where I use 'th' and 'dh' here, they are best achieved by putting your tongue gently behind your front upper teeth."

Click here for our words & phrases Index.

Lesson #8 - Counting one through ten

Of the very few words Bridget learned from her father, she still remembers these:

Word: One
Irish: Aon
Pronuncation: Ay-on

Word: Two
Irish: Dó
Pronunciation: dhoh

Word: Three
Irish: Trí
Pronunciation: three
Word: Four
Irish: Ceathair
Pronunciation: ka-hir
Word: Five
Irish: Cúig
Pronunciation: coo-ig
Word: Six
Irish:Sé
Pronunciation: shay
Word: Seven
Irish: Seacht
Pronunciation: shoch-edh
Word: Eight
Irish: Ocht
Pronunciation: uchth
Word: Nine
Irish: Naoi
Pronunciation: knee (or in Munster Irish - nay)
Word: Ten
Irish: Deich
Pronunciation: djeh

Note: The use of these words for numbers in actual speech may or may not change grammatically and do when speaking of numbers of people. Some selected examples:

Phrase: I'd like five pints of Guinness
Irish: Ba mhaith liom cúig pionta Guinness
Pronunciation: Bah wy li-um coo-ig pyun-thah Guinness
Phrase: He's No.1
Irish: Is uimhir a haon é
Pronunciation: Is iv-ir a hayn ay
Phrase: There are three (children) in my family
Irish: Tá triúir sa chlann agam
Pronunciation: Thaw throor sa chlann ah-gum
Phrase: I'll be there at eight o'clock
Irish: Beidh mé ann ag a hocht a chlog
Pronunciation: Bay (or 'bye') may on egg ah huchth ah chlug


---
Lesson #9 - Colours
Our translator and enunciator has requested that we use the Anglo-Irish spelling for the word colours. We think this is a perfectly reasonable request. When in Ireland, right?

Word: COLOURS
Irish: DATHANNA
Pronunciation: dhah-annah

Word: Red
Irish: Dearg
Pronunciation: jiarg

Word: White
Irish: Bán
Pronunciation: bawn

Word: Pink
Irish: Bán-dearg
Pronunciation: bawn-jiarg

Word: Green
Irish: Glass
Pronunciation: gloss

Word: Black
Irish: Dubh
Pronunction: dhuv

Word: Blue
Irish: Gorm
Pronunciation: gurm

Word: Brown
Irish: Donn
Pronunciation: dhown

Word: Yellow
Irish: Buí
Pronunction: wee

Phrase: The snow is very white
Irish: Tá an sneachta an-bhán
Pronunciation: thaw on shnock-tha on wawn

Phrase: I have a red sweater
Irish: Tá geansaí bán agam
Pronunciation: Thaw gan-see bawn ah-gum

Phrase: Ireland (the country) is so green
Irish: Tá tír na hÉireann chomh ghlass
Pronunciation: Thaw cheer na hay-run khoh ghloss

Phrase: She wore a red dress
Irish: Bhí gúna dearg uirthí
Pronunciation: Vee goo-nah jiarg ir-hee

Phrase: Guinness, the black drink
Irish: Guinness, an deoch dubh
Pronunciation: Guinness, on jee-och dhuv

Phrase: He has brown eyes
Irish: Tá súile donn aige
Pronunciation: thaw soo-leh dhown egg-eh

Phrase: She has nice brown hair
Irish: Tá gruaig deas donn aicí
Pronunciation: thaw groo-ig jias dhown eck-ee

Phrase: He sent me pink flowers
Irish: Chuir sé bláthanna bán-dearg agam
Pronunciation: qhuir shay blaw-annah bawn-jiarg ah-gum


---
Irish Lesson #10 -Food
We seriously doubt that if you're in an Irish restaurant or pub, you'll need to know the following words and phrases; but, you never know. Again, our thanks to our resident translator who sent us these while entertaining house-guests over the Easter weekend.

Word: food
Irish: bia
Pronunciation: bee-yah

Word: breakfast
Irish: bricfeasta
Pronunciation: brick-fas-thah

Word: lunch
Irish: lón
Pronunciation: loan

Word: dinner
Irish: dinnéir
Pronunciation: din -air

Word: tea
Irish: té
Pronunciation: thay

Word: bread
Irish: arán
Pronunciation: ah-rawn

Word: milk
Irish: bainne
Pronunciation: bahn-yeh

Word: sugar
Irish: siúcre
Pronunciation: shoo-creh

Word: meat
Irish: feoil
Pronunciation: fee-ohl

Word: fish
Irish: iasc
Pronunciation: ee-usk

Word: vegetables
Irish: glasraí
Pronunciation: gloss-ree

Word: soup
Irish: anraith
Pronunciation: ahn-ri

Word: cake
Irish: ciste
Pronunciation: kish-che

Word: sweets/candy
Irish: milseáin
Pronunciation: mill-shaw-een

Phrase: I don't want breakfast
Irish: Níl bricfeasta (ag taisteáil) uaim
Pronunciation: Kneel brick-fas-thah (egg thahs-thoil) wem

Phrase: What time will lunch be?
Irish: Cén t-am a mbeidh an lón?
Pronunciation: Kayn tham ah my an loan?

Phrase: We are going out for dinner
Irish: Táimíd ag dul amach le h-aghaidh an dinnéir
Pronunciation: Thaw-meed egg dhull ah-mock leh high an din -air

Phrase: The team are training hard
Irish: Tá an fhoireann ag tréineáil go dílis
Pronunciation: thaw on ir-unn egg thray-nawl guh jee-lish

For More Irish words & phrases please click here: Irish Index

Image: Gaeilge Beo from All Posters and Prints.