Traditions, folklore, history and more. If it's Irish, it's here. Or will be!
"People will not look forward to posterity who never look backward to their ancestors."
-Edmund Burke
---
Quotes

Library: Books, Movies, Music

Prints & Photos

Poetry

Jokes

---
---
Shops Ireland
---
Bunús na Gaeilge
(Basic Irish)

---
---
Did You Know?
---
Himself/Herself
Write to Us
Readers Write..
Links/Link to Us
---
Advertise with us

---

Help keep us free
Throughout the site you will see many items available for purchase from well-known merchants such as Amazon. Not interested in what we're featuring? It doesn't matter. Click on any link and then shop for whatever you wish - we will still get credit, if you buy something.
Thanks for your help.

---
---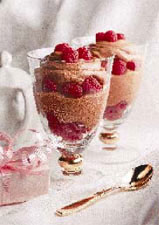 A Romantic Irish Menu for Valentine's Day

For starters, might we suggest Irish Oysters washed down with Black Velvets (half Guinness and half champagne). Next up is Lobster in Bunratty Potcheen, new potatoes & fresh asparagus. And, for the finale, Mocha Mist Mousse enhanced with raspberries. A decadent, delectable and delightful diet downfall. But when it comes to a romantic dinner, whose more deserving than an Irish couple in love!

Appetizer: Irish Oysters
It's well known that oysters are thought to be an aphrodisiac, especially when accompanied by Black Velvets - half Guinness and half champagne.

Ingredients:
2 dozen oysters - native Irish if you can get them
Seaweed
1 lemon
Crushed ice

Method
1. Check oysters. Discard any that look even slightly open.
2. Before serving, open the oysters. You'll need an oyster knife. Place the oyster, deep shell down; cover your hand with a folded towel and hold the oyster firmly. Place the tip of the knife into the crevice at the hinge of the oyster, push hard and then quickly twist the knife. Quite a bit of pressure is needed, which is why the protection of the towel in case the knife slips. (See note at end of article.)

Entrée: Lobster in Bunratty Potcheen
This recipe and the others on our Valentine's Day menu are adapted from Cooking with Irish Spirits by Margaret Johnson. As she says, while this lobster dish is delicious as well as traditional, it's expensive and should be reserved for special occasions. We agree. But, it's also the sort of entrée that's fun for two people to prepare together!

Ingredients:
1 lobster - about 1 to 1 1/2 pounds
4 oz butter
4 fl. oz Bunratty Potcheen
4 fl. oz heavy cream
Freshly ground pepper
1 tablespoon parsley

Method:
1. Slice the lobster in half lengthwise and crack open the claws. Remove all the meat from the claws and tail and cut into large chunks. Keep both halves of the shell for serving.
2. Heat the butter in a large skillet until foaming. Add the lobster meat and toss gently until it turns pink. Add the Potcheen and when it has heated up, carefully flame the pan. When the flame dies out add the cream and heat through. Season with freshly ground pepper and chopped parsley. Pour into the reserved shells and serve immediately.

Vegetables: New potatoes boiled in their skins and fresh asparagus.
(We like to drizzle a little lemon oil over the vegetables; melted butter and lemon juice are just as good).

Dessert: Mocha Mist Mousse
This needs to be prepared ahead and should be refrigerated for at least six hours before you plan on serving.

Ingredients:
8 squares semi-sweet chocolate
2 tablespoons sugar
1 tablespoon instant coffee powder
1/4 cup Irish Mist Liqueur
1/3 cup butter, cut into pieces
4 eggs separated
Whipped cream and raspberries or mint for garnish.

Method:
Place chocolate, sugar and coffee powder in top of a double boiler over hot water. Stir until melted and smooth. Remove from heat and stir in Irish Mist. Stir in butter a piece at a time. Beat egg yolks and then carefully stir into the mixture. Cool slightly. In a separate bowl, beat egg whites until stiff peaks form. Fold into cooled chocolate mixture until well blended. Pour into an elegant crystal dessert dish. Refrigerate for a minimum of six hours. At serving time, garnish with raspberries or mint.

After dinner beverage: Irish Coffee - and perhaps more champagne?
For our authentic Irish Coffee recipe, please click Irish Coffee.

Important Note: The road to romance is a slippery slope at best and the menu we've suggested for a romantic dinner is fraught with physical dangers - from opening the oysters to flaming the lobster. Might we suggest, after considering all of the work and risks involved, that you do what we do each Valentine's Day? Escape to a favorite hotel with a great restaurant - and spend the night!

Images: La Rose (32 in. x 24 in.) from All posters prints.

Any purchase made helps to support our site (and Bridget's fondness for tea towels). Thank you.


Thu, Jul 9, 2015
---
"...the freshest of food and
the oldest of drink"
- Irish Proverb
The New Irish Table
by Margaret Johnson



Margaret Johnson's love of Ireland permeates page after glorious page of mouthwatering Irish dishes, from Smoked Salmon Chowder to Raspberry Buttermilk Tarts. Lavish color photographs of the food, the landscapes, and the people are woven through the text, making The New Irish Table the next best thing to sitting down to dinner in Ireland itself.
Click here for New Irish Table.

All contents copyright © 2001 through 2011 inclusive - all rights reserved.
March 4, 2011
Rollover button Images:
Wedding LaRose, Kids Reading & Kitchen Apples and Tea from All Posters prints.
The information provided on this site is offered as-is, without warranty. This site's owners, operators, authors and partners disclaim any and all liability from the information provided herein.
Any trademarks or registered trademarks on this site are the property of their respective owners.