Traditions, folklore, history and more. If it's Irish, it's here. Or will be!
"People will not look forward to posterity who never look backward to their ancestors."
-Edmund Burke
---
Quotes

Library: Books, Movies, Music

Prints & Photos

Poetry

Jokes

---
---
Shops Ireland
---
Bunús na Gaeilge
(Basic Irish)

---
---
Did You Know?
---
Himself/Herself
Write to Us
Readers Write..
Links/Link to Us
---
Advertise with us

---

Help keep us free
Throughout the site you will see many items available for purchase from well-known merchants such as Amazon. Not interested in what we're featuring? It doesn't matter. Click on any link and then shop for whatever you wish - we will still get credit, if you buy something.
Thanks for your help.

---
---
Irish Seafood Entrees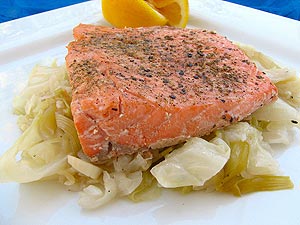 Seared Irish Salmon with Creamy Mustard Cabbage
An ideal dish to serve dad on Father's Day. In fact, this recipe is adapted from one by Sean O'Connell, Corporate Executive Chef and Vice President of Culinary Operations for the Fontainebleau Miami Beach who used to go fishing with his dad in Connemara. He says that whether they caught a fish or not they would always cook this dish and enjoy it when they returned home.


Salmon:
4 boneless salmon filets - wedge shaped if possible - 6 to 8 oz each
2 T Clarified Butter
Sea Salt & Pepper to taste

Method: Pre-heat cast iron frying pan to medium heat approximately 325 F. Place Butter in pan and allow to come to temperature and add seasoned salmon fillets. Allow the fillets to lightly brown then turn over and brown the over side. Continue to cook until the fillet is medium. Remove from the pan and reserve. Reserve the Frying pan for further use.

Cabbage:
8 oz Smoked Bacon, Diced Small
1 lb Cabbage, Sliced Thin
3 oz Grain Mustard
3 oz White Wine
3 oz Onion, Diced Small
1 T Unsalted Butter
1 T Chopped Parsley
1 Cup Heavy Cream
½ Cup White Wine
Sea Salt
Freshly Ground Pepper

Method: Use the same pan as you cooked the salmon in and the Bacon. Allow to render until crisp. Drain extra oil from pan and add the onions, allow to slowly cook until translucent and add the grain mustard. Then deglaze with the white wine and allow to reduce. Then add the cream and cabbage. Allow to cook down until cabbage is soft and cream is slightly reduced. Finish with the butter, parsley and season to taste.

To Plate: Arrange the cabbage in equal portions in the middle of four plates. Drain the cream over the cabbage. Place the salmon on top of the cabbage and serve immediately.
Serves four.

Photo Credit: The Baking Barrister
ED. NOTE: We couldn't find an exact photo of the recipe - this one is for salmon with leeks and cabbage - but we think the salmon with creamed cabbage will look very similar.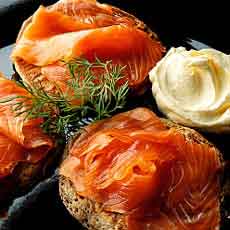 Smoked Salmon with Brown Bread & Butter

In Ireland, the salmon season traditionally commences on January 1. Part of the commercial catch is destined for the smokehouse and the irresistible aroma is often carried on soft breezes throughout the countryside. It assailed our senses when we were just outside Clifden in Connemara and it's unforgettable. Irish smoked salmon, especially when served with Irish brown bread and butter is a heavenly combination of flavours unique to Ireland; but you don't have to live there to experience it as often as you'd like.
All of the ingredients are readily available and making the bread couldn't be easier when you use McCann's mix. And don't worry about it not being authentic - this is what busy Irish cooks use nowadays.

*Irish Smoked Salmon
Caught off the rugged coast of the west coast of Ireland, the wild waters and shifting seas deliver a lean and tender fish. The attention to detail and quality makes this product one of the finest gourmet food products available from the Emerald Isle.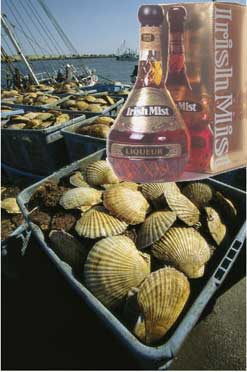 Scallops with Irish Mist
Contributed by Hartson Dowd

Ingredients:
10 scallops
Flour
2 oz. butter
Parsley, chopped
1 green onion, minced
1/4 cup fresh cream
1 Tbs. Irish Mist Liqueur
2 egg yolks, beaten
salt and pepper
Scallop shells

Method:
Roll scallops in flour and sauté in half the butter for 3 minutes, then add cream, green onion and parsley. Fold in the Irish Mist, season with salt & pepper. Allow to cook for another 3 min. Place scallops on scallop shell. Reduce sauce to half by boiling. Add rest of butter and egg yolks. Whisk together over a gentle heat until thickened but not boiling and pour sauce over the scallops. Place under hot grill for 2 minutes and serve immediately.

Image: Scallop-filled crates stacked on an Odaito dock by Tim Laman from the National Geographic Image Collection.
Art Print Available at All Posters




Mussels in Murphys
According to an old Irish proverb, mussels are the food of kings, limpets are the food of peasants. Indeed! Equivalent in gastronomic stature to Galway oysters, the he native Irish mussel is served fresh, cooked, or smoked. The Irish variety has a blue shell and a very distinct flavor.
Ingredients:
6 lbs mussels
2 oz butter
2 large onions
Small glass Murphy's Irish Stout
2 tablespoons parsley - 1 for cooking and 1 for garnish
Salt & Pepper to taste
Method: Clean the mussels
Melt the butter in a large pan
Add the onions and cook for 2 to 3 minutes
Add the other ingredients, cover with lid and boil; shake the pan from time to time, until the mussels steam open.
Serve with more butter and parsely. Offer plenty of bread for mopping up sauce.


Irish Mussel Stew
Contributed by Hartson Doud

The native Irish mussel is served fresh, cooked, or smoked. The Irish variety has a blue shell and a very distinct flavor. Their importance is told through the proverb: Mussels are the food of kings, limpets are the food of peasants.

Ingredients:
4 dozen mussels in their shells
2 medium yellow onions, peeled and thinly sliced
1 1/4 cups dry white wine
1 teaspoon sugar
1 medium bay leaf
1/4 teaspoon thyme
2 TBL chopped fresh parsley
salt
freshly ground pepper
1/4 lb fresh mushrooms, cleaned and quartered
4 Tablespoons unsalted butter, cut up
2 Tablespoons fresh lemon juice
2 Tablespoons flour
Method
Scrub mussels well and rinse under running water to remove all dirt. Remove beards just before cooking.
In a large pot combine mussels, onions, wine, sugar, bay leaf, thyme and parsley.
Season with salt and pepper.
Cook, covered, over high heat until mussels open - about 8 minutes. Discard any unopened mussels.
Remove from heat, Take out mussels and remove from shells. Strain mussel liquid and reserve.
In a small skillet, saut? the mushrooms in 2 TBL butter and the lemon juice over medium heat for 4 minutes. Set aside.
In a large saucepan melt the remaining 2 TBL of butter and stir in the flour, cooking stirring constantly over medium heat for 1 to 2 minutes. Do not burn. Add strained mussel liquid and cook slowly, stirring, about 7 minutes, until sauce is smooth and thickened. Add cooked mussels and sautéed mushrooms and leave over heat long enough to heat through.
Serve with toasted triangles. Serves 4 - 6


Roast Cod on Lemon and Parsley Mash

Contributed by our resident recipe developer and collector, Hartson Dowd, who credits the source as the Irish Potato Council

Ingredients
4 x 6oz pieces of cod fillet, skinned
1 lemon, rind and juice
1-3/4 oz butter, melted
2-3/4 oz fresh white breadcrumbs
6 tblspoons finely chopped fresh parsley
salt and freshly ground pepper

For the mash
1lb 9oz floury potatoes, peeled and cut into chunks
1/4 pint milk

Method:
1. Place the fish in a shallow ovenproof dish and pour over the lemon juice.
2. Mix together the breadcrumbs with half the parsley, lemon rind and seasoning. Stir in the melted butter.
3. Press the breadcrumb mixture over the fish to form a crust, and cook for 15-20 minutes.
4. Meanwhile cook the potatoes in a pan of lightly salted boiling water for 20 minutes, or until tender, then drain.
5. Heat the milk to boiling point then pour over the potatoes and mash until smooth.
6. Stir in the remaining parsley and lemon rind and season to taste.
7. Serve the fish on the mashed potatoes immediately
Serves Four

Grilled Salmon Flavored with Fennel
Contributed by Hartson Dowd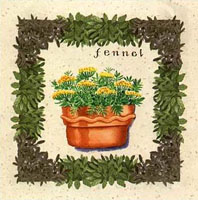 This recipe is absolutely great for parties. It's a fantastic way of cooking pretty much any whole fish, particularly salmon and trout. It's best cooked on a camp fire, over a barbecue or in a wood oven, as the paper will begin to burn, giving you a fantastic subtle smoked flavour.

You will still get great results from cooking in a conventional oven but the newspaper will not blacken as on a camp fire. This recipe varies very little, depending on the number of people that you want to serve - for more than six, just use a bigger salmon, more herbs, more paper and a slightly longer cooking time.

Ingredients
1 - 3lb whole salmon, scaled and gutted
Sea salt and freshly ground black pepper
4 large handfuls of mixed fresh herbs (parsley, fennel tops, basil)
Newspaper
2 lemons, thinly sliced
6 spring onions, thinly sliced
2tbsp fennel seeds, cracked
Method
Get yourself a nice fresh salmon, season inside and out, rub with olive oil and stuff with half the herbs. Open your paper out to the middle page and place your salmon in the centre. Scatter over your lemons, spring onions, fennel seeds and remaining herbs. Tuck some of these underneath and over the salmon.
Drizzle with a little extra olive oil, tuck in the sides of the paper and fold to wrap up tightly, securing it well with lots of string.
Wet the paper really well under the faucet and cook on ther grill or on a rack over a camp fire for about 25 minutes on each side depending on the intensity of the heat. Alternatively, preheat oven to 425F and place wrapped salmon directly on a shelf at the top of your oven; cook for 35 minutes.
Salmon is a good fish for this recipe because it's still quite fatty, so whether it's still a bit pink or slightly overdone it's still very acceptable. I like it slightly pink, served with some boiled potatoes, green salad and homemade mayonnaise - fantastic!


Salmon in Cream Sauce with Boxty Pancakes


Ingredients: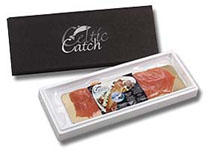 1/4 cup minced onion
1/4 cup butter
4 1/2 tablespoons flour
1 1/2 cups milk
1/2 teaspoon salt
1/4 teaspoon ground pepper
Dash cayenne pepper
1/2 cup heavy cream
2 cups cooked salmon. flaked (fresh is best but a top-quality canned red salmon can be substituted.
1 tablespoon finely chopped parsley.
Method:
In a saucepan, saute onion in butter until transparent. Whisk in the flour.
In another pan, bring milk to boil and add all at once to the butter & flour mixture, stirring vigorously with the whisk until the sauce is thickened and smooth.
Stir in salt, pepper, cayenne and cream. Stir in flaked salmon and parsley. Heat until very hot and serve over boxty pancakes.
Note: This is a very bland sauce; if you'd like to give it more flavor, may we suggest adding capers? That's our favorite and we usually add about a couple of tablespoons. We've also made the sauce with sherry and cognac which gives the dish a taste similar to the sauce one makes for Lobster Newberg.

Click for the recipe for Boxty potato pancakes.

---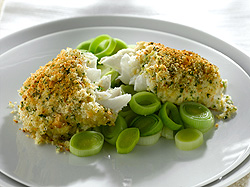 Lemon and Herb Crusted Fish with parsley mash
We found this fast and easy recipe while exploring Bord Iascaigh Mhara - the Irish Fisheries Board. It's just one of many you'll find in their Consumer Section

Ingredients:
4 large pieces pollock (or other chunky white fish) approx 180g each or about 1/2 pound per piece
2 large handfuls of fresh breadcrumbs
Zest and juice of 2 lemons
Salt and pepper
4 tablespoons chopped fresh parsley or chives (you can also use spring onions)
4 – 6 large potatoes, cooked and mashed.
Method:
1. Mix the bread crumbs with the lemon juice, zest and most of the chopped herbs, and pat firmly onto the fish
2. Place the fish into a hot oven and bake for 8 – 10 mins, or until the topping is golden and crispy
3. While fish is cooking add the remaining chopped herbs and mix through the mashed potatoes
4. Remove fish from oven. Place a spoonful of mash onto each plate. Add the fish on top and serve with fresh vegetables
Serves: 4
Cooks in 8 - 10 minutes

Thu, Jul 9, 2015
---
"...the freshest of food and
the oldest of drink"
- Irish Proverb
The New Irish Table
by Margaret Johnson



Margaret Johnson's love of Ireland permeates page after glorious page of mouthwatering Irish dishes, from Smoked Salmon Chowder to Raspberry Buttermilk Tarts. Lavish color photographs of the food, the landscapes, and the people are woven through the text, making The New Irish Table the next best thing to sitting down to dinner in Ireland itself.
Click here for New Irish Table.