Traditions, folklore, history and more. If it's Irish, it's here. Or will be!
"People will not look forward to posterity who never look backward to their ancestors."
-Edmund Burke
---
Quotes

Library: Books, Movies, Music

Prints & Photos

Poetry

Jokes

---
---
Shops Ireland
---
Bunús na Gaeilge
(Basic Irish)

---
---
Did You Know?
---
Himself/Herself
Write to Us
Readers Write..
Links/Link to Us
---
Advertise with us

---

Help keep us free
Throughout the site you will see many items available for purchase from well-known merchants such as Amazon. Not interested in what we're featuring? It doesn't matter. Click on any link and then shop for whatever you wish - we will still get credit, if you buy something.
Thanks for your help.

---
---
Irish Poultry Entrées


Cheese Stuffed Herb Chicken

Ingredients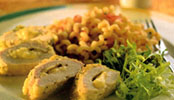 8oz Dubliner cheese
4 boneless, skinless chicken breasts
4oz fresh bread crumbs
1oz pack fresh Mediterranean herbs, finely chopped
2 medium size eggs, beaten
1/2 teaspoon salt

Method
Preheat oven to 400 degrees F.
Grate 3-1/2 ounces of Dubliner cheese and cut the remainder into thin slices.
Cut a pocket in each chicken breast and insert the slices of cheese.
In a bowl, mix together the bread crumbs, fresh herbs, seasoning, and the grated Dubliner cheese.
Place the beaten eggs in a shallow dish and dip the chicken breasts into it, until evenly coated, then press firmly into the crumb mixture.
Bake for 20 to 30 minutes or until cooked through.
Serves 4.


Irish Christmas Goose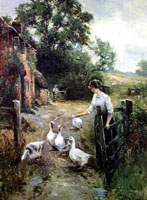 The following is adapted from recipes created by Irish chefs, Herb and Christine Quigley, of Ballycormac House, Co. Tipperary. Christine recommends that when you buy the goose, you calculate one lb per person as opposed to half a pound per person for turkey. She also recommends that you buy a bird which was raised outdoors because it will be a lot less fatty.

The first step is to prick the goose all over and then make a one inch slit between the wing and the breast, just under the wing, to drain off the fat while the bird is cooking.

Pre-heat the oven to 425. Cook the goose for 15 minutes and then continue roasting at 350F, counting 15 minutes per pound. If the bird is stuffed add another half hour of cooking time at the end. Juices will run clear when the bird is done. During cooking, regularly remove the fat with a spoon or baster. Reserve some of the drained fat for the goose gravy. The fat is also great for roasting potatoes.


Goose Cider Gravy

Ingredients:
1 cup apple cider
2 tablespoons cider vinegar
6 tablespoons flour
4 cups goose stock

Method
Skim all the fat from roasting pan juices. Add the cider and vinegar to the pan and deglaze over moderate heat, scraping up the brown bits; boil until reduced by half. In a sauce pan combine one third of a cup of goose fat with the flour and cook, stirring for two to three minutes. Add the cider mixture and goose stock, stirring. Bring to the boil and simmer for five minutes. Season to taste with salt and pepper.


Apple Chestnut Stuffing

Ingredients
8 cups white bread, cut into half inch cubes
2 onions, chopped
4 ribs of celery, chopped
Quarter cup minced fresh sage or 1 tablespoon dried
1 tablespoon minced fresh thyme, or 1 teaspoon dried
1 tablespoon minced fresh rosemary or 1 teaspoon dried
1 tablespoon minced fresh savoury or 1 teaspoon dried
Half cup butter 2 cups whole canned chestnuts, chopped course (or 1 lb fresh)
2 cups Granny Smith apples, cored, chopped coarse
three quarters cup chopped parsley
1 egg beaten
Goose stock or cream

Method
Spread the bread on baking sheets and bake at 325Ffor 15 to 20 minutes, until golden. In a large skillet, cook the onions, celery, sage, thyme, rosemary and savory in the butter until softened, (about 10 minutes).
Add the chestnuts and apples and cook, stirring for three minutes. Add the vegetables to the bread, tossing well and stir in the parsley, egg, salt, and pepper to taste. Lightly moisten with stock or cream.

Stuff the goose. Any remaining stuffing can be baked in a casserole, covered for an hour at 350F. Baste with some of the goose dripping for added flavor.

Resources: Irish Heritage Newsletter
Image: Goose Girl All Posters Prints


---
Michaelmas Goose with Potato & Apple Stuffing


The goose was stuffed with potato, onion and sage stuffing and roasted slowly. Every now and then the fat would be poured off; some was used to roast potatoes but the rest was stored for myriad purposes apart from cooking — it was rubbed into congested chest as a remedy for wheeziness, rubbed in to the range to give it a shine, or even into leather shoes. Nothing was wasted!
Edited from The Festive Food of Ireland by Darina Allen.

Ingredients:
1 goose weighing about 10 lbs with giblets, neck, heart and gizzard. Note that while a goose looks quite big, it has a large cavity, so allow 1lb of uncooked weight per person.
1 small onion
1 carrot
Bouquet garni consisting of 1 sprig of thyme, 3 or 4 parsley stalks, a small piece of celery
6 or 7 peppercorns
Roux, if desired, for thickening
Stuffing
2 lbs potatoes
1/2 stick butter
1 lb onions
1 lb Granny Smith cooking apples, peeled and chopped
1 tbs chopped parsley
1 1/2 tablespoons lemon balm
Salt and freshly ground pepper
Method:
Stuffing
Scrub potatoes and boil in salt water until cooked. Drain water and mash potatoes, including skins. Melt butter and simmer onions in covered saucepan over gentle heat for 5 minutes. Add apples and cook until they break down into a fluff then stir in the mashed potatoes and herbs. Season with salt and pepper. Allow to get quite cold before stuffing goose.
Goose
Remove giblets, neck, heart and gizzard from goose cavity. Put goose into large saucepan with giblets, onion, carrot, bouquet garni and peppercorns. Cover with cold water, bring to a boil and simmer for about 2 hours. Remove bird from stock, pat dry and place in roasting pan Strain stock and store in refrigerator until it's time to make the gravy Preheat oven to 350 degrees. Season goose cavity with salt and pepper and fill with cold stuffing. Sprinkle sea-salt over breast and rub into skin. Roast for 2 to 21/2 hours. During roasting, pour off excess fat three or four times. (Store fat in refrigerator ?it keeps for months and is wonderful for roasting or saut?ing potatoes). To test whether goose is cooked, prick the thigh at thickest part. If the juices that run out are clear, it's ready. If they're pink, it needs a little longer. When bird is cooked, remove to a large oven-proof platter and place in oven on low heat to keep warm while you make the gravy.
Gravy
Pour or spoon off remaining fat in pan. Add about 2 cups of strained giblet stock to roasting pan. Bring to a boil, and, using a small whisk, scrape the pan well to dissolve any meaty deposits. Taste for seasoning and if desired, thicken with a little roux. If the gravy seems weak, boil for a few minutes to concentrate the flavor. It if seems too strong, add a little more water or stock. Serves 8 to 10.
Thu, Jul 9, 2015
---
"...the freshest of food and
the oldest of drink"
- Irish Proverb
The New Irish Table
by Margaret Johnson



Margaret Johnson's love of Ireland permeates page after glorious page of mouthwatering Irish dishes, from Smoked Salmon Chowder to Raspberry Buttermilk Tarts. Lavish color photographs of the food, the landscapes, and the people are woven through the text, making The New Irish Table the next best thing to sitting down to dinner in Ireland itself.
Click here for New Irish Table.