Traditions, folklore, history and more. If it's Irish, it's here. Or will be!
"People will not look forward to posterity who never look backward to their ancestors."
-Edmund Burke
---
Quotes

Library: Books, Movies, Music

Prints & Photos

Poetry

Jokes

---
---
Shops Ireland
---
Bunús na Gaeilge
(Basic Irish)

---
---
Did You Know?
---
Himself/Herself
Write to Us
Readers Write..
Links/Link to Us
---
Advertise with us

---

Help keep us free
Throughout the site you will see many items available for purchase from well-known merchants such as Amazon. Not interested in what we're featuring? It doesn't matter. Click on any link and then shop for whatever you wish - we will still get credit, if you buy something.
Thanks for your help.

---
---
Irish Lamb Recipes 2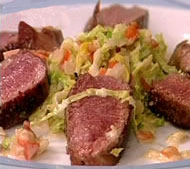 Sunday Dinner: Medallions of Lamb with Creamy Cabbage
Edited and adapted by Hartson Dowd

Cabbage may not be everyone's favourite vegetable as it is often overcooked and stewed. Mine is stir-fried and steamed in the same pan in seconds which brings out all of its lovely flavours, yet leaving it crisp, nutritious, and utterly delicious.

Ingredients:
4 lamb filets - approximately 6-oz each, trimmed
1 tbsp olive oil plus a splash more
4 rashers (strips) smoked streaky bacon
1 large onion, peeled and chopped finely
1 clove garlic, peeled and chopped finely
1 carrot, peeled and chopped finely
1/2 head Savoy cabbage, finely chopped
few sprigs fresh thyme and rosemary
1/3 pint chicken stock
1/3 pint whipping cream
salt and freshly ground pepper

Method:
1. Heat a splash of olive oil in a frying pan and brown the meat over a fairly high heat, add the thyme and rosemary. Reduce the heat and continue cooking until the meat is done to your liking. Remove to a plate. Cover and keep warm.
2. Remove the rind from the bacon and chop up
3. Add the tablespoon of olive oil to the frying pan and cook the chopped bacon until it is golden brown.
4. Add the onion, garlic and carrot and continue cooking for a couple of minutes.
5. Put in the cabbage and cook it over a high heat for about a minute then add the stock (it will give a lot of steam). Stir thoroughly to dislodge the sediments from the bottom of the pan.
6. Finally add the cream, briefly reheat and season to taste.
7. Arrange the lamb filets on a platter with the creamy cabbage and serve.
Serves 4

Original recipe and photo by Andrew Nutter from Good Food Bites


Grilled Mountain Lamb and Salad
Contributed by Hartson Dowd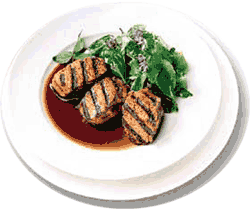 Mountain lamb, produced naturally in Ireland's wild and wonderful hills, is one of her legendary speciality foods. The following recipe, created by award-winning chef Gerry Galvin, serves 2.

Ingredients:
1 rack of lamb, chined. This means the bone is loosened
2 tablesp. oil
2 cloves garlic, crushed
2 tablesp. chopped fresh herbs
Salt and black pepper
Mixed salad leaves

Method:
Start by preparing the lamb. Remove the fillet/eye of the meat from the bone and trim off all the fat. Discard the fat, but keep the bones and trimmings for stock to make lamb gravy. Cut the lamb into six small steaks. Place in a shallow dish. Mix the oil, garlic, herbs and seasoning together. Spoon half this mixture over the lamb. Heat the griddle pan or grill until very hot. Cook the lamb steaks according to your preference.

Mix the salad leaves with remaining oil and herb mixture. Place on the serving plates with the lamb steaks and serve with the cooking juices or a little lamb gravy.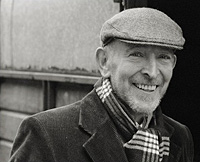 About the Chef
Gerry Galvin was one of Ireland's culinary pioneers – indeed he has been described as the father of modern Irish cuisine. Since the 1970s, when he and his wife Marie ran their famous Kinsale restaurant, The Vintage, Gerry has been outstandingly innovative in his development of original dishes.
In 1984, deciding that they wanted a quieter life, away from the tourist hordes, Galvin and his wife sold their restaurant in Kinsale and bought a historic property called Drimcong House in Moycullen, in Co Galway. Marie tended the herb and vegetable garden, Galvin fished for pike and eel in the Drimcong lake, and the menu offered such original creations as colcannon soup, black pudding with oysters and apples, and roast pike with lovage, bacon, and lamb sauce. Again, other Irish chefs paid attention to what he was doing and spread the word about his talents, and for 17 years, Drimcong House was a must destination on any knowledgeable Irish food lover's itinerary. The couple raised three children on the property, but none showed any interest in taking over the place, so in 2001, when the Galvins decided that they'd worked in the grueling restaurant trade for long enough, they closed.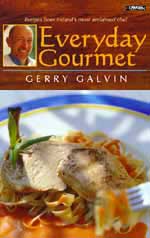 Among his many culinary honours, Gerry Galvin was the first 'New Irish Cuisine Chef of the Year' in 1996. He was also the author of of a very popular cookbook, The Everyday Gourmet - and, he was a poet as well.

On Feb. 25, 2013, Gerry suffered an aneurysm. He was rushed to the hospital from his home in Oughterard, near Galway, but never regained consciousness. RIP, Gerry!

Photo Credit & Related Details: Colman Andrews/The Daily Meal



Every Day Gourmet by Gerry Galvin


Images:
Gerry Galvin photo credit
Lamb salad photo credit


For more Lamb recipes click here Page One.

Thu, Jul 9, 2015
---
"...the freshest of food and
the oldest of drink"
- Irish Proverb
The New Irish Table
by Margaret Johnson



Margaret Johnson's love of Ireland permeates page after glorious page of mouthwatering Irish dishes, from Smoked Salmon Chowder to Raspberry Buttermilk Tarts. Lavish color photographs of the food, the landscapes, and the people are woven through the text, making The New Irish Table the next best thing to sitting down to dinner in Ireland itself.
Click here for New Irish Table.