---
Desserts 4
Click here for Desserts 3
(Previous)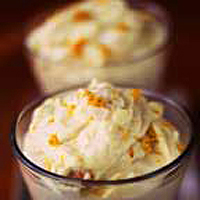 Syllabub

In her book
Kindling The Celtic Spirit
, author Mara Freeman tells us that in parts of ireland, the first milk of Beltaine was poured on the ground as an an offering to the good people. Next, the cow was milked straight into a bowl of whiskey, sherry or mead for the frothy concoction known as Syllabub - a breakfast that assured a merry start to May festivities. As Mara says, here's a version that doesn't require access to a cow!
Ingredients:

1/3 cup sherry
1/2 teaspoon amaretto liqueur or almond extract
Juice and zest of 1 lemon
6 tablespoons of sugar
2 cups heavy cream
12-18 amaretti cookies or biscuits (oatmeal cookies are also good)
6 wine or sundae glasses
Method:

1. Put the sherry, liqueur or extract, lemon juice, zest, and sugar into large mixing bowl
2. Add the cream and whip until the mixture stands in soft peaks
3. Crumble the cookies at the bottom of each glass. Spoon the cream mixture on top. Sprinkle some cookie crumbs on top
4. Chill for several hours before serving. glasses and refrigerate for several hours. Serve with a few fresh berries, biscuits, or oatmeal cookies.
Makes 6 servings.
Irish whiskey roasted strawberries

This sounded like a nice accompaniment and is the creation of Chef Alistair McLeod.
Ingredients:

32 even sized strawberries
65g sugar - approximately 1 plus 1/3 ounces sugar
50ml Irish whiskey - approximately 2 ounces
100ml strawberry puree - approximately 4 ounces
Method:

Boil sugar & whiskey to make a light caramel. Add puree and cook till caramel is deep red. Add strawberries & toss in caramel. Heat in oven till just warm, basting frequently with the whiskey & strawberry puree. Serve just enough puree to cling to the berries.
Ed. NOTE:
According to Margaret Johnson in her book "Irish Puddings, Tarts, Crumbles and Fools" , the word syllabub is said to have originated in Elizabethan times and is a combination of the words "sillie" (a French wine that was used in the mixture) and "bub" (old English slang for "bubbling drink").
Photo Credit:
Waitrose Food Illustrated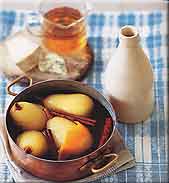 Pears Poached in Bunratty Meade
Pears are often poached in red wine or port, which adds both color and flavor, but you will them even sweeter when the poaching liquid is made with Bunratty Meade! The silky cheese accompaniment—a blend of Irish blue cheese and Italian mascarpone, a soft, triple-cream cheese—is a luxurious addition.
Ingredients:

1 1/4 cups Bunratty Meade
3/4 cup granulated sugar
1/2 cup water
2 to 3 cinnamon sticks
Zest of 1 orange, cut into strips
6 firm Bosc or Bartlett pears, peeled, stems intact
4 ounces mascarpone cheese
4 ounces Cashel Blue cheese, crumbled
Method:

In a large saucepan over medium heat, bring the mead, sugar, water, cinnamon sticks, and orange zest to a boil. Cook for 6 to 8 minutes, or until the sugar dissolves and the mixture is syrupy. Reduce the heat to low, add the pears, and simmer, covered, for 25 to 35 minutes, or until the pears are tender. Turn the pears with tongs 2 or 3 times during cooking. Remove from the heat and let the pears let cool in the poaching liquid.
Strain the liquid. In a small bowl, whisk together the mascarpone and blue cheese until blended.
To serve, stand a pear in the center of each of 6 dessert plates, spoon some syrup over them, and place a dollop of the cheese mixture next to each.
Serves 6
Source:
The Spirit of Ireland cookbook
by Margaret Johnson
Desserts 4
Click here for Desserts 3
(Previous)
Any purchase made helps to support our site (and Bridget's fondness for tea towels). Thank you.