Traditions, folklore, history and more. If it's Irish, it's here. Or will be!
"People will not look forward to posterity who never look backward to their ancestors."
-Edmund Burke
---
Quotes

Library: Books, Movies, Music

Prints & Photos

Poetry

Jokes

---
---
Shops Ireland
---
Bunús na Gaeilge
(Basic Irish)

---
---
Did You Know?
---
Himself/Herself
Write to Us
Readers Write..
Links/Link to Us
---
Advertise with us

---

Help keep us free
Throughout the site you will see many items available for purchase from well-known merchants such as Amazon. Not interested in what we're featuring? It doesn't matter. Click on any link and then shop for whatever you wish - we will still get credit, if you buy something.
Thanks for your help.

---
---
Brown Trout recipes
Contributed by Hartson Dowd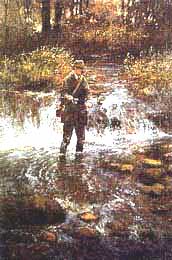 Brown trout are a wild freshwater fish, native to Ireland and found in the rivers, lakes and streams throughout the country. They are a fine delicate fish with a slightly nutty flavor. According to custom, its delicate flavor can only be enjoyed at its best by gutting and cleaning it in the river in which it was caught.

Baked Trout with Mushrooms and Almonds

Ingredients:
1/2 cup fresh onion rings
1 cup sliced carrots (1/8" thick)
2 bay leaves
1 teaspoon dried thyme
1/2 teaspoon ground cinnamon
2 teaspoons minced fresh garlic, divided
1 tablespoon salt, divided
12 turns freshly ground black pepper, divided
1-1/2 cups dry white wine, divided
3 pounds rainbow trout fillets
3/4 cup all-purpose flour
1/4 cup olive oil, divided
1/2 cup fish stock
2 cups thinly sliced white mushrooms
1 cup coarsely chopped peeled, seeded tomatoes
2 tablespoons minced fresh parsley
3/4 cup sliced almonds

Method:
1. In a large bowl, combine the onions, carrots, bay leaves, thyme, cinnamon, 1 teaspoon of the garlic, 1 teaspoon of the salt, 4 turns of the pepper, and 1 cup of the wine. Mix this marinade well.
2. Arrange the trout fillets in a large baking dish and pour the marinade over them. Cover with plastic wrap and refrigerate for 1 hour.
Preheat the oven to 350 degrees. Remove the dish from the refrigerator.
3. Lift the fillets carefully out of the marinade to a plate, and reserve the marinade with its vegetables.
4. In a dish, combine the flour with the remaining salt and pepper. Heat 2 tablespoons of the oil in a large skillet over medium heat. Dust half the fillets lightly with the seasoned flour, place them in the skillet and cook until brown, 3 to 4 minutes on each side. Remove and place in a large baking dish while you heat the remaining oil and repeat the process with the remaining trout fillets. Transfer these to the baking dish.
5. Stir the remaining 1 teaspoon garlic into the skillet over low heat until golden, about 2 minutes. Stir in the remaining one half cup wine over medium heat and scrape the skillet to deglaze it. Stir in the reserved marinade with the vegetables and the fish stock. Cook, stirring often, until the mixture is heated through and the vegetables are tender, 3 to 4 minutes. Fold in the mushrooms, tomatoes, and parsley and cook until the vegetables just start to get tender, 2 to 3 minutes. Remove from the heat.
Pour the contents of the skillet over the trout and sprinkle with the almonds. Bake until the almonds are golden brown, 15 to 20 minutes. Serve immediately. Serves 8


Baked Trout with Herb Stuffing and Cream Sauce

Ingredients:
6 tablespoons butter
1 small onion, chopped finely
2 tablespoons finely chopped parsley
1 tablespoon finely chopped chives
3 tablespoons finely chopped dill
2 oz. fine white bread crumbs
Finely grated rind of half a lemon
2 teaspoons lemon juice
Pinch of nutmeg
1 cup light cream
4 brown (or rainbow) trout approximately 10-12 oz. each, cleaned
Two thirds cup dry white wine (optional)
Salt and pepper

Method:
1. Melt 4 tablespoons of the butter in a large skillet and fry the onion until soft but not brown. Remove from the heat.
2. Mix the herbs together and add half to the pan along with the bread crumbs, lemon rind, juice, and nutmeg. Season with salt and pepper. Mix well and moisten with 1-2 tablespoons of cream. Divide this mixture equally among the 4 fish, using it to stuff the belly of each.
3. Butter a large ovenproof baking dish with half of the remaining butter. Lay the stuffed trout head to tail in the baking dish, dot with the remaining butter, and pour on the wine if using.
4. Bake in a preheated oven 475F, for 20 minutes until slightly firm to the touch.
5. Pour the cooking liquor into a saucepan and boil rapidly, reducing by half. Add the remaining cream and herbs and return to a boil, adjusting the seasoning if necessary.
6. Arrange the fish on individual warm serving plates and pour a little sauce over each fish. Serve with boiled potatoes and crisp green vegetables or green salad. Serves 4


Fried Trout with Toasted Hazelnuts and Herbs

Ingredients:
4 trout, approximately 10-11 oz. each, gutted, washed, and dried, heads and tails left on
1 cup all-purpose flour
1 stick butter, clarified (see note at bottom)
1 stick butter, melted
4 oz. hazelnuts, shelled
2 tablespoons, lemon juice
2 tablespoons finely chopped parsley
1 tablespoon finely chopped chives
salt and pepper
1 lemon, cut into 4 wedges for garnish.
Watercress sprigs.

Method:
1. Season the fish well, inside and out, and toss in the flour, shaking off the excess.
2. Fry in the clarified butter until golden brown, about 5 minutes on each side, turning once very carefully to prevent the skin from breaking.
3. While the trout are cooking, toast the hazelnuts under the broiler until the skins can be rubbed off easily, then chop roughly.
4. Quickly melt the remaining butter in a small pan, to allow it to foam and turn brown, then add the lemon juice.
5. Transfer the cooked trout to 4 warm serving plates. Scatter the nuts on top of each trout and keep warm.
6. Pour the browned butter on top of the fish. Scatter the herbs on top and garnish with lemon wedges and watercress.
Serve with boiled new potatoes and a green vegetable or a salad.
Serves 4
Note: To clarify butter: Put butter in a small saucepan, bring to a boil, and let it bubble several times without browning. Remove from the heat and allow to settle. Carefully pour it through a strainer lined with damp cheesecloth. This will catch all the salty sediment which causes butter to burn.


Marinated Trout with Mustard and Dill
This makes a delightful change for a summer lunch. It is a simple dish, but you need to prepare it the night before.

Ingredients:
4 whole trout
Salt and pepper
Juice of 1 lemon
1/4 pint dry white wine
2 tablespoons grain mustard
4 sprigs fresh dill, finely chopped

Method:
1. Bone and skin the trout, then cut into 8 fillets. Clean and dry the fillets with paper towels. Place in a suitable dish in one layer, and season with salt and pepper.
2. Mix the lemon juice, wine, mustard and dill, ensuring a good blend; pour over the fillets and cover with a plate and refrigerate overnight. If at all possible, turn the fish in the marinade as often as you can. Before serving, remove the fillets from the marinade and slice lengthwise into pieces 1/8-inch thick. Serve with baby new potatoes, sliced tomatoes and cucumber, and a generous amount of mayonnaise.


Campfire-style Bacon-Wrapped Trout

Ingredients:
6 whole trout, cleaned and scaled, approximately 8 ounces each
1 8-ounce can tomato sauce
8 ounces beer
1/8 cup butter or oil
2 tablespoons each: lemon juice and green onions with tops, sliced
1/4 cup white wine
Salt, pepper, thyme, garlic powder and onion powder to taste
Dash paprika

1 bay leaf
1 teaspoon parsley flakes
Pinch of brown sugar
3 or 4 drops Tabasco
12 slices bacon, partially cooked.

Method:
1. In a saucepan, combine all ingredients. Simmer for 15 minutes to allow flavors to blend, stirring occasionally.
2. Wrap each fish in 2 slices of bacon. Secure with toothpicks.
Place on a prepared grill and cook 6 minutes per side. Brush often with sauce. Serve fish hot with sauce.
Serves 6


Simply speaking, there is nothing better than a freshly caught Trout; however, there are good and bad ways of preparing them. My Irish grandfather had a perfect way for cooking the trout he caught while camping out, or back home in the kitchen.

Ingredients:
6 trout, whole, cleaned and scaled, approximately 8 ounces each
Salt, pepper, garlic powder and paprika to taste
One-half cup flour
One-half cup yellow cornmeal
One-half to three-quarter cup butter or oil
Lemon wedges for garnish

Method:
1. Combine in a shallow pan, salt, pepper, garlic powder, paprika, flour and yellow cornmeal.
2. In a large frying pan, melt butter or oil over medium-high heat
3. Moisten each fish slightly with water and dip in seasoned mix, coating each side and inside cavity of fish. Place in skillet and brown 3 to 5 minutes per side, frying crisply. Serve with lemon wedges.
Note: Always remember, do not overcook fish or it will be dry and tough.


From an old Irish Recipe - "To Fry the Brown Trout"

Time twenty minutes. One or two trout. Thoroughly clean and remove the gills, brush them over with the yolk of a well beaten egg, dip them into breadcrumbs, and fry them in hot fat until a fine brown. Garnish with sliced lemon or bacon strips.

Fish Stock
Ingredients:
2 tablespoons vegetable oil
1 cup minced onions (about 1 medium onion)
4 pounds fish bones, heads, and trimmings from mild, non-oily fish
1 cup minced parsley
One-quarter cup freshly squeezed lemon juice
2 cups dry white wine
2 quarts water
1-1/2 tablespoon salt.

Method:
1. Heat the oil in a stockpot over medium heat. Add the onions and cook, stirring occasionally, until soft, 5 to 6 minutes
2. Reduce the heat to low and add the fish bones and scraps. Sprinkle with the parsley and lemon juice. Cook, shaking the pot occasionally, until the bones begin to look translucent, about 5 minutes
3. Increase the heat to medium low and add the wine. Cook, stirring occasionally, until the liquid has reduced by about half, 25 to 30 minutes
4. Increase the heat to medium-high. Add the water and salt and bring to a boil. Cook at a brisk bubble until the stock has reduced by half, about 30 minutes. Remove from the heat
5. Strain the stock into one or more containers, discarding all of the solids. Allow to cool at room temperature before refrigerating or freezing
Fish stock can be kept refrigerated for up to 2 days or frozen for up to 4 months.
Note: When freezing, store the stock in sealable plastic bags in 1-cup amounts so that you'll be able to use as much or as little as you need without defrosting all of it. Makes about 1 quart.

Ed. Note: Ireland's limestone rivers provide the cream of fly-fishing for Irish trout. They vary from powerful watercourses over fifty yards wide to little brooks. Most are surface fed, with a small proportion of their water coming from springs. A few, such as the Tar in Co. Tipperary, are spring fed and these are jewels, especially in May and June when their crystalline streams reveal golden gravels and the fresh green of ranculus fronds. They offer many possibilities for the fisherman: fast bubbling runs; deep pools with crease lines of current where discriminating trout lie in line astern; technically challenging slick glides. These rivers can hold heavy stocks of beautifully coloured fish. The average size is probably about twelve inches but a surprising number hold trout to eighteen inches (3lbs) and every year trout over 5lbs are taken.
We found this information on a great website devoted to Irish Trout fishing. If you'd like to learn more, please click Fishing in Ireland.


Images:
The Elusive Trout by C. Madgwick from Barewalls Photos and Prints.
Just one of many paintings of Ireland created by this talented artist. Click on the link above to view the featured image and if you'd like to view the others, key in the artist's name - C. Madgwick - in the search box.

Any purchase made helps to support our site (and Bridget's fondness for tea towels). Thank you.


Thu, Jul 9, 2015
---
"...the freshest of food and
the oldest of drink"
- Irish Proverb
The New Irish Table
by Margaret Johnson



Margaret Johnson's love of Ireland permeates page after glorious page of mouthwatering Irish dishes, from Smoked Salmon Chowder to Raspberry Buttermilk Tarts. Lavish color photographs of the food, the landscapes, and the people are woven through the text, making The New Irish Table the next best thing to sitting down to dinner in Ireland itself.
Click here for New Irish Table.