Traditions, folklore, history and more. If it's Irish, it's here. Or will be!
"People will not look forward to posterity who never look backward to their ancestors."
-Edmund Burke
---
Quotes

Library: Books, Movies, Music

Prints & Photos

Poetry

Jokes

---
---
Shops Ireland
---
Bunús na Gaeilge
(Basic Irish)

---
---
Did You Know?
---
Himself/Herself
Write to Us
Readers Write..
Links/Link to Us
---
Advertise with us

---

Help keep us free
Throughout the site you will see many items available for purchase from well-known merchants such as Amazon. Not interested in what we're featuring? It doesn't matter. Click on any link and then shop for whatever you wish - we will still get credit, if you buy something.
Thanks for your help.

---
---
Irish Beef Entrées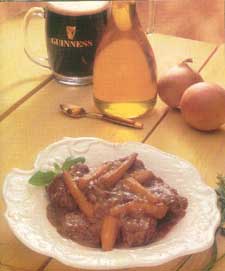 Beef braised in Guinness
Adapted from the Irish Heritage newsletter

Could there be anything more satisfying than a hearty dish subtly flavored with Ireland's most popular pint - especially on a chilly Autumn evening? Easy to prepare, it tastes even better if it's made the day before and re-heated in the oven for about 45 minutes. Nice served with Colcannon, fresh soda bread and, of course, washed down with your favorite brew.

Ingredients:
1 1/2 pounds chuck or round steak
1/2 lb carrots
2 medium onions
2 tablespoons all-purpose flour seasoned with salt & pepper to taste
2-3 tablespoons cooking oil
1/2 tsp fresh basil, minced
2/3 cup Guinness
1 tsp honey
2/3 cup beef stock or water
sprig of parsley

Method:
1. Cut beef into chunks
2. Peel and chop the onions; peel and slice carrots into pieces about the size of your little finger
3. Heat the oil and cook the onions until they are soft. Transfer with a slotted spoon to a large, shallow, oven-proof dish
4. Toss the beef in the flour and brown quickly in the hot fat
5. Remove the beef and place on top of the onions. Arrange the carrots around the beef
6. If necessary, add a little more fat to the pan and stir in the left-over seasoned flour. Cook for a minute or two, stirring constantly
7. Add the basil and the Guinness. Allow to cook for another minute or two and then add the honey and the stock. Again, bring to a boil and then pour over the beef, carrots and onions
8. Cover with a lid or foil and cook in a 325 degree oven for about 1 1/2 hours.
9. At serving time, sprinkle with chopped parsley.
Serves 4
Click here to read our article Guinness for Strength.

Images:
Peter Barry from Irish Cooking, edited by Helen Walsh
note: We've tried to find this book so you might buy it - we cannot! If anyone knows where it can be found, let us know and we'll post it up - thank you.


Corned Beef & Cabbage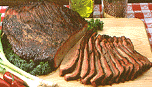 If it wouldn't be St. Patrick's Day in your house without Corned Beef & Cabbage, here's an authentic recipe from Darina Allen's the Festive Food of Ireland. Even she points out that it's rarely eaten in Ireland and was most likely made popular by immigrants who missed the salted beef of their homeland. Cured beef was a traditional Easter Sunday dinner; the beef killed and preserved before winter could then be eaten after the long Lenten fast.
In the truest sense of the word then, this really doesn't qualify as a traditional recipe. But, it has become so closely associated with the Irish and St. Patrick's Day, we'd be remiss not to include it.

Ingredients:
4-pound corned beef brisket - 'silverside' if you can get it; many butchers are familiar with the term and can prepare your cut of brisket in this special way. But, do allow them several days to prepare it properly.
3 large carrots, cut into large chunks
6 to 8 small onions, roughly chopped
1 teaspoon powdered English mustard
1 large spring of fresh thyme and several parsley stalks tied together
1 cabbage
Salt and pepper to taste

Method
1. Put the corned beef into a large pot with the carrots, onions, mustard powder and herbs.
2. Cover with cold water; bring to a boil and then lower heat and simmer for 1 hour. From time to time, skim fat from top as it rises.
3. Discard the outer leaves of the cabbage and cut into quarters, Add to the pot. * Cook for another one to two hours or until the meat and vegetables are tender.
4. Serve the corned beef cut into slices and surrounded by the vegetables. Serve with a generous amount of potatoes, boiled in their jackets and freshly made mustard. (We use Colman's which is readily available). In addition to the English mustard we also like the following horseradish sauce:

Horseradish Sauce
1/2 pt Whipping Cream
2 tablespoons prepared horseradish
Whip cream until it stand in peaks. Fold in horseradish.
*We prefer our cabbage crispy firm, so, we cook it separately. Cooked quickly in boiling water, it retains its beautiful bright green color. We season it heavily with fresh ground pepper and we don't go easy on the butter!

Note: Our dear friend Judith Flynn sent us the following Corned Beef "sauce" which sounds really tasty: Sliced the beef and place it on an oven proof serving platter. Mix up 2 tablespoons of mustard, 2 tablespoons of catsup and 1/3 cup brown sugar (packed). Spread over the corned beef. If it is a large piece, double the recipe. Put it back in the oven for a bit to warm the sauce


Spiced Beef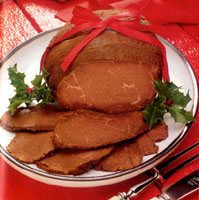 Served cold and thinly sliced, this is a great buffet favorite in many Irish households during the holiday season. While not difficult to prepare, it does require quite a bit of time and care. The following recipe is adapted from several in our collection.

Ingredients:
6 lb sirloin tip or eye of the round roast
3 bay leaves, finely chopped
1 teaspoon powdered mace
6 finely ground cloves
1 large clove of garlic crushed and made into a paste with salt
1 teaspoon allspice
1 teaspoon crushed black peppercorns
2 teaspoons molasses
2 heaping teaspoons brown sugar
1/2 cup salt
2 teaspoons saltpetre
1 bottle Guinness
Method:
1. Mix all the flavorings and spices together
2. Place the beef in a large bowl and rub all over with the spice and flavoring mixture
3. Cover and refrigerate
4. Rub in the mixture once or twice a day for a week; turn the beef as you repeat the rubbing in process. The spices and flavorings will now be mixed with the juices drawn from the beef
5. Tie up the meat firmly and place in a large pot. Rub in a last teaspoon of ground cloves
6. Cover with cold water to which a bottle of Guinness has been added
7. Simmer gently for 6 hours. Allow to cool in the cooking liquid. When cool, remove from the cooking liquid, place on a serving dish and cover with a weighted plate
8. Refrigerate until serving time
9. Serve cold, thinly sliced.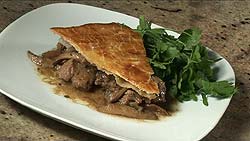 Beef & Mushroom Pie
Adapted from Cooking with Irish Spirits by Margaret Johnson
The flavour of this hearty dish is greatly enhanced with either Murphy's or Guinness stout. Topped with a lid of golden brown flaky pastry, it is delicious served with mashed potatoes and mushy peas.
Photo Credit & Similar Recipe made with Guinness: Videojug

Ingredients:
Double pastry crust
1 lb beef steak, cut into small cubes
1 Tablespoon flour
Salt and freshly ground pepper
1/4 cup cooking oil
1 onion, chopped
1 cup mushrooms, sliced
1 Teaspoon Worcestershire Sauce
1 cup beef stock
3/4 cup Murphy's Irish Stout
1 egg, beaten.

Method:
1. Preheat oven to 350 degrees F.
2. Prepare double pastry crust
3. Dredge meat lightly with flour and season with salt and pepper.
4. Brown meat in oil, a few pieces at a time. Remove and set aside.
5. Add musrooms and onions to the pan and sauté for 5 minutes.
6. Return meat to the pan; add the Worcestershire Sauce and Murphy's. Simmer over very low heat, uncovered for 1 hour. If the mixture becomes too thick, cover halfway through.
7. Transfer the mixture to a 9-inch pastry-line pie plate. Cover with the top crust, crimp the edges and brush with beaten egg. Cut slits in the center of the crust.
8. Bake until golden brown - about 45 minutes.
Serves8



Thu, Jul 9, 2015
---
"...the freshest of food and
the oldest of drink"
- Irish Proverb
The New Irish Table
by Margaret Johnson



Margaret Johnson's love of Ireland permeates page after glorious page of mouthwatering Irish dishes, from Smoked Salmon Chowder to Raspberry Buttermilk Tarts. Lavish color photographs of the food, the landscapes, and the people are woven through the text, making The New Irish Table the next best thing to sitting down to dinner in Ireland itself.
Click here for New Irish Table.