Traditions, folklore, history and more. If it's Irish, it's here. Or will be!
"People will not look forward to posterity who never look backward to their ancestors."
-Edmund Burke
---
Quotes

Library: Books, Movies, Music

Prints & Photos

Poetry

Jokes

---
---
Shops Ireland
---
Bunús na Gaeilge
(Basic Irish)

---
---
Did You Know?
---
Himself/Herself
Write to Us
Readers Write..
Links/Link to Us
---
Advertise with us

---

Help keep us free
Throughout the site you will see many items available for purchase from well-known merchants such as Amazon. Not interested in what we're featuring? It doesn't matter. Click on any link and then shop for whatever you wish - we will still get credit, if you buy something.
Thanks for your help.

---
---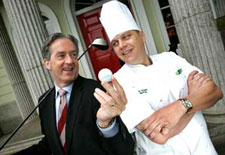 Showcasing the best of Irish food at the Ryder Cup
by Bridget Haggerty

So what does one serve when you are hosting one of the most prestigious events in the world of sports? While millions had their eyes on that little white ball, food faddies were jealously feasting their eyes on the Ryder Cup K Club menus.

Designed to showcase "the best of Irish food, drink and culinary creativity", traditional Irish staples were given a gourmet makeover.
According to Bord Bia, the meals served at the Players' Dinner and Gala Dinner were carefully crafted to reflect the delights of an Irish table.



The Player's Dinner "celebrated the rich potency of the Irish sense of place" and was sculpted into four crowns representing the four provinces of Ireland. Two crowns represented the "finest Irish beef raised on the lush green pastures of Leinster", while Munster, Ulster and Connaught vied to be the organic carrot filled with pureed potato, cream and garlic or the tower of wild mushrooms and shallots. And mead, "the drink of the ancient nobility of Ireland" made up the gravy that moistened this hefty repast.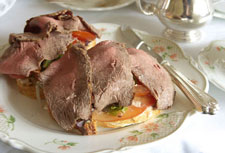 Hosted by European Captain Ian Woosnam, the meal started with smoked salmon, prawns and quail's eggs and finished with Offaly blueberry bread and butter pudding and icecream. The 'Beef Tuath' main course - designed by K Club chef Finbarr Higgins as the signature dish of the tournament will become a permanent addition to the menu "in commemoration of the great event".

Bord Bia are not at all modest in their hopes for what the meal and the event will do for Ireland's international image as purveyors of fine food.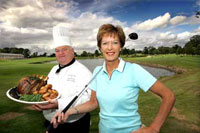 "Linking ancient past to dynamic present, a sense of place and a sense of people, Beef Tuath celebrates the richness of Ireland's heritage, the quality of its ingredients and the genius of its new generation of chefs," declared Bord Bia Chairman Angela Kennedy.

The mid-week Gala Dinner, hosted in the City West Hotel, was originally supposed to include two "Gaelic Tasting Plates". The first was described as a meat-eater's delight featuring McGeough's air-dried beef and tomato chutney, potted game with bacon, smoked chicken, black pudding and ham hock terrine. Vegetarians, meanwhile, were to be offered apple and celery salad and pickled vegetables. Plate two, was described as a seafood tasting plate comprised of smoked mackerel, Dublin Bay prawns in a seafood sauce, smoked mussels and Compsey yoghurt salad, and McConnell's smoked salmon with a wheat bread croute.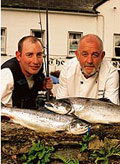 We don't know what happened to these special plates as the press didn't mention either one when they wrote about what was actually served: a starter of Donegal crab, mixed peppers, avocados, coriander with tomato salad, lemon and saffron creme fraiche and sweet pickled cucumber.

For the main course the teams tucked into aromatic rack of Wexford lamb with wild mushroom cream, swede gratin, bouquet of sweet carrot and red wine jus. They then feasted on desserts such as lemon soufflé and bitter chocolate cup or autumn berries.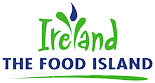 But in case anyone still doesn't get their message that Irish food can be up there with the best, Bord Bia has also served up a floating garden planted with 20,000 Irish plants and heathers. Emblazoned with the logo "Ireland The Food Island" the real Ryder cup sat on the island and floated on the lake between the 13th and 15th fairways in the hope of being seen on TV.

So that's what Bord Bia had in mind to showcase Irish foods. What was done to cater to the tastes of the players themselves?

It's now common knowledge that the American team brought their own barbecue cook and American-style bacon. We also know that team captain Tom Lehman and his wife Melissa packed a ton (actually a half ton) of tortilla chips and salsa! Said Tom "We live in Arizona. It's the land of Mexican food. And when we were here (in Ireland) over the last few years, it was very hard to find good chips and salsa. So rather than trying to find it we decided to bring our own corn tortillas.

Since one can't live on a diet of chips and dip, the Americans forwarded any special dietary requirements long before their arrival in Co. Kildare. K Club chief executive Michael Davern and food-and-beverage director Ken Nolan had everything well in hand and here's what was on offer:
Breakfast - waffles, pancakes, maple syrup and bagels, sourced locally; V8 juices, imported from Germany; American-style bacon, Irish in origin but smoked in Spain and imported from the US; grits, imported from the US.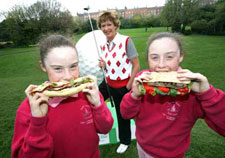 Lunch - selection of meats, cheeses and Irish breads for both teams. According to one witty journalist, the players are just as picky about their sandwiches as they are about their sand wedges and the Americans wanted to make their own. Team captain Tom Lehman also emphasised Caesar salads and various sauces and dressings along with large selections of nuts, croutons, Cajun chicken strips and bacon.

Dinner - served in the hotel's main dining room, the American menus were mostly meat-based, using Irish beef; they also indicated a liking for shrimp and on one of the nights a Ryder Cup ice sculpture was decorated with shrimps and oysters.

The hotel's stock of Californian wines was augmented by the addition of specific brands requested by the Americans. Those unavailable in Ireland were sourced through Britain. Corona beer was also requested along with Guinness in all bars.



All reports indicated that the European team tucked into more traditional fare. They requested Irish Stew; steak-and-kidney pie; and cod, chips and mushy peas, all washed down with an assortment of libations, including a special request for a vintage wine from 1958 which was opened last Monday night to honour the year of European team captain Ian Woosnam's birth. It it was served to both teams during a tour of the hotel's cellars.

Marquis de Riscal were the sponsors of wine at the event and supplied corporate hospitality, along with some to the hotel. Their Grand Reserva 2002 (red) and Marquis de Riscal (white) was served at the Welcome Dinner in the Legends Restaurant on last Tuesday night.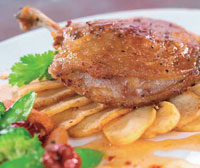 So there you have it. Featuring produce from more than 40 native producers, the menus were a gastronomic feast, but also a dieter's nightmare. A dish called Confit of Silverhill Duck alone would have most cardiovascular surgeons wincing. The recipe asks for 1.5kg of goose fat along with generous helpings of butter and sugar!

But who's counting calories? This is a golf tournament! Unlike other sports where competitors might have to pay attention to the scales, championship golfers can and do get away with over-indulgence at the dinner table. That said, how long will Tiger Woods maintain this long and lean look if what his teammates say is true: "Where'd all the pie go? Ask Tiger!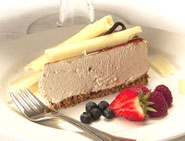 In summary, Bord Bia put the spotlight on a groaning board of elegant Irish fare, from tantalizing rump of Connemara lamb to Bailey's cheesecake topped with butterscotch sauce. Any way you slice it, whether you are staying at a luxurious resort or touring on a shoestring, no-one's going hungry in Ireland.

It was also a relief to note that while many an Irish dish was given a fancy name at the K Club last week, a traditional staple of the Irish breakfast table retained its simplicity and its identity. Black pudding was still black pudding.

Resources:
Content: The author is indebted to Bord Bia, The Irish Independent, the K Club and the irish Examiner which provided the fodder for this article.

Images:
Angela Kennedy

Beef Butty: Ernie Whalley*

Tucking into sandwiches**

Fresh Fish: Ryder Cup 2006

Baileys Chocolate Cheesecake

Duck: Silverhill Foods

Black Pudding:Clonakilty Black Pudding

**Shown tucking into Sandwhiches are young golfing champions Lisa & Leona Maguire, 11 year-old twins, from Monaghan at the On-Pack Meat Promotion launch. The promotion took place across 4000 retail outlets on 10 million individual meat packs in both Britain and Ireland to kick start Bord Bia's official Ryder Cup sponsorship. The promotion offered shoppers free introductory golf lessons from one of 500 professional golfers.

*Ernie Whalley, alias 'Scoop', or sometimes 'Blue valentine', is one of Ireland's most experienced and respected food writers, restaurant reviewers and wine critics. He was, for three years, editor of FOOD & WINE Magazine before leaving to freelance. He now has his own wine column, "Whalley's Wine" in The Sunday Independent, Ireland's best selling weekly newspaper and also writes for other publications including The Dubliner, Hospitality Ireland, Cara, Drinks Industry Ireland, SQ, Fresh, Irish Vintage and Runway.
Ernie's writings can also be found on his own website Fork n'Cork.
This gallery is a small representative selection of Ernie's food and drink photography.


Any purchase made helps to support our site. Thank you.


Thu, Jul 9, 2015
---
"...the freshest of food and
the oldest of drink"
- Irish Proverb
The New Irish Table
by Margaret Johnson



Margaret Johnson's love of Ireland permeates page after glorious page of mouthwatering Irish dishes, from Smoked Salmon Chowder to Raspberry Buttermilk Tarts. Lavish color photographs of the food, the landscapes, and the people are woven through the text, making The New Irish Table the next best thing to sitting down to dinner in Ireland itself.
Click here for New Irish Table.