Traditions, folklore, history and more. If it's Irish, it's here. Or will be!
"People will not look forward to posterity who never look backward to their ancestors."
-Edmund Burke
---
Quotes

Library: Books, Movies, Music

Prints & Photos

Poetry

Jokes

---
---
Shops Ireland
---
Bunús na Gaeilge
(Basic Irish)

---
---
Did You Know?
---
Himself/Herself
Write to Us
Readers Write..
Links/Link to Us
---
Advertise with us

---

Help keep us free
Throughout the site you will see many items available for purchase from well-known merchants such as Amazon. Not interested in what we're featuring? It doesn't matter. Click on any link and then shop for whatever you wish - we will still get credit, if you buy something.
Thanks for your help.

---
---
Holiday Trims from The Irish Kitchen
Contributed by Hartson Dowd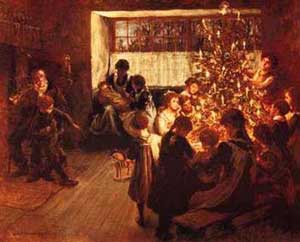 For many of us, Christmas means a return to the family homestead and the cheer of Grandmother's kitchen. Her tree and home were garnished with apple wreaths, candied citrus peels, and popcorn garlands. These customs she brought from her mother's home in Ireland. We continue the tradition in ours.

When our children were small, we decorated a spruce tree near our front porch. The tree was young then (like us) and we could reach it with a step ladder. We used popcorn and cranberries with a scattering of other fruits. My memory tells me we added some nuts for the squirrels. It was a treat to watch the birds enjoying their Christmas tree as much as we enjoyed ours.
- Bridget & Russ

POPCORN-BALL GARLANDS:
Materials:
10 cups popped popcorn
1 cup sugar
One-quarter cup light corn syrup
One-half teaspoon vinegar
One-quarter teaspoon salt
One-half teaspoon vanilla
Three-quarter cup water
Red ribbon

Instructions:
Remove all unpopped kernels from the popped corn. Put popcorn in a large baking pan; keep warm in a 300-degree oven.
Butter sides of a heavy 1-quart saucepan. In saucepan combine sugar, corn syrup, vinegar, salt, and water. Cook over medium-high heat to boiling, stirring constantly with a wooden spoon to dissolve sugar. Avoid splashing mixture on sides of pan. Clip a candy thermometer to side of pan. Cook over medium heat, stirring occasionally, until thermometer registers 270 degrees (soft-crack stage). Mixture should boil at a moderate, steady rate over entire surface. It will take 30 to 35 minutes to dissolve the sugar and reach soft-crack stage.
Remove from heat; stir in vanilla. Slowly pour mixture evenly over hot popcorn. Stir just until mixed.
Butter hands. Working quickly, scoop up small amounts of the popcorn mixture. Shape with buttered hands into 1- to 1-1/2-inch balls. (Or scoop up larger amounts of popcorn and shape into 3-inch balls). As you are shaping the balls for popcorn ball ornaments, include the two cut ends of a 6-inch piece of ribbon, forming a loop.
Note: Use balls with ribbon for decoration only and not for eating. The ribbon may contain non-edible dye.

Candied Citrus Peel
Materials:
2 large grapefruits or 4 large oranges
1-1/2 cups sugar
Three-quarter cup water
Sugar

Instructions:
With the point of a sharp paring knife score grapefruit or orange peel into four lengthwise sections. Loosen the peel from the fruit, leaving the white pith membrane attached to the peel. Place the peel in a 3-quart saucepan; add water to cover the peel. Bring to boiling. Remove from heat. Let stand for 10 minutes. Drain off water.
Repeat the boiling, standing, and draining processes three times, using fresh water each time. Cool the peel.
Cut the peel into strips 4 to 5 inches long and 1/8 (one eighth) to (one quarter) inch wide. In the same saucepan, combine the sugar and (three-quarter) cup of water. Bring to boiling, stirring to dissolve the sugar. Add peel. Cook the mixture over medium-low heat, stirring occasionally, for 20 to 25 minutes or until peel is translucent. Drain thoroughly; cool for 20 minutes or until lukewarm.
Roll the strips in sugar.
For a curly strip, twist peel or wrap around a dowel or pencil until dry. Place on wire racks several hours or overnight.
String white thread through the tops to hang.

Dried Apple Wreath - makes one ornament
Make a charming apple wreath by stringing 1-inch slices of dried apples on a 14-inch piece of wire. Loop into a circle, secure ends, and tie it with a bow.

Materials for one wreath
Dried apple slices (purchased, or dried following the directions below)
One 14-inch piece of medium-weight wire
Scrap of solid red cotton fabric
Ascorbic-acid color-keeper, (if drying your own apples)
Wire snips.


Instructions:

Drying Apples:
Choose firm ripe apples. Cut apples evenly into 1/8-inch-thick slices or rings. Prepare ascorbic-acid color-keeper according to package directions.
Soak apple slices in solution about 5 minutes. Drain and pat dry.
Arrange slices one layer deep on wire cooling racks.
Following manufacturer's directions dry in food dehydrator or in a convection oven. Or, for another dehydrating option, dry in a 150- to 200-degree conventional oven for 1 to 2 hours, rotating the cooling racks several times and turning the apples on the racks several times.
Cool apples to room temperature.

To Make The Wreath
String apple slices onto wire.
Shape the wire into a circle.
Twist the ends of the wire together to fasten the wreath together.

For bows, tear the red fabric into a 1-inch-wide strip 12 inches long; tie in a bow and wire to the top of the wreath. This gives the wreath a truly old-fashioned appearance; alternatively, ribbon would look just as pretty - but wouldn't be authentic.

Image: From All Posters - Christmas Tree.


Thu, Nov 17, 2016
---
"...the freshest of food and
the oldest of drink"
- Irish Proverb
The New Irish Table
by Margaret Johnson



Margaret Johnson's love of Ireland permeates page after glorious page of mouthwatering Irish dishes, from Smoked Salmon Chowder to Raspberry Buttermilk Tarts. Lavish color photographs of the food, the landscapes, and the people are woven through the text, making The New Irish Table the next best thing to sitting down to dinner in Ireland itself.
Click here for New Irish Table.