Traditions, folklore, history and more. If it's Irish, it's here. Or will be!
"People will not look forward to posterity who never look backward to their ancestors."
-Edmund Burke
---
Quotes

Library: Books, Movies, Music

Prints & Photos

Poetry

Jokes

---
---
Shops Ireland
---
Bunús na Gaeilge
(Basic Irish)

---
---
Did You Know?
---
Himself/Herself
Write to Us
Readers Write..
Links/Link to Us
---
Advertise with us
---
Awards & Testimonials

Submissions Guide
---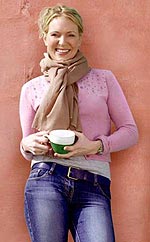 Book Review: Favorite Food at Home by Rachel Allen
by Bridget Haggerty

"Delicious Comfort Food from Ireland's Most famous Chef" is the subtitle and indeed, every chapter in this beautifully illustrated book offers simple foods reminiscent of our childhood. In fact, there's even a chapter called 'Just Like Mum Used to Make' which includes nostalgic recipes for Macaroni and Cheese, Bangers and Mash, and even "soldiers" to accompany a recipe for baked eggs. When I was growing up, our soldiers accompanied soft-boiled eggs, served in an egg cup. I can still remember the ritual of carefully taking the top off the egg and then dipping my soldiers made out of bakery bread deep into the heart of the yolk - the soldier coming out dripping with golden goodness.. Sorry if I'm waxing a bit poetic. Does anyone even own egg cups these days, let alone remember what the soldiers were? Bless her heart, Rachel Allen does and elevates this simple addition to an authentic Irish breakfast to a position of memorable importance.

As Rachel herself points out, food can be restorative, nurturing and emotionally fulfilling. These are apt words for this best-selling book which your reviewer sat down and read cover to cover. Definitely a worthy addition to every cookbook collection, within its pages you will find easy fun ways to whip up tasteful and healthy meals in no time while ensuring that cooking does not become a chore. Her gorgeous meals are more than just inspirational - Rachel provides accessible tried-and-tested instructions so readers will enjoy the cooking process and the food on every level of cookery experience.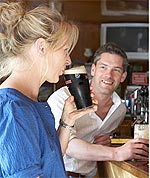 We had hoped to do an interview with Rachel but she was away. However, her husband Isaac was kind enough to answer a few questions on her behalf. Herewith his answers which were later followed up with an affirmation from Rachel.

Q. Who is or was your greatest influence?
A. It would have to be my husband's grandmother Myrtle Allen (who along with her husband Ivan opened the now famous Ballymaloe Restaurant in the 1960s).

Q. Who taught you to cook? (Asked by another journalist and a question we should have asked also!)
A. "My mum and my sister taught me to cook a few things when I was growing up. Then when I was 18, I came to Ballymaloe Cookery School. My future mother-in-law didn't just teach me techniques, but imbued me with her almost obsessive passion for food."

Q. Do you have a favorite chef?
A. "Alice Waters, owner of Chez Panisse in Berkeley California." (world renowned for its organic, locally-grown ingredients and for pioneering California cuisine)
"Also Ruth Rogers, owner of the River Cafe." (London's most innovative and influential Italian restaurant.)

Q. If you could have any guests you wanted at a special dinner, who would you invite?
A. "They would probably be my husband Isaac (of course !) along with Barack (he is a little Irish after all!) and Michelle Obama, the guys from U2 and Leonard Cohen if he promises to sing with Bono after dinner!"

Q. If you had to choose one last meal, what would it be?
A. "My last meal would be something very simple..I think it would have to be a combination of my mum's roast chicken with breadcrumb and herb stuffing, served with my husband Isaac's creamy mushrooms , glazed carrots and mashed or roasted potatoes . To end the meal I would eat chocolate and hazlenut toffee tart (from Favourite Food at Home) followed by copious amounts of red wine."

Q. How do you spend St Patrick's Day?
A I love St Patrick's Day. We normally go and see the parade in our local town , or in Cork City with all the children and maybe some friends too . Then we go home and have a big Spring feast; maybe some roast lamb with a champ or colcannon (traditional Irish mashed potato dishes) , some new season's carrots and fresh mint sauce . The daffodils are all flowering so there'll be bunches of them in vases around the house and a general excitement in the air as it is a great day when we don't have to work and there's no school."

Q. When your families all get together for a holiday meal such as Christmas who does the cooking? Would it ever be a case of too many chefs spoiling the broth?
A. "More than 50 members of the family descend on Ballymaloe House for three days." (The house is closed to the public during the Christmas holidays). "Everyone pitches in but not without a great deal of playful fighting over who's doing the cooking!"

Q. Rachel was asked by an American journalist how she felt about Favorite Food at Home:
A. "I love this book because it has all of my favorite recipes, the ones I make at home all the time and keep going back to."

Appropriately, we will end this review with one of those favorite recipes re-printed here with Rachel's kind permission.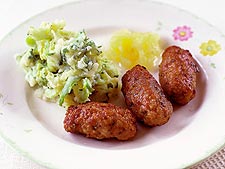 HOMEMADE PORK SAUSAGES WITH COLCANNON AND APPLESAUCE

INGREDIENTS :

SAUSAGES:
1 pound fatty ground pork
2 ounces fresh bread crumbs
1 egg, whisked
1 garlic clove, peeled and crushed
1 tablespoon chopped fresh parsley OR marjoram
Salt and freshly ground black pepper
3 tablespoons olive OR sunflower oil

COLCANNON:
3 pounds (floury) potatoes, scrubbed
8 tablespoons (1 stick) butter
1 pound green cabbage, outer leaves removed
2 tablespoons water
1 cup hot milk
2 tablespoons chopped fresh parsley

APPLESAUCE:
1 large cooking apple (12 ounces) peeled, cored and roughly chopped
1 tablespoon water
2 to 4 tablespoons superfine sugar

METHOD:
For Sausages, mix together pork, bread crumbs, egg, garlic and parsley. Season with salt and pepper. Fry a tiny bit of the mixture in a skillet with 1 tablespoon olive oil, heated until hot, to see if seasoning is good. Then divide the mixture into 12 pieces and shape each into a sausage. Place on a baking sheet or plate; set aside until cooking them. (Chilling them for a day in the fridge is fine or you can freeze them.)

To make Colcannon, cook potatoes in boiling salted water until tender, draining 3/4 of water after 5 to 10 minutes and continuing to cook over a low heat. Avoid stabbing potatoes with a knife to keep from breaking up. When cooked, drain off remaining water, peel and mash with 4 tablespoons butter while hot.

Meanwhile, cook the cabbage. Cut cabbage into quarters, then cut out core. Slice cabbage finely across the grain. Heat a saucepan, add 2 tablespoons butter, water and sliced cabbage. Toss over a medium heat 5 to 7 minutes, until just cooked. Add to potatoes, then add hot milk and parsley, keeping some of milk back in case you do not need it all. Season to taste and beat until creamy and smooth, adding more milk if necessary. Serve piping hot with remaining 2 tablespoons butter melting in the center.

To make Applesauce, place apple in a small saucepan with water. Cover and cook over low heat, stirring occasionally until apple has broken down to a mush. Add sugar to taste. Serve warm or at room temperature.

To cook sausages, heat a frying pan or skillet on low to medium heat. Add remaining 2 tablespoons olive oil and gently fry sausages 12 to 15 minutes, until golden on all sides and cooked through. Serve with colcannon and applesauce. Makes 4 servings.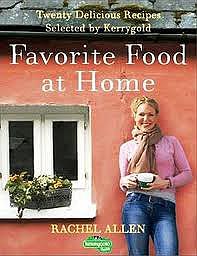 All of Rachel's books are available on Amazon

Photo Credits:
Main Photo from book cover by Georgia Glynn Smith.

All other photos: Rachel's web site


Thu, Dec 7, 2017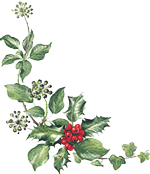 Holly and Ivy hanging up and
something wet in every cup*
Not so long ago, Irish Christmas decorations were much simpler than they are now. The children gathered holly and ivy for adorning, windows, doorways, mantles and pictures, and the father would carve out a turnip in which would be placed a large red candle. This would go in the window to light the way for the Holy Family on Christmas Eve. Only in relatively recent times did an Irish family have a Nativity scene and a decorated tree in the house. As for Mistletoe, it's quite rare in ireland and is generally associated with ancient Celtic and Druidic fertility celebrations; this is most likely where the custom of kissing under the mistletoe comes from.
*Old Irish Christmas toast
Image: Pashley Manor Gardens.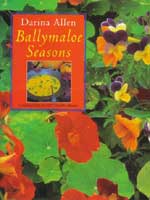 Ballymaloe Seasons
by Darina Allen

A wonderful collection of 125 recipes, including Irish classics, accompanied by 270 color photos and a series of short essays about the changing seasons and how they affect the landscape and gardens surrounding Ballymaloe Cookery School in County Cork.
NOTE: It's out of print but there are a dozen new and used copies available for as little $3.00! We, ourselves, have bought several books through sellers on amazon's marketplace and have always experienced excellent service.
So, if you're interested in adding Darina's book to your collection, please click Ballymaloe Seasons.