Traditions, folklore, history and more. If it's Irish, it's here. Or will be!
"People will not look forward to posterity who never look backward to their ancestors."
-Edmund Burke
---
Quotes

Library: Books, Movies, Music

Prints & Photos

Poetry

Jokes

---
---
Shops Ireland
---
Bunús na Gaeilge
(Basic Irish)

---
---
Did You Know?
---
Himself/Herself
Write to Us
Readers Write..
Links/Link to Us
---
Advertise with us

---

Help keep us free
Throughout the site you will see many items available for purchase from well-known merchants such as Amazon. Not interested in what we're featuring? It doesn't matter. Click on any link and then shop for whatever you wish - we will still get credit, if you buy something.
Thanks for your help.

---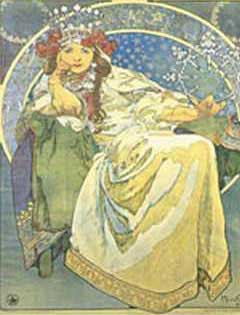 The White Trout
by Grainne Rowland

Long ago, in a place called Cong in County Mayo, there lived a young woman. She was promised in marriage to a king's son, whom she loved very much. But, one day, the king's son was killed by an enemy.

The lady pined away from sadness. Everyone in the village was sorry for her. They knew how much she had been in love. After a while, the beautiful lady disappeared. The villagers thought that the good people1 had taken her away.

Some time later, a white trout was noticed in the lake. This was curious, for a white trout had never before been seen in the area. The white trout was watched for many generations, and it never changed its appearance or its habits. The people thought the trout must be a magic fish. So they never bothered the trout and always treated it with great respect.



Many, many, many years afterwards, a soldier was fishing in that same lake. When he caught the white trout, he laughed and jeered at the people.

"I've caught your precious white trout," he laughed, "and now I'll cook it right here."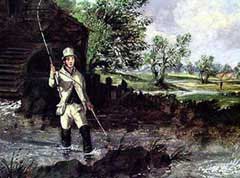 So he built a fire and pulled out his skillet. When the fire was hot enough, he laid the white trout in the skillet. He held the skillet over the fire.

"I've never seen a white trout before," he said. "This fish will probably be the best dinner I will ever get! I can't wait till it is cooked a golden brown."

After a while, the soldier turned the fish over in the skillet. He was surprised that the trout was still white and had not browned. Well, he thought to himself, I'll turn it again in a while and let it cook a bit longer on that side.

But when he turned the fish again, that side was not browned, either. Perhaps this kind of fish does not turn brown, he thought. I will just eat it this way. Surely, it will taste very well unbrowned, as it is a special fish.

As the soldier began to cut the trout with his knife, a loud scream was heard. The soldier was so frightened he jumped back.

"Look what you've done with that knife," cried a beautiful woman, holding out her cut arm. "Why could you not have left me in the lake? I am waiting for my love to return to me. You must take me back to the lake immediately!"

"But," trembled the soldier, "I cannot take a beautiful woman to the lake and throw her in!"

"If you do not take me back and I miss my love, I will haunt you forever," said the lady. And, at that, she returned to her shape of a white trout.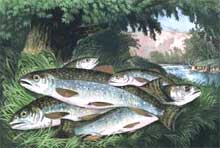 The soldier, still shaking, quickly picked up the trout and placed her on a clean plate. He raced back to the lake and gently slipped the trout into the water. There was a stain of red in the water for a few seconds from the cut. And, to this day, all trout have a red mark on their side.

As for the soldier, he changed his ways. He never again made fun of other people's beliefs. And he never, never again ate one bit of fish!

1The good people is the proper name for the fairies.
How many can you find in the picture?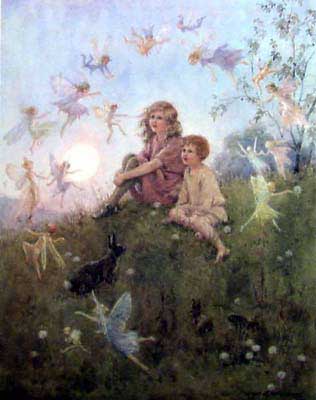 Images: White Trout, anonymous & American Brook Trout
Nathaniel Currier (and James Ives) Museum of the City of New York from Barewalls Photos and Prints.
Trout Fishing & Princess from All Posters & Prints

All Images shown are available for purchase. Any purchase made helps to support our site (and Bridget's fondness for fairytales). Thank you.



Wed, Jan 3, 2018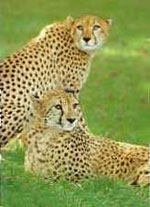 FOTA Wildlife Park
Only 10,000 cheetahs remain in their natural habitat and Fota Wildlife Park in Co. Cork, Ireland, is the world's leading breeder of this endangered species. Fota is among the most modern wildlife parks in Europe. It was opened in 1983 and has more than 70 species living in natural open surroundings with no obvious barriers. Only the cheetahs are behind fences.
Another species which is being saved from extinction at Fota is the white tailed sea eagle. It disappeared from Ireland in the early 1900's, but is now being bred at the park and re-introduced to the wild in Co. Kerry.
Fota is open to the public in the summer and is very popular with Irish families, as well as tourists.

---
"No man ever wore a cravat as nice, as his own child's arm around his neck."
- Irish Proverb

---