Traditions, folklore, history and more. If it's Irish, it's here. Or will be!
"People will not look forward to posterity who never look backward to their ancestors."
-Edmund Burke
---
Quotes

Library: Books, Movies, Music

Prints & Photos

Poetry

Jokes

---
---
Shops Ireland
---
Bunús na Gaeilge
(Basic Irish)

---
---
Did You Know?
---
Himself/Herself
Write to Us
Readers Write..
Links/Link to Us
---
Advertise with us

---

Help keep us free
Throughout the site you will see many items available for purchase from well-known merchants such as Amazon. Not interested in what we're featuring? It doesn't matter. Click on any link and then shop for whatever you wish - we will still get credit, if you buy something.
Thanks for your help.

---

Tir Na N-og
by Grainne Rowland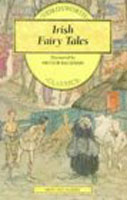 Kids, have you ever thought how nice it would be to stay a kid always? Wouldn't it be great to play all the time and never get old?
The Irish believe there is a place where people never get any older than they are. There is never any sickness, and you can eat all your favorite food whenever you want. You can play all day if you like. This place is called Tir Na N-og, the Land of the Young, and it lies way out in the ocean west of Ireland.
Sounds like the perfect place, right? But maybe it's not as perfect as you think. What if you get homesick?
Here is a story of one person who went to Tir Na N-og. Let's see what happened.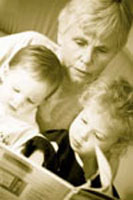 Ossian and Tir Na N-og

Long ago in Ireland lived a man called Ossian. He was the handsome son of Finn and was the poet of the Fianna. (The Fianna were soldiers who were also storytellers and singers.) Ossian had silky red hair and sky-blue eyes. He was tall and strong. Finn was proud of Ossian because he could tell the history of the Fianna with exciting stories and poems.
One summer day, Finn, Ossian, and the Fianna were cooking fish on the beach and singing songs. Then the singing stopped in the middle of a word. They saw a lady riding a white horse over the water. As the horse splashed toward shore, Ossian saw that the rider was the most beautiful woman he had ever seen.
The blue-eyed lady rode toward Finn. Her blonde hair flowed around her face. Her cloak sparkled like jewels in the sun.
"I am Niamh," she explained. "I have come to Ireland from Tir Na N-og, the Land of the Young. I once saw Ossian while he was out hunting. I have fallen in love with him."
Turning to look at Ossian, she continued. "Tir Na N-og is a land where the sun always shines. No one is ever sick or old. Everyone eats his favorite foods and plays games. There are storytellers and music. The houses are made of gold and jewels. Birds sing. Colorful flowers grow. People wear soft, glittering clothes. Ossian, please come to Tir Na N-og with me!"
By this time, Ossian had fallen in love with Niamh, too. He turned and hugged Finn and said good-bye to his Fianna friends. He jumped up onto the horse and off they rode over the water. Finn had tears sliding down his face. He knew he would never see his son again.
Niamh and Ossian traveled for hours over the waves. The horse galloped over the water as if it was dry land.
When they reached Tir Na N-og, Ossian could hardly believe his eyes! The houses looked like castles shining in the light. The trees were full of ripe fruit. The fruit tasted sweeter and juicier than any Ossian had ever eaten. In the air were sounds of singing and smells of roasting meat and fresh bread. On Ossian's skin, the breeze felt soft and warm.
Ossian was happy for many years. But one day, about ten years later,Ossian began to miss Ireland. He missed his father Finn and the Fianna. He even missed the Irish rain! He asked to borrow the magic horse to visit Ireland once more.
Niamh agreed, but she told Ossian that many things had changed in Ireland. She also warned him that if his feet touched the ground, he could never return to Tir Na N-og.
Ossian rode to Ireland as fast as he could. When he arrived, he scratched his head in puzzlement. The men of Ireland seemed much smaller and weaker than those he had known before. Worse yet, Finn and the Fianna were no longer alive! A few people had heard of the Fianna, but thought they were only an old myth.
Ossian cried. He discovered that what had seemed like ten years in Tir Na N-og had really been three hundred years in Ireland.
As he rode along thinking sad thoughts, he saw fifteen men trying to move a rock. They pushed and pulled. They could not move it! Ossian reached down and easily lifted the rock. But as he did, he lost his balance and fell off the magic horse. The horse ran off to the sea.
The fifteen men watched in fear. Ossian, a young, strong man, was changing into a very, very old man. His hair turned white. He stooped with age. He spoke in a creaky voice as he told the men about his stay in Tir Na N-og. He told of his friends the Fianna.
Ossian died of old age in front of the men. The men buried Ossian in the soil of Ireland, the land he loved.
Note: Tir Na N-og is pronounced tear na knowg with a hard g. Ossian is like ocean and Niamh is neeve.

Author's Bio



Grainne was born in Columbus, Ohio, and was totally ignorant of her Irish heritage until the age of 14. One day, in the course of conversation, her Dad casually said, "Well, you know we're Irish. Your great-grandparents came from Co. Donegal." That was IT! Starting with Clancy Brothers records, she studied everything about Ireland she could get her hands on. Finally, in 1980, her dream was fulfilled. She spent two months in Ireland and completely fell in love with it. She also cried all the way back to the U.S.
In the teaching profession for over 21 years, Grainne has taught on two Indian reservations and is nearly as intrigued with the Navajo and Pueblo cultures as she is with the Irish. A few years ago, she also learned that she is part Cherokee Indian. As she puts it, "There are many similarities between the Indian cultures and the Irish, such as the oral storytelling tradition and the emphasis on family."
Since 1994, Grainne has written Irish folktales for children and adults, as well as stories of famous Irish people. Her favorite Irish person is Grace O'Malley, or Grainnauile, for whom she has re-named herself.
If you would like to contact her, Grainne would be delighted to hear from you. Her email address is: grainnerowland@hotmail.com

Index of All Children's Stories


Wed, Jan 3, 2018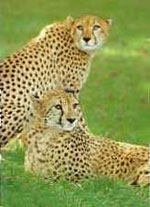 FOTA Wildlife Park
Only 10,000 cheetahs remain in their natural habitat and Fota Wildlife Park in Co. Cork, Ireland, is the world's leading breeder of this endangered species. Fota is among the most modern wildlife parks in Europe. It was opened in 1983 and has more than 70 species living in natural open surroundings with no obvious barriers. Only the cheetahs are behind fences.
Another species which is being saved from extinction at Fota is the white tailed sea eagle. It disappeared from Ireland in the early 1900's, but is now being bred at the park and re-introduced to the wild in Co. Kerry.
Fota is open to the public in the summer and is very popular with Irish families, as well as tourists.

---
"No man ever wore a cravat as nice, as his own child's arm around his neck."
- Irish Proverb

---