Traditions, folklore, history and more. If it's Irish, it's here. Or will be!
"People will not look forward to posterity who never look backward to their ancestors."
-Edmund Burke
---
Quotes

Library: Books, Movies, Music

Prints & Photos

Poetry

Jokes

---
---
Shops Ireland
---
Bunús na Gaeilge
(Basic Irish)

---
---
Did You Know?
---
Himself/Herself
Write to Us
Readers Write..
Links/Link to Us
---
Advertise with us

---

Help keep us free
Throughout the site you will see many items available for purchase from well-known merchants such as Amazon. Not interested in what we're featuring? It doesn't matter. Click on any link and then shop for whatever you wish - we will still get credit, if you buy something.
Thanks for your help.

---

"There was a place in childhood that I remember well, And there a voice of sweetest tone bright fairy tales did tell."
Samuel Lover
Index of All Children's Stories

Kids' Ireland Library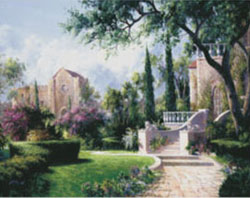 The story of the little bird
by T. Crofton Croker

Once long ago in a monastery in Ireland there lived a holy man. He was walking one day in the garden of his monastery, when he decided to kneel down and pray, to give thanks to God for the beauty of the flowers and plants and herbs around him. As he did so, he heard a small bird singing, and never before had he heard any song as sweet. When his prayers were finished, the monk stood up and listened to the bird, and when the creature flew away from the garden singing as it went, he followed it.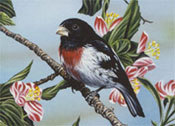 In a while they came to a small grove of trees outside the monastery grounds, and there the bird continued its song. As the bird hopped from tree to tree, still singing all the while, the monk carried on following the little creature, until they had gone a great distance. The more the bird sang, the more the monk was enchanted by the music it made.

Eventually, the two had traveled far away from the monastery, and the monk realised that it would soon be nighttime. So reluctantly, he left the bird behind and retraced his steps, arriving back home as the sun was going down in the west. As the sun set, it l;it up the sky with all the colours of the rainbow, and the monk thought that the sight was almost as beautiful and heavenly as the song of the little bird he had been listening to all afternoon long.

But the glorious sunset was not the only sight that surprised the monk. As he entered the monastery gates, everything around him seemed changed from before. In the garden grew different plants, in the courtyard the monks had different faces, and even the monastery buildings seem to be different. The monk knew he was in the right place, but how could all these changes have taken place in just one afternoon?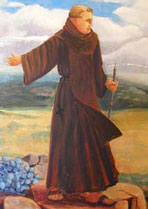 The monk walked across the courtyard and greeted the first monk he saw. "Brother, how is it that our monastery has changed so much since this morning? There are new plants in the garden, new faces amongst the other monks, and even the stones of the monastery seem different.
The second monk looked at the first monk very carefully. Why do you ask these questions? There have been no changes here since this morning. And we have no new monks except for yourself, for even though you wear the habit of our order, I have not seen you before. The two monks looked at each other in wonder, Neither could understand what had happened. So the first monk started to tell his story. He said that he had gone for a walk in the monastery garden. He had heard the song of a little bird and then had followed it into the countryside.

As the first monk told his story, the second monk's expression turned from puzzlement to awe and surprise. He said, "There's a tale in our order about a brother like you who went missing one day after a bird was heard singing. He was never seen again and no-one knew what had happened to him. All this happened two hundred years ago.

The first monk looked at the second monk and said - well, that is indeed my story and the time of my death has finally arrived. Praised be the lord for his mercies on me." And the monk begged the second monk to take his confession and give him absolution for the hour of his death was near. All this was done, the holy man died before midnight, and he was buried with great solemnity in the monastery graveyard.

Ever since then, the monks have retold this story. They say the little bird was an angel of the Lord, and that this was God's way of taking the soul of a man who was known for his holiness and his love for the beauties of nature.


Note: Originally Attributed to T. Crofton Croker who says he wrote it word for word as he heard it from an old woman at a holy well. This version is edited and adapted from Traditional Tales from Long , Long Ago retold by Philip Wilson. It's also retold by W. B Yeats in his famous book Fairy and Folk Tales of the Irish Peasantry(1888).

Images: Abbey Garden by Art Fronckowiak
and
Bird by Darryl Vlasak
From All Posters and prints

Monk: Lemon Grove Historical Society



Fri, Nov 3, 2017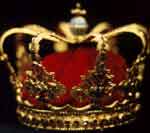 Instructions of King Cormac, King of Cashel
Be not too wise, nor too foolish
Be not too conceited, nor diffident
Be not too haughty, nor too humble
Be not too talkative, nor too silent
Be not too hard, nor too feeble.

If you be too wise, men will expect too much of you
If you be too foolish, you will be deceived
If you be conceited, you will be thought difficult
If you be too humble, you will be without honour
If you be too talkative, you will not be heeded
If you be silent, you will not be regarded
If you be too hard, you will be broken
If you be too feeble, you will be crushed.

---
"No man ever wore a cravat as nice, as his own child's arm around his neck."
- Irish Proverb

---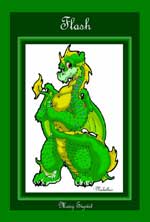 FLASH
by Mary Sigrist

Fairies, gnomes, ogres, and a very clever Dachshund are just a few of the colorful characters woven into the tapestry of this Irish tale for all ages. Meet the royal cousins of the mythical Kingdom of the Bald Ferns and their flying dragon, FLASH. In exciting bite-sized chapters, they'll take you along on their adventures in Old Ireland. Visit the Magic Pool and the Enchanted Land of Oolagilbie. Make the long, cold trip to the mysterious and dangerous Ice Mountain. Attend a dragon wedding and see what the bride does, or doesn't, wear. These are a few of the stories in FLASH, the tale of an Irish dragon.
Click here for Flash.

---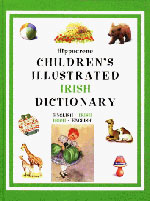 Children's Irish Dictionary
by Hippocrene Books
As a total beginner in Irish, this has taught me quite a few words. The illustrations are beautifully done, and best of all, each word is given a rough English spelling of its pronunciation. Edited from an amazon review.
Click here for Kid's Irish Dictionary.
---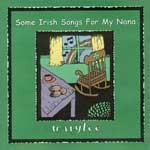 Some Irish Songs for My Nana
MaryLee

A lovely collection of well known Irish songs from the turn of the twentieth century. This album was created as a gift to MaryLee's Nana, Rose Burke Duval. The first half are songs well known to grandparents and the second half are original and traditional songs for children.

Click here for Irish Songs.