Traditions, folklore, history and more. If it's Irish, it's here. Or will be!
"People will not look forward to posterity who never look backward to their ancestors."
-Edmund Burke
---
Quotes

Library: Books, Movies, Music

Prints & Photos

Poetry

Jokes

---
---
Shops Ireland
---
Bunús na Gaeilge
(Basic Irish)

---
---
Did You Know?
---
Himself/Herself
Write to Us
Readers Write..
Links/Link to Us
---
Advertise with us

---

Help keep us free
Throughout the site you will see many items available for purchase from well-known merchants such as Amazon. Not interested in what we're featuring? It doesn't matter. Click on any link and then shop for whatever you wish - we will still get credit, if you buy something.
Thanks for your help.

---
Index of All Children's Stories

Kids' Ireland Library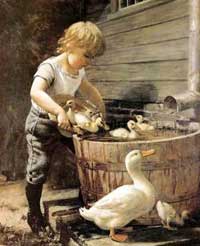 The Story of Finn
by Grainne Rowland

There was trouble in Ireland, and Muirne was the cause of it all! She was beautiful, and all the men wanted to marry her. But Muirne's father, Tadg, said "NO!" to everyone.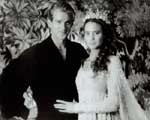 The sons of Baiscne and the sons of Morna were fighting a terrible war over Muirne. Then Cumhal, a member of the Baiscne clan, stole Muirne away and married her. For they had fallen in love!

Now Tadg didn't like this at all! He went to King Conn.

"My king," said Tadg, "my daughter has been taken from my home by Cumhal. You know well that Cumhal is the leader of your soldiers, the Fianna. Please make him return my daughter to me!"

Conn called Cumhal to him.

"You must take Muirne back to her home," said Conn. "My soldiers, and especially their leader, must obey the rules. The girl must go back now."

Cumhal replied, "My king, I would give all I own to you or to Tadg. But I will not give back my wife - the woman I love!"

The king was furious! He sent out an army to take back Muirne. Sadly, Cumhal died in the battle.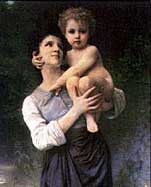 Soon after, Muirne found that she was going to have a baby. She had a boy and she named him Demna. He was a handsome baby, but Muirne had to do a very hard thing. She knew the sons of Morna would not like this baby because Cumhal was his father. She took the baby to a servant couple she knew well.

"Please, Bodball and Liath," she pleaded. "you have both been faithful servants to me. Please take care of my baby! Keep him safe for me. Teach my son all the powerful things you know. Make him strong and able to take care of himself. Teach him to fight and use his wits, for surely the sons of Morna will try to harm him." I will miss him so much!

So Liath and Bodball kept Demna safe. They took him to a small cabin in the middle of a very thick forest. They taught him all the powerful things they knew. They taught him to use his head and to fight well. Demna grew strong, straight, and fair. He was well-raised!

When Demna had grown to be a young man, Bodball and Liath sent him away. They said to him, "Demna, you know we love you. We have raised you as your mother wished. You are strong and brave. You can take care of yourself. You are wise and good. You are much like your father Cumhal. But we must now send you out into the world, for the sons of Morna are hunting for you and they are getting close. You must remember never to let anyone know whose son you are. It could be very dangerous!"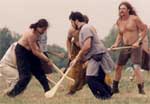 Demna, the fair-haired one, set out at once, whistling merrily. He walked until he arrived at the lands of Mag Life. There he watched a group of boys as they played a game of hurley. Oh, how he wished to play, too!

Because he was a stranger, the boys put one quarter of their team against Demna. To their surprise, he beat them all, not only once, but many times!
The boys went back to the house of the chieftain Mag Life. They told him of the boy who could beat them all easily. Mag Life did not like this story.

"Who is this boy?" he asked. "Tell me what he looks like."

"Oh, he is handsome." said the boys. "He said his name is Demna and he has fair hair."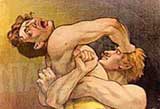 Said the chieftain, "Then his name should be Finn if he is so fair. Go again and challenge him to a wrestling match. I would not like it if our boys could be beaten over and over by a stranger." So the boys challenged Demna to a wrestling match. They all went against him at once, so that he was outnumbered. But again Demna beat them all easily! And from then on, Demna called himself Finn as a reminder of his win.

After that, Finn became the huntsman for the chieftain of Bantry. Finn was such an excellent hunter that the chieftain was puzzled.

"Surely," he said, "you must be related to Cumhal, for you are the only person who hunts as well as he did!"

Finn was worried, for he feared that he might be recognized. So he moved on. Finn went next to the chieftain of Carraighe, where he was invited to play chess with the chief. Now the chieftain was proud of his game-playing, for he always won at chess. But Finn beat him seven games in a row.

"Who are your parents, Finn?" asked the chieftain.

"I am the son of peasants, my chieftain," replied Finn, remembering what Bodball and Liath had told him.

"You are no peasant," said the chieftain. "You must be the son of Muirne, for only she could ever beat me at chess. You must leave now, for the sons of Morna are still seeking you. I will not have you killed while you are on my lands."

Finn wandered to other places and worked for other people. But always there was a curiosity about him. Often the sons of Morna nearly caught up with him. Finn finally went out to the country to do a bit of thinking.

"I have learned to hunt. I am a chess player whom none can beat. I can fight. But I do not know poetry, and perhaps it is time I learned the songs and poems of Ireland. I have heard that Finnegas is the best teacher in Ireland and that he lives by himself at the River Boyne. I will go to him and ask to be his student!"

TO BE CONTINUED....

Images:
Muire & Cumhal wedding - All Posters
Baby Finn - All Posters
Boy Finn - All Posters
Wrestling - All Posters
Hurling - Google Images



Fri, Feb 2, 2018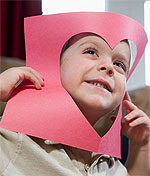 Valentine's Day in Ireland
All over the world, Valentine's Day is celebrated with flowers, chocolates and cards. But in Ireland, it's even more special. In 1836, a relic of St. Valentine was sent by Pope Gregory to the Carmelite Church in Dublin. Every year since then, on Valentine's Day, a casket containing the relic is carried in a procession to the high altar for a special Mass dedicated to young people and those in love. If you're lucky enough to be there, this little known Dublin church also sells Valentine's Day cards. But if you're like most young people, it's much more fun to give cards you've made yourself.
Photo Credit: Early Childhood Ireland

---
"No man ever wore a cravat as nice, as his own child's arm around his neck."
- Irish Proverb

---