Traditions, folklore, history and more. If it's Irish, it's here. Or will be!
"People will not look forward to posterity who never look backward to their ancestors."
-Edmund Burke
---
Quotes

Library: Books, Movies, Music

Prints & Photos

Poetry

Jokes

---
---
Shops Ireland
---
Bunús na Gaeilge
(Basic Irish)

---
---
Did You Know?
---
Himself/Herself
Write to Us
Readers Write..
Links/Link to Us
---
Advertise with us

---

Help keep us free
Throughout the site you will see many items available for purchase from well-known merchants such as Amazon. Not interested in what we're featuring? It doesn't matter. Click on any link and then shop for whatever you wish - we will still get credit, if you buy something.
Thanks for your help.

---

Index of All Children's Stories

Kids' Ireland Library


Kate's Ancient Gift
by Graine Rowland


"How will I ever get home?" Kate pushed her bike slowly along the road. Racing downhill, she had crashed her bike into a stone wall. The frame was bent. Kate was scratched. She had a bump on her head.

Now night and cold were wrapping themselves around Kate like a blanket. Raindrops were plunking against the ground. Kate knew she was miles away from her home in Co. Meath, Ireland. I'm too tired and sore to go any farther, Kate thought. I'll have to spend the night here. I hope nothing happens to me.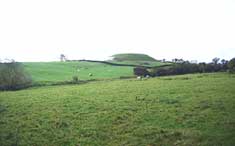 But where is "here"? Kate looked around and saw a large mound. There was a grassy ditch which seemed to circle the mound.

In the last dim light of May, Kate pushed the bent bike into the ditch. She hoped the mound would keep some of the cold wind and rain off. She curled up and was soon asleep.

When Kate woke up, she noticed a difference. The air was warm. The ground was dry. The wind had stopped blowing. A full moon was shining.

Kate heard the airy sound of a harp. Her heart pounded to the thundery call of a drum. The sounds seemed to come from above her. Kate climbed to the top of the mound.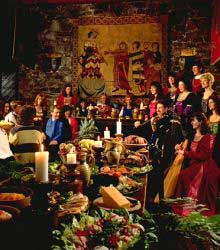 Who were these people? What were those buildings? Kate followed the crowd into the largest building. She wondered at the robes which reached to the people's knees. She admired the golden coils around their necks. Kate smelled the greasy oil in the lamps. The music was louder now in Kate's ears.

Kate sat at one of the tables with some of the people. She was surprised when they knew her name. She knew none of them. She was given the best of the venison, vegetables, and fruits. One stranger cut large chunks of bread for her. As she ate, Kate listened to the bard. The stories of brave King Cormac Mac Airt caused Kate's heart to beat faster. She loved stories of Ireland's ancient heroes!

Kate felt a hand on her arm.

"Go on, Kate. King Cormac is calling you."

"What?" Kate stammered. "King Cormac?" She looked to the front of the room. A tall man held out his hand to her. She shyly walked to him.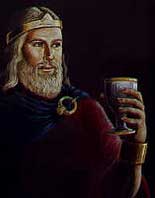 "You were welcome to my feast, Kate. I am King Cormac Mac Airt. But you are from another time and must return there now. Take this gift with you."

"Thank you," Kate answered, smiling at the man. "Are you really..." The room and people shimmered and were gone.

Kate looked around and blinked. She stood on top of the mound. The sun was just peeping over the horizon. It was cold and windy. The ground was damp from the night's rain. Kate saw her parents' car moving slowly along the road. She ran to meet them.

"Are you alright?" Kate's mother hugged her. "What's this?"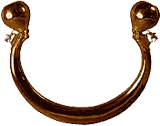 Kate put her hand to her neck. She felt something thin. She took it off and looked at a golden coil.

Kate's father stared at it.

"That is a torc! Where did you get this? Only rich and important people wore torcs in the ancient days."

In a voice quiet with wonder, Kate told her parents what had happened.She told of King Cormac and his gift.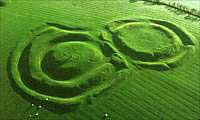 "You spent the night on the Hill of Tara." Kate's father said. "That was the home of all Ireland's ancient kings. Their spirits are still there. You must have met some of them. Stranger things have happened."

"Come on, Kate. Let's go home and take care of that bump on your head."

Kate's parents took the bent bike to the car. Kate took one more look at the Hill of Tara. Then she slowly followed her parents. She held the golden torc tightly in her hand.

Images: Banquet
King Cormac
Torc
Hill of Tara

Kids Reading - from All Posters
Any purchase made helps to support our site (and the Irish Culture & Customs fairytale). Thank you.



Fri, Nov 3, 2017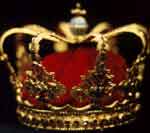 Instructions of King Cormac, King of Cashel
Be not too wise, nor too foolish
Be not too conceited, nor diffident
Be not too haughty, nor too humble
Be not too talkative, nor too silent
Be not too hard, nor too feeble.

If you be too wise, men will expect too much of you
If you be too foolish, you will be deceived
If you be conceited, you will be thought difficult
If you be too humble, you will be without honour
If you be too talkative, you will not be heeded
If you be silent, you will not be regarded
If you be too hard, you will be broken
If you be too feeble, you will be crushed.

---
"No man ever wore a cravat as nice, as his own child's arm around his neck."
- Irish Proverb

---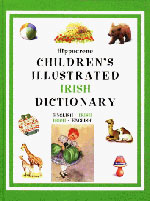 Children's Irish Dictionary
by Hippocrene Books
As a total beginner in Irish, this has taught me quite a few words. The illustrations are beautifully done, and best of all, each word is given a rough English spelling of its pronunciation. Edited from an amazon review.
Click here for Kid's Irish Dictionary.
---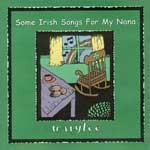 Some Irish Songs for My Nana
MaryLee

A lovely collection of well known Irish songs from the turn of the twentieth century. This album was created as a gift to MaryLee's Nana, Rose Burke Duval. The first half are songs well known to grandparents and the second half are original and traditional songs for children.

Click here for Irish Songs.