Traditions, folklore, history and more. If it's Irish, it's here. Or will be!
"People will not look forward to posterity who never look backward to their ancestors."
-Edmund Burke
---
Quotes

Library: Books, Movies, Music

Prints & Photos

Poetry

Jokes

---
---
Shops Ireland
---
Bunús na Gaeilge
(Basic Irish)

---
---
Did You Know?
---
Himself/Herself
Write to Us
Readers Write..
Links/Link to Us
---
Advertise with us

---

Help keep us free
Throughout the site you will see many items available for purchase from well-known merchants such as Amazon. Not interested in what we're featuring? It doesn't matter. Click on any link and then shop for whatever you wish - we will still get credit, if you buy something.
Thanks for your help.

---
Singing with the Good People
by Grainne Rowland



Once upon a time, in a small village at the foot of Mt. Errigal in County Donegal, there lived a man called Ronan. Ronan had a huge hump on his back. His chin pushed into his chest, and he could not stand upright.
But Ronan was well-liked in the village. He played with the children. He helped the old people. He was the best basket-maker in the area. His straw baskets were bought by people all over County Donegal.

One night, Ronan was coming back from Gweedore. He had taken a load of baskets there to sell on market day. He had sold them all and now it was late. Walking very slowly because of his hump, he was still several miles from home.
"I am so tired," Ronan sighed. "I think I will take a nap before going on."
So Ronan lay down at the side of the road.
Just as his eyes were closing, Ronan heard singing nearby. He quickly opened his eyes and looked around.
By the light of the moon, Ronan saw hundreds of tiny people in the field next to the road. They were dancing around in a circle. They were singing a song in small voices. The song was "Dé Luain, dé Máirt, dé Luain, dé Máirt (On Monday, on Tuesday, on Monday, on Tuesday).* Ronan listened to the little people sing. He noticed that they sang the same words over and over with a pause between each verse.
Waiting until a pause in the song, Ronan sang out, "agus dé Chéadaoin" (and on Wednesday). All of a sudden, Ronan found himself dancing in the circle with the little people. They were all singing "Dé Luain, dé Mairt, agus dé Chéadaoin".
When the dance was over, the King of the fairies smiled at Ronan.
"Thank you for finishing our song," the King said. "You will have your reward."
Ronan suddenly stood straight and tall. The hump on his back was gone! He danced a quick jig for joy.
Ronan returned to his village. Everyone was happy for kind Ronan's good fortune.
There was a man named Crevan living in a nearby village. He, too, had a hump on his back. But Crevan was not kind like Ronan. Crevan was mean. He shouted at the village children. He would never help anyone in need, but complained constantly about his own misfortune.

Crevan heard of Ronan's good luck. He thought he would lose his hump if he sang with the little people, too. So Crevan went to the same field where Ronan had seen them. He heard them singing "dé Luain,dé Mairt, agus dé Chéadaoin". Without waiting for them to pause, Crevan bellowed out "agus dé Deardaoin" (and on Thursday).
The little people were furious! The King faced Crevan.
"How dare you interrupt our song! You are a rude fellow. Now you will have Ronan's hump as well as your own!"
Crevan found himself alone on the road. Now he had two humps. He very, very slowly shuffled home. From that day on, Crevan stayed away from people and from any place where the little people danced.
As for Ronan, he sang with the little people whenever he pleased. And to this very day, his great-great-great-grandchildren sing with the little people in County Donegal.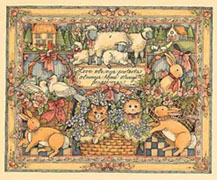 *Pronunciation key:
Word: Monday
Irish: Dé Luain
Pronunciation: Djay loo-in
Word: Tuesday
Irish: Dé Máirt
Pronunciation: Djay moyrch
Word: Wednesday
Irish: Dé Chéadaoin
Pronunciation: Djay Kay-dheen
Word: Thursday
Irish: Dé Déardaoin
Pronunciation: Djay Djayr-dheen
Word: And
Irish: agus
Pronunciation: ah-guss
Note: If you and your children or grandchildren would like to learn how to say all of the days of the week in Irish, please click here: Foclór Gaelach
Images:
Dance of the Fairies - All Posters
Baskets of Love - All Posters
Pansy Basket - All Posters

Index of All Children's Stories

Wed, Jan 3, 2018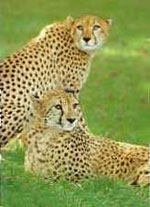 FOTA Wildlife Park
Only 10,000 cheetahs remain in their natural habitat and Fota Wildlife Park in Co. Cork, Ireland, is the world's leading breeder of this endangered species. Fota is among the most modern wildlife parks in Europe. It was opened in 1983 and has more than 70 species living in natural open surroundings with no obvious barriers. Only the cheetahs are behind fences.
Another species which is being saved from extinction at Fota is the white tailed sea eagle. It disappeared from Ireland in the early 1900's, but is now being bred at the park and re-introduced to the wild in Co. Kerry.
Fota is open to the public in the summer and is very popular with Irish families, as well as tourists.

---
"No man ever wore a cravat as nice, as his own child's arm around his neck."
- Irish Proverb

---