Traditions, folklore, history and more. If it's Irish, it's here. Or will be!
"People will not look forward to posterity who never look backward to their ancestors."
-Edmund Burke
---
Quotes

Library: Books, Movies, Music

Prints & Photos

Poetry

Jokes

---
---
Shops Ireland
---
Bunús na Gaeilge
(Basic Irish)

---
---
Did You Know?
---
Himself/Herself
Write to Us
Readers Write..
Links/Link to Us
---
Advertise with us

---

Help keep us free
Throughout the site you will see many items available for purchase from well-known merchants such as Amazon. Not interested in what we're featuring? It doesn't matter. Click on any link and then shop for whatever you wish - we will still get credit, if you buy something.
Thanks for your help.

---
Boand's River
by Grainne Rowland



Boand was full of pride. She was the wife of Labraid, and Labraid had a magic well. Only Boand and Labraid knew where the well was. For Labraid had hidden it from ordinary people because the well was the place where all knowledge could be gained.

But even Boand, who knew where the well was located, could not drink from it. Labraid had put a magic spell on the well. Only he could drink from its waters. Only Labraid gained knowledge from the sparkling liquid.

Boand wished for a drink of the waters, for she desired to be as wise as her husband. But she also knew that if she tried to drink, great magic would cause the waters to blind one eye.
As she brooded on the best way to avoid the harmful magic, Boand remembered that a wise fairy lived near the well. Boand decided to visit the fairy.
Boand dressed in her best gown. It was a shimmering gown that gave off sparkles of color when she moved. Even the fairy was not so beautiful as Boand!
As the fairy provided a meal, Boand explained her problem. She told of her wish to drink of the magic well and of the danger if she did.
The fairy spoke to Boand. "What you ask is indeed very dangerous. For there is only one way to avoid this magic. But still it is a very dangerous way."
And the fairy told Boand what to do. But the fairy warned Boand that she must do the task with a pure heart. Boand must not have greed or pride in her heart, or the danger of the magic would remain and be even greater.
The next day at dawn, Boand rushed to the well. When she arrived, she looked into the well.
"Finally," said Boand, "I will be as wise as Labraid, perhaps even wiser. I will become the ruler of our people. I will become the most important person in the land. Then, I will put an even stronger spell on the well so that no one will ever be able to touch the water again, especially Labraid."
Then Boand did as the fairy had told her. She began to walk three times around the well in a counter-clockwise direction. But Boand had not done the one most important thing--she had not cleared her heart of pride and greed. So the magic of the well became greater, and it turned on Boand.
As Boand finished walking the third time around the well, the magic water began to swirl and splash. It roared up out of the well and covered Boand. Instead of causing Boand to go blind in one eye, she became blind in both eyes. The hand that Boand had stretched out to drink from the well became withered.
Boand tried to run from the well's water. But the water attached itself to Boand as she staggered. It formed a river behind her. The water swirled over Boand, and she drowned.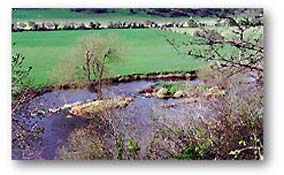 The water can still be seen in Ireland. It is the Boyne River in Co. Meath. And even today, it is said that poets receive magical inspiration from the River Boyne.
Fri, Feb 2, 2018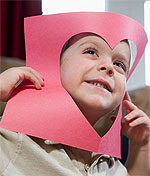 Valentine's Day in Ireland
All over the world, Valentine's Day is celebrated with flowers, chocolates and cards. But in Ireland, it's even more special. In 1836, a relic of St. Valentine was sent by Pope Gregory to the Carmelite Church in Dublin. Every year since then, on Valentine's Day, a casket containing the relic is carried in a procession to the high altar for a special Mass dedicated to young people and those in love. If you're lucky enough to be there, this little known Dublin church also sells Valentine's Day cards. But if you're like most young people, it's much more fun to give cards you've made yourself.
Photo Credit: Early Childhood Ireland

---
"No man ever wore a cravat as nice, as his own child's arm around his neck."
- Irish Proverb

---