Traditions, folklore, history and more. If it's Irish, it's here. Or will be!
"People will not look forward to posterity who never look backward to their ancestors."
-Edmund Burke
---
Quotes

Library: Books, Movies, Music

Prints & Photos

Poetry

Jokes

---
---
Shops Ireland
---
Bunús na Gaeilge
(Basic Irish)

---
---
Did You Know?
---
Himself/Herself
Write to Us
Readers Write..
Links/Link to Us
---
Advertise with us
---
Awards & Testimonials

Submissions Guide
---

Today
in
Irish
History - October
1st to 7th | 8th to 14th | 15th to 21st | 22nd to 31st

---
October 22
1389 - Thomas Mortimer who was appointed justiciar on 5 March is replaced by John de Stanley who lands at Howth on this date
1641 - Rory O'More, Lord Maguire and Sir Pheilim O'Neill initiate a major revolt in Armagh. Known as the Ulster Rebellion, in the ensuing six months, at least 4, 000 Protestants are killed and Catholics are massacred in reprisals
1740 - Birth in Dublin of Sir Philip Francis, civil servant, duellist, and gambler; he may have been the author of the Junius Letters
1761 - John Ponsonby is unanimously re-elected Speaker of the Irish parliament


1906 - Charles Lynch, pianist, is born in Parkgariff, Co. Cork. He gave his first public recital at nine and won a scholarship to the Royal Academy of Music, London, at fifteen. In addition to concert recitals he broadcast regularly with the BBC and in 1937 acted as assistant to Sir Thomas Beecham at Covent Garden
1955 - Belfast-born Ruby Murray has two singles in the British top 20 — I'll Come When You Call and Evermore. Her much quoted achievement was that she had five top 20 songs at one time - a feat only surpassed by pop singer Madonna four decades later
1993 - Former South African President Nelson Mandela visits Dublin
1998 - Demonstrations by construction workers sweep the country in protest at the jailing of two builders in Mountjoy for a second night. A number of protesters are arrested after they clash with gardaí in Dublin
1998 - The remains of four males are uncovered by workmen during excavation work for a new drainage system to serve the South Tipperary town of Carrick-on-Suir. A coin dated 1805 found nearby, leads locals to believe the remains date from the early 19th century when a fever hospital stood on a nearby site, now occupied by St Brigid's Hospital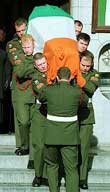 1999 - The coffin of former Taoiseach, Jack Lynch, is removed from St. Paul of the Cross Church, in Harold's Cross in Dublin, after an interdenominational service, on the first leg of its journey to Cork city, where a state funeral will take place
Photo Credit: Graham Hughes/Photocall Ireland!
2002 - Some of the worst storms on record lash the North wreaking havoc on roads and flooding hundreds of homes.
October 23
1662 - The Irish parliament orders the annual observance of this date as a day of thanksgiving for deliverance from the 1641 rising; for over a century, church services on this day will remind Protestants of Catholic disloyalty
1766 - Birth of John Claudius Beresford, banker, MP, and controversial figure in 1798 rebellion, during which he was alleged to have flogged suspects at his riding house in Marlborough Street, Dublin; the slogan 'Mangling done here gratis by Beresford and Co.' was daubed on it
1771 - Benjamin Franklin ends his visit to Ireland
1931 - The IRA and other organizations are declared illegal in the Free State and the Catholic Church excommunicates members of all of them, including Saor Eire, which soon dissolves
1948 - Gerry Robinson, (UK businessman, is born in Co. Donegal


1969 - Samuel Beckett wins Nobel Prize for Literature. He was born in Foxrock, Dublin on Good Friday,13 April 1906. (Although his birth certificate says it was a month later). "Waiting for Godot"
is generally regarded as his best-known play
Photo Image: Nobel Peace Library
1970 - Charles Haughey, former Minister for Finance, is acquitted of charges that he and Neil Blaney, former Minister for Agriculture, imported arms for the IRA
1999 - The Guinness Jazz Festival in Co. Cork receives a spiritual blessing with the surprise appearance of an infamous cleric. Mother Bernadette Marie O'Connor, or the artist (formerly) known as Sinéad O'Connor, performs in Ireland for the first time in five years
2001 - Ulster Unionist leader David Trimble welcomes official confirmation that the IRA has put a quantity of guns and explosives beyond use
2001 - The Government announces it will sell off one-third of Aer Lingus at a knock-down price in order to fund a drastic rescue plan for the airline.
2001 - Former Northern Ireland Secretary Mo Mowlam is presented with the International Woman of the Year Award at a ceremony in Dublin. UN High Commissioner for Human Rights Mary Robinson's wins the Overall Award at the Irish Tatler Women of the Year Awards
2002 - Thornton's in Stephen's Green, Dublin, is awarded the Jameson Restaurant of the Year. It is among the national award winners announced to coincide with the launch of Georgina Campbell's Jameson Guide Ireland 2003.
October 24
1642 - Irish Confederate rebels establish government at Kilkenny
1789 - Work begins on the construction of the Royal Canal
1854 - Birth of Sir Horace Plunkett, agricultural reformer and politician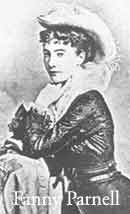 1880 - Fanny Parnell launches the Ladies' Land League in New York. Known as the Patriot Poet, Fanny Parnell is the leading spokeswoman throughout the United States for the organization
1940 - Pat Gallagher is born in Philadelphia, Pennsylvania USA.
1942 - Birth of Frank Delaney, writer and broadcaster, in Tipperary town
1990 - The IRA kills 6 soldiers and a civilian in bomb attacks at Derry and Newry
1998 - New British proposals for a European defence force which could undermine Irish neutrality are outlined at a key summit of EU heads of government in Austria
1999 - The first state funeral ever held in Co. Cork takes place for former taoiseach Jack Lynch at St Mary and Anne's Cathedral in Cork
1999 - Westlife become the first boy band to score number ones with their first three singles; and, as their song Flying Without Wings hits the top, they beome only the third act ever to see all of their first three releases go straight into the charts at number one
2000 - Hallowe'en firework displays are dampened after gardaí seize rockets and bangers worth close to £1 million in a warehouse north of Omeath, Co. Louth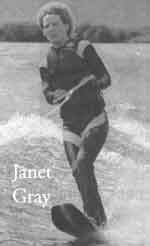 2002 - President Mary McAleese is named the Irish Tatler Woman of the Year. Northern Ireland Woman of the Year is awarded to blind world water-skier champion Janet Gray
2003 - A smoking ban in all enclosed workplaces except private dwellings is signed into law. Prisons will be excluded to prevent security and conduct problems. The law will go into effect on January 26, 2004. Hoteliers and publicans consider legal action.
October 25
1212 - John Comyn, Archbishop of Dublin, dies and is buried in Christ Church Cathedral
1784 - A radical reform congress commences in William Street, Dublin
1818 - Birth of opera singer Catherine Hayes in Limerick
1899 - Birth of Micheál Mac Liammóir, actor and writer
1909 - The Engineering and Scientific Association of Ireland assures the population that flying machines will never be of any practical use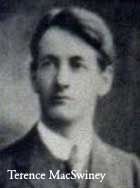 1920 - Terence MacSwiney, the Mayor of Cork, dies in a London prison after 73 days on hunger strike. His last words to a priest by his side were, "I want you to bear witness that I die as a soldier of the Irish Republic."
1922 - The Dáil approves the Constitution of the Irish Free State
1960 - Death of Harry George Ferguson, environmental pioneer, aircraft designer, inventor of the Ferguson tractor and revolutioniser of mechanised farming. He was from Dromore, Co. Down
1985 - First commercial flight from Knock Airport (Horan International Airport) in Co. Mayo
1999 - Inter-party talks resume at Stormont as the Northern Ireland peace process enters its final and most crucial phase
2000 - The Provisional IRA throws beleaguered Ulster Unionist Party leader David Trimble a lifeline after it agrees to allow a number of its arms dumps to be re-examined by international inspectors
2002 - Limerick-born movie star, Richard Harris, loses his battle to cancer.
October 26
1601 - A Spanish army under Don Juan del Aguila, which had landed at Kinsale on 21 September, is besieged by Lord Mountjoy on this date
1771 - John (Juan) MacKenna, who would rise to fame in South America, was born in Clogher, Co. Tyrone
1791 - Founding of the United Irishmen movement
1831 - Birth of painter Nathaniel Hone in Dublin
1837 - James Lawlor Kiernan, Union general in America's Civil War, was born in Mount Bellew, County Galway
1932 - Margaret "The Unsinkable Molly" Brown, daughter of Irish immigrants, dies in New York
1943 - Comhdháil Náisiúnta na Gaeilge, the coordinating body for Irish-language organizations, is formed
1997 - The country's first women soldiers hold their passing out parade
1998 - A price war rages over the video of Oscar-winning Titanic, which is set to become Ireland's biggest selling video of all time.
1999 - A major opinion poll reveals that a majority of people in Northern Ireland would vote 'yes' in a new referendum on the Good Friday Agreement
1999 - A line of tractors backs up for miles as a cavalcade of farmers make their way to the annual Great Maam Cross Fair - the last great fair of the millennium
2000 - The new Manchester United Superstore is officially opened in Dublin
2000 - The country's 350,000 secondary school students are asked by the Department of Defence to propose a name for a new £20m naval patrol boat.
October 27
1651 - Surrender of Limerick
1673 - A proclamation declares the banishment of Catholic bishops and priest and the closure of religious houses and schools under Charles II's reign
1878 - Between October 24 and this date, Fenians propose a 'New Departure': an alliance with the Parnellites
1905 - Birth in Dublin of Bryan Guinness, 2nd Lord Moyne; brewer and writer
1980 - Beginning of the Hunger Strike by seven Republican prisoners in the 'H' Blocks at Long Kesh. They are later joined by three female prisoners at Armagh Prison
1998 - 200 delegates of the 24,000-strong INO (nurse's union) vote unanimously to reactivate industrial action if their claims are not met
1999 - Fifty bar workers are to sue their bosses in the first smoking related personal injury claim in the history of the State
Any Los Angeles personal injury lawyer expects lawsuits that are brought against an employer, and are outside of worker's compensation, could be difficult to win.
1999 - NUI Galway marks its 150th anniversary
2000 -The IRA says that the re-examination of a number of its arms dumps by the international inspectors has already taken place 2002 - Severe storm batters Ireland causing power cuts and interruptions in road, rail, air and sea transport services
2002 - After comments by British prime minister Tony Blair that the continued existence of the IRA is an obstacle to rescuing the peace process, Sinn Féin leader Gerry Adams says the IRA is never going to disband in response to ultimatums.
October 28
1659 - Birth of Nicholas Brad, Anglican clergyman and poet, in Bandon, Co. Cork
1758 - Edward Moore, 5th Earl of Drogheda and former MP for Dunleer, drowns with his son Edward, chaplain to the House of Commons, en route from England to Dublin
1875 - Death of William Howard Glover, composer and music critic
1907 - John Harold Hewitt, poet who wrote the Glens of Antrim, is born
1909 - Birth in Dublin of Sir Francis Bacon, painter
1958 - The State Opening of Parliament is televised for the first time


1976 - Máire Drumm, Irish Republican and Sinn Féin vice-president, is assassinated in her hospital bed by Unionist gunmen
1999 - Ulster Unionist and Sinn Féin politicians grapple with a new formula designed to break the deadlock in the peace process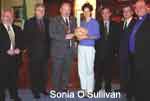 2000 - Athlete Sonia O'Sullivan returns to her hometown of Cobh and is presented with the Freedom of The Town
2001 - Republican sources claim the IRA has destroyed up to 300 weapons in its first act of decommissioning.


October 29
1835 - Michael William Balfe's opera Siege of Rochelle is first performed at the Drury Lane Theatre in London
1885 - Confederate Civil War Gen. Joseph Finegan, from Co. Monaghan, dies in Rutledge, Florida
1892 - Death of Clonakilty artist, William Hartnett
1922 - Birth of Neil Blaney, politician, in Rosnakill, Co. Donegal
1953 - The Health Act provides for a free mother-and-child healthcare scheme in the Republic
1958 - The Dáil announces a bill to introduce a system of proportional representation into the Republic
1972 - Gilbert O'Sullivan reaches no. 1 in the British charts with Clair
1998 - The tax on tourists row flares up again when members of the Dáil Committee on Tourism clash over a proposed £1 levy on visitors to the Aran Islands
1998 - In tribute to emigrants who sailed to the New World on coffin ships, Coillte announces plans for the establishment of the Forest of Dunbrody on the outskirts of New Ross, Co Wexford. The public, and particularly Irish-Americans, will be invited to buy a tree in the name of their loved ones
2001 - Hardline unionists seek to block David Trimble's re-election as Northern Ireland First Minister
2001 - Over £3.5m will be spent converting Limerick's city centre into a pedestrian area. Within five years, only buses, taxis and delivery vehicles will be able to travel up O'Connell Street
2002 - Continuous heavy rain brings severe flooding to many parts of the country
2002 - Thousands of homes and businesses face massive disruption to Christmas mail delivery following a vote by postmasters in favour of industrial action
2002 - Broadcaster Gerry Ryan becomes the latest homegrown celebrity to feature in the Irish version of Madame Tussaud's collection when he unveils a life-size model of himself at the Dublin museum.
October 30


1751 - Birth in Dublin of dramatist and orator, Richard Brinsley Sheridan
11816 - Sir Richard Quain, physician to Queen Victoria, is born in Mallow, Co. Cork
1865 - Róis Ní Ógáin (Rose Mabel Young), Gaelic scholar and editor of Duanaire Gaedhilge, is born
1928 - Birth of Sir Charles Brett, architectural historian
1972 - Northern Ireland Secretary of State, William Whitelaw's paper "The Future of Northern Ireland" declares no UK opposition to unity by consent
1998 - The South County Bar in West Douglas has become the first pub in Cork to win the James Joyce Pub Award
2000 - The Good Friday Agreement hangs in the balance with the Government seeking to establish whether or not the North's First Minister David Trimble can ban Sinn Féin Ministers from cross-Border committee meetings
2001 - One of the country's largest estates, Farnham, on about 1,200 acres in Cavan, is bought for around £5m by a locally-born businessman, pharmacist Roy McCabe
2001 - A major anti-litter initiative is launched which will hold every town in Ireland accountable for its cleanliness
2002 - The crisis in the Northern Ireland peace process deeps after the IRA announces its decision to end contact with the arms decommissioning body
2003 - A wreath to commemorate the 40th anniversary of the death of Monsignor Hugh O'Flaherty, the Vatican priest who is credited with saving the lives of thousands of people during the second World War is laid on his grave in Cahersiveen Co Kerry.
October 31
1641 - The Ulster rebels take Dundalk
1804 - Morgan O'Connell, soldier and politician, is born in Dublin


1838 - General Sir William Frances Butler, soldier and author, is born in Suirville, Co. Tipperary. He had a remarkable and often controversial military career spanning over 50 years. During the Land War he became a great personal friend of Charles Stewart Parnell and campaigned for tenants' rights and Home Rule. Late in 1900 Sir William was promoted to Lieutenant General, a rank he held until his retirement in 1905. The last five years of his life were spent at Bansha Castle among his own people.
He died in Bansha Castle on June 7 1910 and his funeral to Killaldriffe was one of the largest seen in the region
1845 - A committee is formed to examine the extent of the potato crop failure and suggest remedies


1883 - Birth of Sara Allgood, stage and Hollywood actress, in Dublin. Considered one of the greatest character actresses of her time, the crowning point of her career came with her nomination for an Academy Award for Best Supporting Actress in "How Green Was My Valley" in which she played Mrs. Morgan. She began her acting career with Dublin's world famous Abbey Theatre and had a long career on stage before making her film debut in: "Just Peggy". Film credits include "The World, The Flesh and The Devil", Dr. Jekyll and Mr. Hyde" with Spencer Tracy, "The Lodger" with George Sanders, "Jane Eyre" with Orson Welles and Joan Fontaine, "The Keys of the Kingdom" with Gregory Peck, "Cheaper by the Dozen" and "Sierra" - her last film. She moved to the U.S. in the 1940s and became a U.S. citizen in 1945. She died on September 15, 1950 in Woodland Hills, California of a heart attack at age 66
1930 - Birth of Michael Collins, an Irish-American born in Rome, and pilot of the command module of the Apollo 10 lunar landing in 1969
1939 - Comedian Tom O'Connor is born in Merseyside, Liverpool
1998 - Dungarvan's milk processing plant in Co. Waterford, operational since the turn of the century, closes with the loss of 135 full-time jobs
1999 - In Co. Wexford, a millennium party catches the imagination of Halloween revellers as the ESB Drum Carnival entertains ghouls and goblins of all ages. The carnival features the largest drum in the world - a staggering 15ft in diameter and part lambeg and bodhran in design
2001 - Pierce Brosnan, Aidan Quinn, and Julianna Margulies, are on location at Castleknock College, Dublin, for the filming of Evelyn which is being produced by Brosnan's film company
2002 - Distributors predict the film The Magdalene Sisters will hit the €1 million mark within five weeks, making it one of the biggest-grossing movies ever screened in Ireland
2002 - In a meeting with employers and unions in Dublin Castle, Finance Minister Charlie McCreevy says the boom is finally over and workers face a pay freeze of up to a year.


2006 - Demolition work finally gets under way at the former high-security Maze Prison, where thousands of republican and loyalist paramilitary inmates were detained during the Troubles. The 360-acre site near Lisburn in Co Antrim will be cleared for housing, a multi-purpose sports arena and what is called a "centre for conflict transformation."

Sources:
The Celtic League
This organization publishes the annual Celtic Calendar. To order your own copy, visit: The Celtic League.
Irish Abroad
Somewhat sporadic, but they often highlight an important date in Irish history. To visit, please click: Irish Abroad.
The Wild geese
They update Irish history weekly. To visit their keydates page, please click: The Wild Geese.



We also refer to an assortment of references. Among them are the Books of Days - see right margin on this page.


Wed, Jan 3, 2018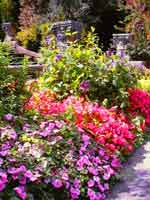 Ilnacullen, Co. Cork - an Island Garden
Located in the sheltered harbour of Glengarriff in Bantry Bay. Ilnacullin, which means island of holly, is a small island known to horticulturists and lovers of trees and shrubs all around the world as an island garden of rare beauty.
The vivid colours of Rhododendrons and Azaleas reach their peak during May and June, whilst the hundreds of cultivars of climbing plants, herbaceous perennials and choice shrubs dominate the midsummer period from June to August.
Because of its sheltered situation and the warming oceanic influence of the Gulf Stream, the climate is favourable to the growth of ornamental plants from many parts of the world.
Even for those who aren't particularly interested in gardens, there are many other scenic views, especially in the surrounding waters where seals frequent the rocks on the southern shore.
The cover photo on Bridget's book The Traditional Irish Wedding shows a wrought iron garden gate on Ilnaculen. I took that photo. To see it, go to the home page. It's part of the opening paragraph Failte.
—Russ
Resource: Copy and Image - Cork Guide

Click for More Culture Corner.
"Cahill's lovely prose breathes life into a 1,600-year old history." The L.A. Times
This is our most popular book. We understand why; the truth is fascinating.
Click here for Saved Civilization.
---