Traditions, folklore, history and more. If it's Irish, it's here. Or will be!
"People will not look forward to posterity who never look backward to their ancestors."
-Edmund Burke
---
Quotes

Library: Books, Movies, Music

Prints & Photos

Poetry

Jokes

---
---
Shops Ireland
---
Bunús na Gaeilge
(Basic Irish)

---
---
Did You Know?
---
Himself/Herself
Write to Us
Readers Write..
Links/Link to Us
---
Advertise with us
---
Awards & Testimonials

Submissions Guide
---

Today
in
Irish
History - October
1st to 7th | 8th to 14th | 15th to 21st | 22nd to 31st

---
October 15
1582 - Pope Gregory reforms the calendar introduced by Julius Caesar in 45BCE: 4 October is followed by 15 October. However, the reform will not be implemented in Britain and Ireland till 1752
1690 - After taking Cork on 28 September, Marlbourough takes Kinsale for the Williamites, who now control Munster
1763 - Birth of United Irish leader, Lord Edward Fitzgerald at Carton House in Co. Kildare
1842 - First issue of "The Nation" published
1949 - Death of Eoin MacNeill, Irish historian and founder of the Irish Volunteers
1964 - UK general election; unionists win all 12 Northern Ireland seats; Harold Wilson forms a Labour government
1980 - Ronnie Bunting, Protestant Irish nationalist, is assassinated
1995 - Seamus Heaney wins the Nobel Prize for literature
1999 - The music world mourns the death in Co. Kildare of Derry-born tenor Josef Locke
2001 - Palestinian President Yasser Arafat asks Ireland to use its influence on the UN Security Council to help resume peace talks in the Middle East
2002 - Following the suspension of the Northern Ireland Government and Assembly, London resumes direct rule of Northern Ireland
2002 - The hero of the Polish Solidarity movement, Lech Walesa, makes an impassioned plea to the Irish people to vote Yes to Nice.
October 16
1678 - Proclamations against Catholic clergy and schools in Ireland are issued
1827 - Cavan-born Thomas Baron von Brady, general in the Austrian army, dies in Vienna
1854 - Oscar Wilde, playwright, novelist and essayist is born in Dublin
1890 - Michael Collins is born in Clonakilty, Co. Cork
1929 - Birth in Bailieborough, Co. Cavan of Captain James Kelly, Irish army intelligence officer who would later be involved in the 1970 arms trial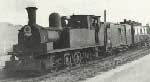 1961 - RTÉ reports on the closure of the West Clare Railway
Photo: From the County Clare Library
1961 - Opening of Cork Airport
1981 - Ben Dunne, joint managing director of Dunnes Stores, is kidnapped by the IRA
1998 - Taoiseach Bertie Ahern leads the applause for Nobel Peace Prize winners John Hume and David Trimble, describing it as a deserved tribute to two of the principal architects of the Good Friday Agreement.
October 17
1171 - Henry II, fearful that Strongbow will grow too powerful in Ireland, lands at Waterford with an army. The Normans, Norse and Irish all submit to him, except for the most remote Irish kings
1738 - In a duel at Mullingar, Arthur Rochfort, MP for Co. Westmeath, shoots Dillon Pollard Hampson in the stomach. Hampson, a former Junior Grand Warden of the Grand Lodge of Irish Freemasons, recovers
1803 - Birth of Young Irelander, William Smith O'Brien in Dromoland, Co. Clare
1882 - The Irish Nationalist League is founded
1886 - John Dillon announces "Plan of Campaign" for Irish tenants against unfair rents
2000 - Ireland becomes the 30th country to pick up the TV show, "Who Wants to be a Millionaire"
2002 - Chieftains' harpist Derek Bell dies unexpectedly during a recovery period from minor surgery in the United States.
October 18
1718 - Birth in Dublin of actress, Peg Woffington
1791 - First public meeting of the Society of United Irishmen in Belfast
1881 - A "no rents manifesto" is issued by the Land League under the guidance of Parnell
1900 - Sarah Makem, Irish traditional singer, is born
1970 - Máirtin Ó Cadhain, Irish language writer and author of Cré na Cille, dies
2000 - More than 20,000 passengers are stranded as Aer Lingus grounds planes in the worst strike to hit the airline in 20 years
2001 - The five-star Aghadoe Heights Hotel in Killarney named AA Hotel of the Year.
October 19
1610 - Birth of James Butler, 1st Duke of Ormond; royalist soldier; and three times Lord Lieutenant of Ireland
1680 - Birth of John Aberneth, dissenting clergyman, near Moneymore, Co. Tyrone
1745 - Jonathan Swift dies
1751 - Birth in Dublin of Charles Edward Kilmaine who was a general in the French army
1913 - Irish historian, novelist and poet, Emily Lawless dies
1955 - Archbishop McQuaid calls for an international football match against Yugoslavia in Dublin to be cancelled, but it goes ahead in front of a capacity crowd
1989 - After serving 15 years in prison, the "Guildford Four" - Gerard Conlon, Patrick Armstrong, Carole Richardson and Paul Hill* are released in what is considered to be one of the biggest-ever miscarriages of justice in Britain
*Paul Hill is taken to a Belfast prison where he was serving time for murder; he was also expected to be released
1991 - Seán Kelly wins the Tour of Lombardy
1998 - Discussions between British Prime Minister Tony Blair, David Trimble and Martin McGuinness fail to break the deadlock on the surrender of arms
1998 - Justice Minister John O'Donoghue imposes tough new visa rules to curb the arrival of Slovakian gypsies, following an influx of 1,600 in search of asylum in Britain in just two months
1998 - Agriculture Minister Joe Walsh admits that the Irish beef crisis, which has seen prices collapse to a 25-year-low, could deteriorate even further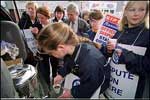 1999 - On the first day of their historic industrial action, thousands of striking nurses take to the picket lines
Photo Credit: Ray Ryan


2000 - The Dalai Lama meets with fellow Nobel peace laureate John Hume MP at the Ulster Hall, Belfast. The Buddhist spiritual leader is in Belfast for three days at the invitation of the World Community for World Peace.
Photo Credit: Martin McCullough

2000 - A fourth man is arrested in connection with the Omagh bombing
2001 - Taoiseach Bertie Ahern becomes the latest target of the anthrax scare sweeping the country after a letter containing an unidentifiable white powder is sent to Government Buildings in Dublin
2001 - The dying wish of IRA volunteer Patrick Maher is fulfilled when his remains are brought from Sarsfield Barracks to his native Co Limerick for burial tomorrow with full military honours. Mr Maher, 32, was executed after his alleged part in the rescue of IRA man Seán Hogan from a heavily guarded train in Knocklong in May 1919, which resulted in the death of RIC man Peter Wallace. Mr Maher had always protested his innocence.
October 20
1674 - Birth of James Logan, Colonial statesman and scholar in Lurgan, Co. Armagh
1775 - Two hundred passengers are lost in the shipwrecks of the brigs Trevor Totty and Nonpareil. Among the casualties are The Hononorable Major Francis Caulfield, MP for Charlemont, his wife and daughters; also lost is Mr French, Member for the County of Roscommon
1794 - John Gustavus Crosbie, candidate in a parliamentary by-election for Co. Kerry, takes offence at some real or supposed breach of neutrality on the part of Sir Barry Denny, the sitting MP. A duel follows on this date; at the first fire Denny is shot fatally through the head 'by the haphazard aim of a man who had never before discharged a pistol in his life'
1808 - Death of composer Michael William Balfe in Dublin. He is best known for his opera "The Bohemian Girl"


1881 - The Land League is outlawed
1892 - Birth near Castleblaney, Co. Monaghan of General Eoin O'Duffy, first commissioner of the Garda Síochána (Blue Shirts)
Photo Credit: Garda Museum
1933 - The Irish Free State government purchases the copyright of Peadar Kearney's "The Soldiers Song" which becomes the national anthem
1949 - Birth of Eddie Macken, showjumper, in Granard, Co. Longford
1962 - Birth of Nicholas English, Tipperary hurler, in Cullen, Co. Tipperary
1998 - Dance superstar Michael Flatley and his former manager John Reid dramatically settle their multi-million pound court wrangle
1999 - Death in Dublin of former Taoiseach, Jack Lynch
2001 - President Bill Clinton calls on all sides not to give up on the Good Friday Agreement; he also pledges to visit Northern Ireland while still in office
2002 - The Irish vote Yes to the Nice Treaty.
October 21


1879 - Founding of the Land League by Michael Davitt
1803 - Execution of Thomas Russell, United Irishman, in Downpatrick for "high treason"
1805 - The Irish dead at the Battle of Trafalgar include Lieutenant William Ram, son of Abel Ram, MP for Co. Wexford, who is killed on board the Victory
1901 - Douglas Hyde's Casadh an tSúgán - The Twisting of the Rope - is presented at The Gaiety Theatre in Dublin and becomes the first staged Irish-language play
1904 - Birth of poet Patrick Kavanagh in Inishkeen, Co. Monaghan
1999 - President Mary McAleese leads mourners at the removal of former Taoiseach and Fianna Fáil leader, Jack Lynch, from Dublin's Royal Hospital to the Church of St Paul of the Cross, Mount Argus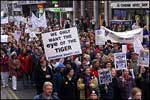 1999 - Hundreds of striking nurses from the midlands join a rally through the streets of Dublin
Photo Credit: Billy Higgins
2001 - Gas pipeline work on a hillside at Kilmacanogue in the Wicklow Mountains uncovers the remains of a house dating back to 2,000 BC. Only eight similar discoveries have been made thus far in Ireland
2002 - The Real IRA pledges to continue their campaign of violence, ignoring a call by the prisoners in Portlaoise to disband and confirm the organisation has split
2002 - Even on paper Keane is faster than McCarthy; on the day of its launch, just one copy of Mick McCarthy's World Cup diary is sold at Waterstones outlet on Dawson Street in Dublin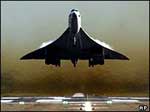 2003 - The last flight of the Concorde supersonic jet arrives at Belfast International Airport, Aldergrove.


Sources:
The Celtic League
This organization publishes the annual Celtic Calendar. To order your own copy, visit: The Celtic League.
Irish Abroad
Somewhat sporadic, but they often highlight an important date in Irish history. To visit, please click: Irish Abroad.
The Wild geese
They update Irish history weekly. To visit their keydates page, please click: The Wild Geese.



We also refer to an assortment of references. Among them are the Books of Days - see right margin on this page.


Wed, Jan 3, 2018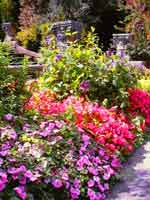 Ilnacullen, Co. Cork - an Island Garden
Located in the sheltered harbour of Glengarriff in Bantry Bay. Ilnacullin, which means island of holly, is a small island known to horticulturists and lovers of trees and shrubs all around the world as an island garden of rare beauty.
The vivid colours of Rhododendrons and Azaleas reach their peak during May and June, whilst the hundreds of cultivars of climbing plants, herbaceous perennials and choice shrubs dominate the midsummer period from June to August.
Because of its sheltered situation and the warming oceanic influence of the Gulf Stream, the climate is favourable to the growth of ornamental plants from many parts of the world.
Even for those who aren't particularly interested in gardens, there are many other scenic views, especially in the surrounding waters where seals frequent the rocks on the southern shore.
The cover photo on Bridget's book The Traditional Irish Wedding shows a wrought iron garden gate on Ilnaculen. I took that photo. To see it, go to the home page. It's part of the opening paragraph Failte.
—Russ
Resource: Copy and Image - Cork Guide

Click for More Culture Corner.
"Cahill's lovely prose breathes life into a 1,600-year old history." The L.A. Times
This is our most popular book. We understand why; the truth is fascinating.
Click here for Saved Civilization.
---