Traditions, folklore, history and more. If it's Irish, it's here. Or will be!
"People will not look forward to posterity who never look backward to their ancestors."
-Edmund Burke
---
Quotes

Library: Books, Movies, Music

Prints & Photos

Poetry

Jokes

---
---
Shops Ireland
---
Bunús na Gaeilge
(Basic Irish)

---
---
Did You Know?
---
Himself/Herself
Write to Us
Readers Write..
Links/Link to Us
---
Advertise with us
---
Awards & Testimonials

Submissions Guide
---

Today
in
Irish
History - October
1st to 7th | 8th to 14th | 15th to 21st | 22nd to 31st

---
October 8
1822 - Birth in Dublin of Richard D'Alton Williams. He is educated at Carlow Academy and studies medicine at Saint Vincent's Hospital, Dublin. He becomes a member of the Young Ireland movement and contributes poetry to The Nation under the pseudonym 'Shamrock'. In 1848, he is tried for treason for articles he publishes in the Irish Tribune, but he is successfully defended by lawyer and fellow poet Samuel Ferguson
1949 - Edith Oenone Somerville, Irish novelist, dies in Castletownshend, Co. Cork.In her late twenties, she meets her second cousin Violet Florence Martin who writes under the pseudonym Martin Ross. They become lifelong companions and literary partners, collaborating on a series of humorous novels about the rural Irish gentry. Their most important literary achievement is their novel The Real Charlotte which is published in 1894
1959 - Birth of musician Gavin Friday


1962 - Kerrygold butter is launched on the world market
1974 - Seán MacBride, President of the International Peace Bureau, Geneva, Switzerland, and President of the Commission of Namibia, United Nations, New York, USA, is awarded a half share of the Nobel Peace Prize
Photo Credit: Nobel.se
1998 - Minister for Defence, Michael Smith TD strongly defends his decision to close down six army barracks after several delegates stage a walk-out at the PDFORRA conference in Ennis, Co Clare
1999 - Rosmoney Shellfish of Co. Mayo is crowned as Ireland's Best Oyster Grower in the 1999 BIM Guinness Quality Oyster Awards
1999 - On the grounds of Belfast City Hall, a six-foot statue is dedicated to the memory of the late James Magennis. He is finally honoured in his native Belfast 54 years after he was awarded the Victoria Cross for gallantry during the Second World War
2000 - Catholic bishops begin a three-day meeting in Maynooth during which they will attempt to reach agreement on the ordination of lay people as deacons
2000 - More than 40,000 jubilant supporters turn out to welcome the victorious Co. Kerry football team and the Sam Maguire Cup back to the Kingdom
2001 - Northern Ireland's political institutions are plunged into a new crisis as Ulster Unionists begin a phased withdrawal of ministers from the power-sharing executive
2002 - Sinn Féin president Gerry Adams claims that the raid on his party's Stormont offices last week is a plot to throw the peace process into crisis
2002 - Catholic Bishops back the Nice Treaty, stating there is a stronger case for voting in favour than against.
October 9
1651 - The Navigation Act provides that goods imported to any Commonwealth lands shall be carried in English ships only
1849 - First tenant protection society established at Callan, Co. Kilkenny.


1913 - Birth of golfer Harry "The Brad" Bradshaw near Delgany, Co. Wicklow
1968 - Champion racehorse, Arkle, is retired to see out the rest of his days in Bryanstown, Kildare


1974 - Death of poet and playwright Padraic Fallon. He was born in Athenry, Co Galway in 1905. His only collection during his lifetime, "Poems" was published a few months before his death
Photo Credit: Gallery Press.




1978 - Birth of Nicholas Bernard James Adam Byrne in Dublin. Better known as Nicky Byrne, singer with the boyband Westlife
2000 - The Dinn Ri, Carlow Town, Co. Carlow, scoops the Black & White Pub of the Year Award for a third time
2001 - Nearly 450 jobs are lost as the economic fallout from the 9/11 terrorist attacks in the US continues to hit home. More than 1,600 workers at Waterford Crystal are also preparing for a complete shutdown next week for five days
2002 - SDLP Leader Mark Durkan urges the British and Irish Governments to do everything possible to minimise the damage to the Good Friday Agreement. Following talks in Downing Street with British Prime Minister Tony Blair, Mr Durkan acknowledges that the power-sharing government in Stormont may have to be suspended after allegations of an IRA spy ring operating within the

Northern Ireland Government
2003 - The famous cranes at Belfast's Harland and Wolff shipyard, which dominate the city's skyline, are listed as historic monuments to ensure their preservation.
October 10
1084 - Patrick, Bishop of Dublin, dies in a shipwreck
1711 - The Linen Board meets for the first time
1771 - During his visit to Ireland, Benjamin Franklin attends a meeting of the House of Commons on this date
1790 - Birth in Co. Tipperary of Fr. Theobald Matthew, "The Apostle of Temperance" and campaigner against alcohol
1819 - Birth in Templemore, Co. Tipperary of Charles Stanley Monck, the first Governor General of Canada
1865 - Magee College is opened as a combined arts and Presbyterian theological college in Derry/Londonderry
1899 - Irish Transvaal Committee is formed to aid Boers against the English
1899 - Eoin O Grownley, Irish language scholar, dies
1969 - The Hunt Committee Report on Ulster police recommends abolition of the B-special troops and the creation of the Ulster Defence Regiment
1971 - Birth in Cork of Roy Keane, football player for the Cobh Ramblers, Nottingham Forest, Manchester United and the Republic of Ireland
1981 - The Fureys reach no. 14 in the British charts with When You Were Sweet Sixteen
1990 - RTÉ reports on the closure of Phoenix Park Racecourse
1998 - THE IRA and Sinn Féin embark on a series of secret talks with Protestant churchmen and community leaders in a bid to prevent the peace process and the new Northern Ireland Assembly foundering
2000 - Taooiseach Bertie Ahern and British Prime Minister, Tony Blair signal the start of a concerted attempt to rescue the faltering Northern Ireland peace process
2001 - Taoiseach Bertie Ahern joins the ranks of the publicly contrite world leaders when he finally apologises to three journalists for the tapping of their telephones in the early '80s
2002 - After 22 years at the National Museum in Dublin, an eighth-century silver chalice, silver paten and stand and a decorated bronze strainer ladle are returned to their original resting place at the monastic site of Derrynaflan, near Littleton Bog, Co Tipperary.
October 11
1649 - Massacre at Wexford when the town falls to Cromwell
1703 - John Asgill, newly elected MP for Enniscorthy, is expelled from the Irish parliament on this date on account of a pamphlet he published in Dublin in 1698, arguing that man may pass into eternal life without dying. The pamphlet is burned by the common hangman. He will spend much of the rest of his life in prison in England, for blasphemy or for matters arising from land speculation in Ireland
1741 - Birth of James Barry, painter, in Cork
1921 - Anglo-Irish negotiations open with Griffith and Collins leading the Irish delegation
1922 - The Irish Constitution for the Free State, drafted by the Thomas Cosgrove Dáil, is adopted
1974 - Adoption of the Celtic League American Branch
1999 - Hospitals begin scaling down their services after nurses vote overwhelmingly to go on strike
1999 - Taoiseach Bertie Ahern pays tribute to Mo Mowlam's courage and understanding after it emerges that she is leaving her Northern Ireland post
2000 - In an historic move, Ireland's Bishops vote at the autumn meeting of the Irish Bishop's Conference in St Patrick's College, Maynooth to seek the permission of Pope John Paul II to establish a Permanent Diaconate in Ireland. What this means is that Irish men will be ordained as deacons in the Catholic Church within the next five years and will have powers to officiate at weddings, baptisms and funerals
2002 - Eamon Dumphy announces he will quit his popular radio drive-time show "The Last Word" on Today FM
2002 - Geraldine Kennedy is appointed editor of The Irish Times and becomes the first female editor of a national daily newspaper
In the liturgical calendar, today is the feast day of St. Canice.
2011 - Historian Annesley John Malley loses his battle with cancer. The Belfast native Annesley was instrumental in charting the history of the north west dating back to the 1600s. He attended Regent House School in Newtownards before being trained in England as a surveyor. When he returned to Northern Ireland he worked as a surveyor in the north west. His friend and fellow historian Ken McCormick said it was that background in surveying which sparked Annesley's interest in land surveys, old maps and historic properties and monuments.
October 12
1645 - Archbishop Rinuccini arrives in Ireland
1671 - Peter Drake, soldier and memoir author, is born in Co. Meath
1798 - French fleet intercepted off Donegal. Wolfe Tone captured when the Hoche strikes its colors
1876 - Jerome Connor, sculptor, is born near Anascaul, Co. Kerry
1911 - Birth in Portrush of Fred Daly, the only Irishman to win a golf 'major' - the British Open in 1947


1938 - Birth in Waterford of Brendan Bowyer, "Ireland's answer to Elvis" and the lead singer with the Royal Showband
1945 - Emer Colleran, microbiologist and environmentalist, is born in Castlebar, Co. Mayo
1969 - Louis Gavan Duffy, Irish language educator, dies
1970 - Founding in Dublin of what is considered to be the first Celtic rock band, Horslips
1975 - Sir Oliver Plunkett is canonised
1999 - Former US Senator George Mitchell moves his make or break review of the Good Friday Agreement to London, just hours after new Secretary of State Peter Mandelson arrives in Northern Ireland to meet the North's political leaders
2000 - Roman Catholic and Protestant Bishops are on a collision course following Archbishop Dr Desmond O' Connell's backing of the controversial document "Dominus Iesus" which proclaims the Catholic Church to be the one true church
2002 - Paddy's Bar, owned by Cork woman Natalia Daly, is destroyed in a series of explosions which kill more than 200 people in Bali. Most of those killed or injured are Australian tourists; the dead and injured also include Swiss, Germans, Swedes, Americans, Britons and Italians. Three Irish people are still unaccounted for.
October 13
1494 - Poynings lands at Howth and summons a parliament to Drogheda. He then campaigns in the north
1729 - William Conolly resigns as Speaker of the Irish House of Commons on grounds of ill health. Sir Ralph Gore is elected unanimously in his place
1823 - Sara Atkinson, a writer on religious and historical subjects is born
1881 - Charles Stewart Parnell and others are arrested for Land League activities
1923 - Republican prisoners in Mountjoy prison begin mass hunger strike
1928 - The Dublin Gate Theatre Company produces its first play - Ibsen's Peer Gynt - in the Peacock Theatre
1940 - Mick Doyle, rugby player and coach, is born in Castleisland, Co. Kerry
1998 - Farmers, furious over the collapse in cattle prices, stage an overnight sit-in protest at the Department of Agriculture and Food in Dublin and warn much tougher action will be taken
2000 - Provisional IRA gunmen are blamed for the murder of a leading member of the Continuity IRA, Joseph "Jo Jo" O'Connor who is shot dead in West Belfast
2002 - Three Irish tourists are among 25 people still unaccounted for following a massive bomb blast which ripped through two packed bars on the Indonesian resort island of Bali.
October 14
1693 - The Earl of Tyrone dies and apparently appears promptly to Lady Nicola Hamilton, the widow of Tristram Beresford MP; he makes a number of predictions that turn out to be correct; one of them was that she would die on her 47th birthday
See our article A Triple Treat for Halloween
1702 - Irish Brigade of France fights in the battle of Friedlingen
1767 - George Townshend, 4th Viscount Townshend, becomes Lord Lieutenant of Ireland
1783 - Edmond Sexton Pery is unanimously re-elected as Speaker of the Irish parliament
1791 - Wolfe Tone visits Belfast for the first time; the Society of United Irishmen is founded there on this date by Tone, Henry Joy McCracken, Thomas Russell and Samuel Neilson
1814 - Birth of author and patriot, Thomas Osborne Davis in Mallow, Co. Cork
1880 - Nationalist and Gaelic League activist, Mary Ellen Spring-Rice is born
1882 - Eamon de Valera, nationalist campaigner, Fianna Fáil leader, Taoiseach and president of Ireland, is born in Brooklyn, New York of a Spanish father and an Irish mother
1920 - Tipperary IRA man, Sean Treacy, is killed in a gun battle in Talbot Street, Dublin
1932 - Between October 4 and this date, strikes, marches and protests are held in Belfast against low unemployment payments, temporarily uniting Catholic and Protestant unemployed; payments are raised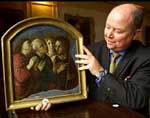 1998 - A 15th century painting of Pietro de Francesco Degli Orioli which is part of the Murnaghan collection goes up for auction in Dublin
Photo Credit: Chris Bacon
1999 - More than 1,000 mourners gather in Belfast for the funeral of Patrick Campbell, a hard line republican paramilitary who was murdered in a drugs dispute
2000 - David Guiney, well known Irish sporting personality and journalist, dies in Dublin. Mr Guiney won an AAA title for the Shot Putt in 1948 and went on to compete for Ireland in the Olympic Games in London that year
2001 - The first multiple State funeral is held in honour of 10 IRA Volunteers, including Kevin Barry, who were executed for their role in the War of Independence. More than 80 years after they were buried in the grounds of Mountjoy Prison, the bodies of the 10 men were exhumed and reinterred in a special new plot at Glasnevin Cemetery. The ten men were Kevin Barry, Thomas Bryan, Patrick Doyle, Frank Flood, Patrick Moran, Thomas Whelan, Bernard Ryan, Thomas Traynor, Edmond Foley and Patrick Maher.

Sources:
The Celtic League
This organization publishes the annual Celtic Calendar. To order your own copy, visit: The Celtic League.
Irish Abroad
Somewhat sporadic, but they often highlight an important date in Irish history. To visit, please click: Irish Abroad.
The Wild geese
They update Irish history weekly. To visit their keydates page, please click: The Wild Geese.



We also refer to an assortment of references. Among them are the Books of Days - see right margin on this page.


Wed, Jan 3, 2018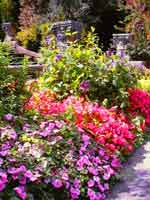 Ilnacullen, Co. Cork - an Island Garden
Located in the sheltered harbour of Glengarriff in Bantry Bay. Ilnacullin, which means island of holly, is a small island known to horticulturists and lovers of trees and shrubs all around the world as an island garden of rare beauty.
The vivid colours of Rhododendrons and Azaleas reach their peak during May and June, whilst the hundreds of cultivars of climbing plants, herbaceous perennials and choice shrubs dominate the midsummer period from June to August.
Because of its sheltered situation and the warming oceanic influence of the Gulf Stream, the climate is favourable to the growth of ornamental plants from many parts of the world.
Even for those who aren't particularly interested in gardens, there are many other scenic views, especially in the surrounding waters where seals frequent the rocks on the southern shore.
The cover photo on Bridget's book The Traditional Irish Wedding shows a wrought iron garden gate on Ilnaculen. I took that photo. To see it, go to the home page. It's part of the opening paragraph Failte.
—Russ
Resource: Copy and Image - Cork Guide

Click for More Culture Corner.
"Cahill's lovely prose breathes life into a 1,600-year old history." The L.A. Times
This is our most popular book. We understand why; the truth is fascinating.
Click here for Saved Civilization.
---