Traditions, folklore, history and more. If it's Irish, it's here. Or will be!
"People will not look forward to posterity who never look backward to their ancestors."
-Edmund Burke
---
Quotes

Library: Books, Movies, Music

Prints & Photos

Poetry

Jokes

---
---
Shops Ireland
---
Bunús na Gaeilge
(Basic Irish)

---
---
Did You Know?
---
Himself/Herself
Write to Us
Readers Write..
Links/Link to Us
---
Advertise with us
---
Awards & Testimonials

Submissions Guide
---

Today
in
Irish
History - July
1st to 7th | 8th to 14th | 15th to 21st | 22nd to 31st

---
July 8
1642 - Owen Roe O'Neill accepts an offer to lead the Ulster rebels and arrives in Ulster (8-9 July); Thomas Preston, another experienced general, also arrives from the continent
1730 - Robert Edgeworth, former MP for St. Johnstown, Co. Longford, dies
1770 - Mary Anne McCracken, patriot and supporter of the United Irishmen, is born
1808 - Birth of Bernard (Barney) Hughes, baker, entrepreneur and philanthropist; first Catholic member of Belfast Town Council, in Armagh
1819 - Sir Francis McClintock, naval officer and polar explorer, is born in Dundalk, Co. Louth
1889 - In the last official bare knuckle title fight ever held, heavyweight boxer, John L. Sullivan beats fellow Irishman Jack Kilrain in a world championship bout which lasts 75 rounds
1914 - The House of Lords enacts the Government of Ireland Bill, excluding all Ulster permanently from its stipulations
1970 - The SDLP withdraws from Stormont in protest at failure to inquire into deaths of two civilians killed by army
1981 - Death of Joe McDonnell, from Lenadoon, Belfast, on the 46th day of his hunger strike
1984 - Two Irish-Americans slug it out on Wimbledon's centre court for the men's singles' title - John McEnroe beats Jimmy Connors
2001 - The President and Taoiseach head a large crowd of dignitaries at the annual National Day of Commemoration in Dublin.
July 9
1751 - The foundation stone of the Rotunda Hospital, Dublin, is laid by the Lord Mayor of Dublin
1790 - The "Gentleman's Magazine" reports, regarding the MP for Cork, James Bernard who died on this date: 'Though he had an immense fortune, he did not live at the rate of £300 a year. His tailor's bill never amounted to £61 per annum. He did not absolutely starve himself to death, as he lately showed himself a mere voluptuary, having a few months since married a fortunate girl of tender years, to whose tender embraces, it is feared, he fell a sacrifice'
1797 - Death of the political theorist Edmund Burke in Dublin. He is regarded as one of the most important figures in the development of parliamentary democracy
1809 - Birth of John O'Donovan, Irish language scholar and author of The Annals of the Four Masters, in Attateemore, Co. Kilkenny
1921 - A truce is reached between the IRA and the British army
1959 - Mary Browne from Roscommon becomes the first Ban Garda - woman police officer - pounding the beat in Dublin
1959 - Birth of Matt Connor, Offaly Gaelic footballer
1967 - Michael Carruth, winner of Ireland's first Olympic gold medal in boxing (1992), is born in Dublin.


2007 - Following a short illness, Former Tanaiste John Wilson passes away at St. Jame's Hospital, a day after his 84th birthday. He was a TD for 20 years and held posts in seven government departments, serving under three Taoisigh: Jack Lynch, Charles Haughey and Albert Reynolds. On the sportsfield, he played for Cavan and an illustrious career brought him significant honours, including two All-Ireland medals (in 1947 and 1948) and five Ulster Football Championship medals. In paying his respects, Taoiseach Bertie Ahern is quoted as saying "John Wilson was a sportsman, scholar and a politician who served Cavan and Ireland throughout many years of endeavour and in many fields. A fine orator and a classics scholar, he was a popular deputy across the House who contributed with knowledge, wit and courtesy across a broad range of issues. Through decades of activism in the sporting, cultural and political life of the country, John Wilson contributed his talents to his students and teaching colleagues in the sphere of education and to the community from which he came which later elected him to political office."
July 10
1614 - Arthur Annesley, 1st Earl of Anglesey, politician and author, is born in Dublin
1793 - Birth of William Maginn, poet and author, in Co. Cork
1900 - Birth of Paul Carroll, playwright, in Blackrock, Co. Louth
1917 - De Valera wins election to Parliament from Clare as Sinn Fein candidate
1921 - Unionists burn 160 homes in Belfast, killing 15 and injuring 58
1927 - Kevin O'Higgins, the Irish Free State Minister for Justice, is assassinated
1949 - The last CIE tram service leaves Nelson's Column, Dublin
1956 - Birth of Frank Stapleton, international footballer, in Dublin
2000 - Northern Ireland shuts up shop ahead of Orange Order demonstrations
2000 -The Irish government concedes for the first time that a referendum may have to take place in 2001 to get voter approval for a major revision to the European Union treaties
2001 - A draft chapter from Irish writer James Joyce's classic novel Ulysses is sold for nearly £900,000 at auction.
July 11
1792 - A gathering of some ten Irish harpers and one Welsh begins in Belfast; the objective is to collect the remaining fragments of the tradition; melodies are transcribed by Edward Bunting and others See our article on the great harpist/composer O'Carolan
1798 - Rebels attack Clonard, Co Meath
1798 - Sir Joseph Larmor, mathematician, physicist and politician, is born in Magheragall, Co. Antrim
1879 - Birth in Dublin of Hugh Kennedy, first Chief Justice of the Irish Free State
1921 - Truce is declared between IRA and English forces, thus ending the War of Independence military campaign
1935 - Birth of Oliver Napier, politician and Alliance Party leader from 1972 to 1984
1967 - Censorship Act lifts the ban on certain books that had been banned for more than a decade
1986 - U2 plays at the Half Moon Club in London; it's the first time they sell out a venue in the U.K
1999 - A massive security operation swings into action as tens of thousands of Orangemen prepare to parade into Ormeau Park in the flashpoint south Belfast area on the banks of the River Lagan
1999 - Hundreds of train travellers are left stranded in Cork despite advance warnings by Ianroad Eireann management of an unofficial dispute by locomotive operators
1999 - One hundred and fifty Irish war veterans gather for the annual commemoration ceremony at the Royal Kilmainham Hospital in honor of Irish soldiers killed on UN peace keeping duties and on foreign battlefields
2000 - The world's top golfers, including Tiger Woods and David Duval, begin play at the JP McManus Invitation Pro Am in Limerick
2000 - A public health seafood scare leads to a temporary ban on the collection and harvesting of shellfish in Dungarvan, Co. Waterford
2000 - For the first time in its history, the Dáil elects to appoint a parliamentary law adviser. Miss Lia O'Hegarty is chosen to fill the position.


2007 - Artist Patrick Scott is honoured by President Mary McAleese as Saoi in Aosdána at the Arts Council office, in Merrion Square, Dublin. The President presented Scott, a founder member of Aosdána, with a gold torc, the symbol of the office of Saoi. No more than five members may hold this honour at any one time. Born in Kilbrittain, Co Cork, in 1921, Scott worked on the mosaics in Busáras and has painted full-time since 1960.
Photo Credit & Copy: The Irish Times
July 12
1690 - Battle of the Boyne and victory for William of Orange
1691 - Ginkel is victorious over James II's Jacobites at Aughrim; it is the bloodiest battle ever fought in Ireland
1722 - A patent is granted to William Wood to coin copper halfpence for circulation in Ireland
1796 - The Orange Order hold its first 'Twelfth of July' demonstration, commemorating the Battle of Aughrim
1812 - Charles Patrick Meehan, priest, writer and translator, is born in Dublin
1813 - The first recorded "Twelfth of July" sectarian riots erupt in Belfast
1841 - William James McNeven, United Irish leader, dies
1849 - As many as 20 Catholics are killed by soldiers during an Orange Parade at Dolly's Brae, near Castlewellan, Co. Down
1935 - Violence in Belfast lasting two months commences on this date; eleven people are killed
1942 - Máire Ni Aodán (Mary Hayden), Irish historian, dies
1998 - The three Quinn brothers, Richard, 11, Mark, 10, and Jason 9, are burned to death by a Loyalist firebomb in Ballymoney, 40 miles northwest of Belfast
1999 - An armed gang steals a 40ft container of cigarettes valued at more than £1m from a freight train at Dunleer, Co. Louth
2000 - Violence erupts as Portadown Orangemen pledge to continue Drumcree protest
2000 - Plans to introduce pedestrianisation in Killarney on an experimental basis are confirmed.
July 13
1344 - Ralph de Ufford arrives in Ireland as justiciar with a small English army and investigates the situation in Cork
1809 - Founding of the Dublin Harp Society
1825 - The Catholic Association, dissolved in accordance with the Unlawful Societies Act on 9 March, is reconstituted on 13 July
1886 - Birth of Father Edward Flanagan, the founder of Boy's Town
1981 - Martin Hurson, Irish political prisoner, dies on hunger strike in the Maze Prison
1985 - The Live Aid concerts, organized by Bob Geldorf in aid of Ethiopian famine relief, are held in London and Philadelphia; the people of the Republic of Ireland contribute £8 million
1998 - The second stage of the Tour de France (taking place for the first time in Ireland) ends in Cork City. A crowd of between 40,000 and 50,000 turn out to see the history-making event.
July 14
1791 - Demonstrations are held in Dublin, Belfast and elsewhere to commemorate the fall of the Bastille in 1789
1798 - John and Henry Sheares are convicted of high treason and hanged in Dublin
1798 - Rebels are defeated at the Battle of Knightstown, Co. Louth
1908 - Birth of Roger McHugh, academic and writer, in Dublin
1969 - Rioting breaks out in Derry and Dungiven, resulting in the first death related to the Northern Ireland disturbances - a 70-year-old farmer who is struck in a melee outside an Orange Hall in Dungiven
1998 - Tánaiste Mary Harney announces that a minimum wage of £4.40 an hour will be introduced in April 2000
1999 - Fidelma Macken is nominated for the European Court of Justice - the first time a woman judge from any member country has reached such a high rank
1999 - Ulster Unionists reject peace blueprint
1999 - The Cabinet approves the construction of Ireland's first 50 metre swimming pool at the University of Limerick
1999 - Over 20,000 litres of fuel oil leaks into the popular fishing resort of Mucrós Bay, Co. Donegal from a supply tank at Abbotts Ireland
2000 - Angry fishermen blockade a State run fishery port as frustration and tension continues to increase over the alleged harassment of Irish tuna boats by the Naval Service
2000 - Kerry sheep farmer Patrick Morana earns a place in the Guinness Book of Records as he hand-shears 206 sheep in nine hours and becomes Irish and UK champion.

Sources:
The Celtic League
This organization publishes the annual Celtic Calendar. To order your own copy, visit: The Celtic League.
Irish Abroad
Somewhat sporadic, but they often highlight an important date in Irish history. To visit, please click: Irish Abroad.
The Wild geese
They update Irish history weekly. To visit their keydates page, please click: The Wild Geese.



We also refer to an assortment of references. Among them are the Books of Days - see right margin on this page.


Wed, Jan 3, 2018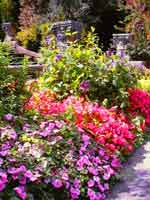 Ilnacullen, Co. Cork - an Island Garden
Located in the sheltered harbour of Glengarriff in Bantry Bay. Ilnacullin, which means island of holly, is a small island known to horticulturists and lovers of trees and shrubs all around the world as an island garden of rare beauty.
The vivid colours of Rhododendrons and Azaleas reach their peak during May and June, whilst the hundreds of cultivars of climbing plants, herbaceous perennials and choice shrubs dominate the midsummer period from June to August.
Because of its sheltered situation and the warming oceanic influence of the Gulf Stream, the climate is favourable to the growth of ornamental plants from many parts of the world.
Even for those who aren't particularly interested in gardens, there are many other scenic views, especially in the surrounding waters where seals frequent the rocks on the southern shore.
The cover photo on Bridget's book The Traditional Irish Wedding shows a wrought iron garden gate on Ilnaculen. I took that photo. To see it, go to the home page. It's part of the opening paragraph Failte.
—Russ
Resource: Copy and Image - Cork Guide

Click for More Culture Corner.
"Cahill's lovely prose breathes life into a 1,600-year old history." The L.A. Times
This is our most popular book. We understand why; the truth is fascinating.
Click here for Saved Civilization.
---