Traditions, folklore, history and more. If it's Irish, it's here. Or will be!
"People will not look forward to posterity who never look backward to their ancestors."
-Edmund Burke
---
Quotes

Library: Books, Movies, Music

Prints & Photos

Poetry

Jokes

---
---
Shops Ireland
---
Bunús na Gaeilge
(Basic Irish)

---
---
Did You Know?
---
Himself/Herself
Write to Us
Readers Write..
Links/Link to Us
---
Advertise with us
---
Awards & Testimonials

Submissions Guide
---

Today
in
Irish
History - May
1st to 7th | 8th to 14th | 15th to 21st | 22nd to 31st

---
May 22
1805 - Michael Doheny, poet and Young Irelander, is born near Fethard, Co. Tipperary


1849 - Novelist, Maria Edgeworth, dies in Mostrim, Co. Longford. She is laid to rest in a vault at Edgeworthstown Church. The Great Famine which decimates the people she loves mars her last years. Even though in her late seventies, she worked strenuously for the relief of the stricken peasants at the height of the famine. She shows the same involvement and generosity throughout her entire life and devotes her best talents to the betterment of the people of her adoption. Her books on the Irish people bring her world fame and the acclaim of such writers as Sir Walter Scott, Jane Austen, Byron and the Russian writer Turgenev.


1859 - Birth in Edinburgh of Arthur Ignatius Conan Doyle, creator of Sherlock Holmes. Doyle was the eldest son of 10 siblings born to Irish parents Charles Doyle and Mary Foley
1870 - Birth of Eva Gore-Booth, poet, trade unionist and feminist, on the Lissadell Estate in Co. Sligo
1920 - Birth of Oliver J. Flanagan, Fine Gael politician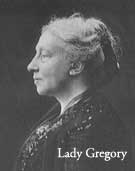 1932 - Death of Augusta Persse, better known as Lady Augusta Gregory, Irish dramatist, folklorist and theatre director; also a co-founder of the Abbey Theatre
1941 - Caitlin Maude, Irish language activist, is born
1944 - Birth of Betty Williams, former peace activist and 1976 Nobel Peace Prize winner
1946 - George Best, the greatest player of his generation and the world's first superstar footballer, is born in Belfast
1950 - Bill Whelan, musician and composer, is born in Limerick; he is best known for composing the music to Riverdance
1955 - Mary Black, singer, is born in Dublin
1971 - Members of the Irish Women's Liberation Movement defy the law by bringing contraceptives bought in Belfast into Connolly railway station in Dublin
1972 - Death of Laois man Cecil Day-Lewis, one of the English language's leading poets of the early part of the 20th century, and father of actor Daniel Day-Lewis
1995 - U.S. President Bill Clinton approves a visa for Irish nationalist leader Gerry Adams to enter the United States
1997 - Pneumonia causes the quiet passing of Dr. Noel Browne in the University College Hospital Galway at the age of 81. As Minister of Health, Dr. Browne had lain the foundation stone of the same Hospital almost fifty years before
1998 - The Good Friday Agreement is overwhelmingly endorsed in referendums North (71%) and South (94%)
2000 - A survey shows that half of Ireland's small and medium-size businesses have their own website
2003 - Hurling reaches its highest peak when Gerard McDonnell from Limerick brought the spirit of the GAA to Mount Everest; he sent a ball flying above 29,000 feet
2003 - The Official Languages Bill 2002, introduced by the Minister for the Gaeltacht, Mr Ó Cuív, will give citizens the right to conduct their business with any State agency or Government department, in Irish.
May 23
1561 - The first court of High Commission, a group of officials and Protestant clergy, is set up to enforce the Reformation in Ireland
1754 - Birth of Dr. William Drennan in Belfast; physician, poet, educationalist political radical and one of the chief architects of the Society of United Irishmen. Drennan's poetic output included some powerful and moving pieces. He is chiefly remembered today for "Erin" written in 1800, in which he penned the first reference in print to Ireland as "the Emerald Isle":
"Nor one feeling of vengeance presume to defile
The cause, or the men, of the Emerald Isle."
Interestingly, he himself is quoted as saying that this expression was first used in a party song called "Erin, to her own Tune," written in 1795. The song appears to have been anonymous
1794 - As part of a crack-down on seditious activity during Britain's war with France, the Dublin United Irishmen are supressed
1798 - United Irish Rebellion begins in Wexford
1798 - United Irish rebellion begins in Leinster
1903 - Shelah Richards, actress and producer, is born in Dublin
1920 - Oliver Plunkett is beatified by Pope Benedict XV
1920 - Railway workers refuse to transport troops from this date
1934 - Birth of former rugby international, Syd Millar
1951 - Lord Henry Mount Charles, Slane Castle impresario, is born
1954 - Former soccer international, Gerry Armstrong, is born
1966 - Birth of GAA footballer, Paul McGrath


1998 - Britain's Prime Minister, Tony Blair, welcomes the resounding "yes" vote in the referendum on the Good Friday Agreement on Northern Ireland, calling it "a day for joy"
1998 - Thousands flock to Ennis for the 29th Fleadh Nua Traditional Music Festival
1999 - Rural post offices are thrown a life-line when the Government gives its strongest commitment yet to preserving regional services
2002 - The long simmering division between Roy Keane and manager Mick McCarthy erupts into a huge row and Keane is expelled from the World Cup squad.
May 24
1487 - Lambert Simnel (aged 10), the Yorkist pretender to the English throne, is brought to Ireland. It is claimed that he is Edward, Earl of Warwick (Clarence's son), but in fact, he is a baker's son - the real Warwick is a prisoner in the Tower of London and will be executed in 1499. Most of the Anglo-Irish believe that Simnel's claim is genuine and support him (exceptions are the Butlers, Waterford city and the Archbishop of Armagh, Octavian del Palatio); Simnel is crowned King of England as Edward VI in Christ Church Cathedral, Dublin on this date. Walter FitzSimons, Archbishop of Dublin, is present at the crowning; he will be imprisoned in the Tower because of this
1628 - 51 'graces' to Irish interest groups by Charles I are promised but various excuses are used not to grant these concessions
1798 - Archibald Hamilton Jacob conducts the Enniscorthy Yeomen Cavalry to the village of Ballaghkeen where they flog a man to death
1813 - A Catholic Relief Bill is introduced by Grattan in the House of Commons, and is narrowly defeated 251 to 247
1818 - John Foley, sculptor, is born in Dublin
1830 - Anthony Durnford, soldier, is born in Manorhamilton, Co. Leitrim
1882 - Creighton Hale, actor, is born in Cork
1921 - 1st parliament for Northern Ireland is elected
1923 - Actress, Siobhan McKenna is born


1928 - William Trevor (Cox), prolific short story-writer and novelist is born in Mitchelstown, Co. Cork. He has written over 30 works including 'The Story of Lucy Gault' which was short-listed for the 2002 Booker Prize


1956 - Sean Kelly, cyclist, ranked world number one (1984-1989) is born in Carrick-on-Suir, Co. Tipperary
Photo Credit: Dave Lawrence, ©1992
1987 - A referendum in the Republic approves the Single European Act
1998 - Sinn Féin President Gerry Adams signals that the terrorist war is over and that the gun can finally be removed from Irish politics
1998 - Less than 24 hours after people on both sides of the border gave a resounding Yes to the Stormont peace agreement, dissident republican terrorists cause widespread disruption on the Belfast-Dublin railway line after a suspicious object is found on the line near Lurgan
1998 - Director John Boorman wins the Best Director prize for The General, about real life Dublin gang leader, Martin Cahill
1999 - As part of a £4.5m tourism project, Waterford Treasures on the city's quayside, is opened to the public. On display are an impressive range of Viking artefacts from settlements dating back to 853 and discovered during excavations in the city over the last six years
2000 - According to a report published on this date, 1 in 10 homeless people in London are Irish
2000 - Two more members of David Trimble's Ulster Unionist Assembly team are to oppose his plan to return to power sharing with Sinn Féin
2002 - European parliament president Pat Cox is awarded the freedom of Limerick city. The former Progressive Democrats TD is presented with the award by Mayor Dick Sadlier at a reception in City Hall. Previous recipients of the award include John F Kennedy, The Pope and Charles Stewart Parnell
2003 - Taoiseach, Bertie Ahern, and the Minister for Foreign Affairs, Brian Cowen, meet Sinn Féin's chief negotiators Gerry Adams and Martin McGuinness in Dublin for talks.
May 25
1315 - Edward Bruce (brother of Robert Bruce, king of Scots), having been invited by some Gaelic chiefs, leads an expedition to Ireland with the aim of conquering it, creating a kingdom of Ireland and driving out the Norman-Irish settlers. He lands at Larne on this date and is proclaimed king of Ireland
1705 - On this date, May Eustace Sherlock, gentleman, petitions the Commons for relief from 'the great oppressions he lies under, by the undue practices and power of Maurice Annesley, a Justice of the Peace'. Annesley is an MP. The ensuing complicated legal case will eventually result in the passing by the British parliament of the 1720 Declaratory Act confirming the British House of Lords as the final Court of Appeal for Irish cases
1745 - Lord John Allen (3rd Viscount Allen), former MP for Carysfort, dies of a fever caused from cuts to his fingers inflicted by the sword of a dragoon
1830 - As a result of growing Unitarianism the General Synod reinforces subscription. Henry Montgomery, the leading Unitarian protagonist, leads a secession of Non-subscribers from the General Synod which establishes the Remonstrant Synod of Ulster. The Remonstrant Synod joins with the earlier Presbytery of Antrim in 1910 to form the Non-subscribing Presbyterian Church of Ireland
1842 - Birth on Valentia Island, Co. Kerry, of Helen Blackburn, early leader of the movement for the emancipation of women
1885 - Gerald Boland, nationalist politician, is born in Manchester
1870 - Irish Fenians raid Eccles Hill, Québec
1895 - Oscar Wilde is sentenced to two years imprisonment for offences "against public decency"
1900 - John Hunt, expert on mediaeval art, is born in Limerick
1903 - Ewart Milne, poet, is born in Dublin
1912 - First issue of the weekly suffrage magazine, Irish Citizen, appears
1914 - British House of Commons passes Irish Home Rule for the third time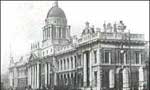 1921 - The Dublin brigade of the IRA attacks and sets fire to the Customs House; 120 of its men are captured and 11 are killed
1960 - Packie Bonner, Celtic and Republic of Ireland goalkeeper, in Burtonport, Co. Donegal
1968 - Unicorn by the Irish Rovers makes it to #7 in the British charts
1993 - Dawson Stelfox becomes the first Irishman to conquer Everest


2000 - Prime Minister of Ireland Bertie Ahern, right, and his Polish counterpart Jerzy Buzek walk in front of a Guard of honor during the welcoming ceremony in Warsaw. Ahern is in Poland for an official two day visit
Photo Credit: AP Photo/Czarek Sokolowski
2003 - Brendan McCann, one of the most acclaimed photographers in Northern Ireland's history dies in Belfast Mater Hospital, aged 75. In a career spanning 50 years, he covers some of the darkest hours of the Troubles.
May 26
1562 - Following his submission to Elizabeth at Whitehall in January, Shane O'Neill returns to Ireland on this date
1650 - Oliver Cromwell leaves Ireland on board the frigate President Bradshaw. His deputy and son-in-law, Henry Ireton takes control of the Irish campaign and captures Birr Castle
1798 - The rebels are defeated at Tara Hill; this marks the end of the rebellion in Co. Meath. Rebellion begins in Co. Wexford. Fr. John Murphy and local people confront the Camolin yeomanry at The Harrow. Thomas Bookey, Lieutenant of the yeomanry, is killed
1867 - Michael Barrett from Kesh, Co. Fermanagh is executed for his part in the explosion at Clerkenwell Gaol. From all the evidence, it is likely he is not guilty. He is the last man to be publicly hanged in England.
1867 - Princess Victoria Mary of Teck: the future Queen Mary, queen consort of George V of the United Kingdom is born.
1873 - Trinity College Dublin abolishes all remaining religious restrictions for entry, with the exception of the Faculty of Divinity
1897 - First publication of Dracula, written by Dublin man Abraham 'Bram' Stoker

1924 - Dublin-born composer,Victor Herbert dies
1950 - End of petrol rationing in Northern Ireland
1972 - The Special Criminal Court, with three judges and no jury, is set up in the Republic
1980 - Derry band The Undertones reach No. 1 in the UK charts with My Perfect Cousin
2003 - Ryanair boss Michael O'Leary snubs an awards ceremony in Dublin after the no-frills airline is beaten by Aer Lingus in the Best Overall Value for Money category. It is the first time in the 10-year history of the event, hosted by the Air Transport Users Council (ATUC), that Ryanair fails to win the award.
May 27
1224 - Cathal Crovderg O'Connor, king of Connacht and brother of Rory O'Connor, dies at the age of 72. This finally opens the way for the Norman occupation of Connacht


1595 - Hugh O'Neill, Earl of Tyrone, defeats the English forces of his brother-in-law, Sir Henry Bagenal, at the Battle of Clontibret, Co. Monaghan; he is proclaimed a traitor at Newry in June
1648 - Giovanni Rinuccini, papal nuncio to the confederates, excommunicates adherents of the truce between confederates and Inchiquin
1798 - Wexford rebels massacre Kingsborough's militiamen and yeomanry at Oulart


1877 - Hanna Sheehy Skeffington is born in Co. Limerick. A committed suffragette, she is one of the founding members of the Irish Womens Franchise League; sexual equality remains a primary concern throughout her despite a slight shift in focus after the summary execution of her husband in 1916
1936 - Following the Free State's provision for the formation of Aer Lingus as the national airline, Aer Lingus opens routes to Bristol and London, commencing with a flight from Baldonnell to Bristol on this date
1960 - The last barge on the Grand Canal makes its final journey to Limerick with a cargo of Guinness
1966 - The UVF shoot and mortally wound John Scullion, a Catholic civilian, in the Clonard area of west Belfast
1993 - Mary Robinson, the first female president of Éire, becomes the first Irish head of state to meet with a British monarch when she visits Queen Elizabeth II
1998 - Actor Brendan Gleeson strongly defends his lead role in the controversial £6m film The General, rebutting criticism that it attempts to portray the assassinated Dublin gangster Martin Cahill as a latter-day Robin Hood
2001 - The breakaway Real IRA is believed to be behind a rocket attack on Strabane RUC station which sparks a five-hour security alert. No-one is injured but 12 families are evacuated from their homes during the follow-up security operation in the Co.Tyrone town
2001 - Fears of a long, difficult summer are growing after 57 RUC officers are injured in clashes with nationalist youths on the flashpoint Garvaghy Road in Portadown following a Junior Orange parade
2001 - Thousands of traditional music fans flock to Ennis for the 50th anniversary of Fleadh Nua
2003 - Water quality has taken a dip at Irish beaches with fewer bathing areas meeting standards of cleanliness. But Irish bathing water still ranks among the best in Europe, according to the Environmental Protection Agency's (EPA) annual report, and the small number of freshwater lakes and rivers tested produce their best results ever
2003 - It is announced that the Royal Irish Regiment is to be scrapped as part of a major plan to cut troop numbers in the North. British military authorities plan to abolish all three Home Service battalions, comprising nearly 3,000 soldiers under a new deal to break the deadlock in the peace process
2003 - Paul McCartney performs his first Irish show in 40 years at the RDS Arena. It's also his first solo concert in Dublin
2003 - FAI and Communications Minister Dermot Ahern announces that all Republic of Ireland competitive soccer internationals will now be available free on RTÉ.
May 28
1590 - Hugh O'Neill, Earl of Tyrone, agrees to abandon further attempts at extending his territory in the north, and undertakes to force his people to adopt English laws and customs
1713 - William Molyneux, the fourteen-year old son of Sir Thomas Molyneux, a former MP, is killed when a leaden image falls on him in a garden near Dublin


1779 - Poet and songwriter, Thomas Moore, is born in Dublin
1798 - In the first Battle of Enniscorthy, the rebels take the town
1947 - Róis Ni Ógain - Rose Mabel Young - Gaelic scholar and editor of Duanaire Gaedhilge, dies


1959 - The Howth Tram makes its last journey; not only is it the highest but it is also the last of the open top trams operating in the world
Photo Credit: Philip Morgan
1970 - Charles Haughey, who will later be acquitted and become Taoiseach, is arrested with Niall Blaney for conspiracy to import arms
1974 - General strike by Unionists brings down the Sunningdale power-sharing agreement and Northern Ireland is returned to direct rule
1999 - The Provisional IRA produces the remains of Eamon Molloy, whom it killed in 1975; information from the IRA leads to several protracted searches in the Republic for the remains of other victims
2000 - A plaque to commemorate the first Irish meeting of the Orange Order is unveiled in Dublin - without a single member of the hardline Protestant group in attendance. The Dublin and Wicklow Lodge boycott the event on Dawson St in protest at its treatment over a march in the city, also planned for this date
2000 - The decision by Ulster Unionists to return to power sharing with Sinn Féin at midnight on 29 May is given a massive boost when the IRA pledges to keep their part of the bargain
2000 - Ireland's National Aquarium is opened in Galway at the Atlantiquarium on the Prom in Salthill. Built in the shape of a fish, the £6m building contains direct water links to Galway Bay and has massive tanks on its roof which collect rainwater for use in many of the fish pools


2003 - James Plunkett, best known for his epic novel of Dublin, 'Strumpet City', dies at the age of 83
2003 - William Trevor wins the €10,000 Kerry Group Irish Fiction Award at Listowel Writers' Week for his novel The Story of Lucy Gault.
May 29
1205 - King John makes Hugh de Lacy Earl of Ulster
1666 - The Act of Uniformity confirms Guy Fawkes' day (5 November) as an anniversary, and adds 30 January (execution of Charles I) and 29 May (the Restoration)
1722 - Birth of James Fitzgerald, 20th Earl of Kildare; Duke of Leinster; politician and Lord Justice
1798 - On this date, under the command of Father Murphy of Boolavogue, a priest who had been in dispute with his bishop and who had reluctantly stepped forward as leader, the Wexford insurgents, gaining strength as they advance, storm Enniscorthy. The defences of the town are swept aside by means of a stampede of cattle. Elsewhere, General Sir James Duff arrives in Monasterevin where he augments his forces before marching on to Kildare and the Gibbet Rath. On this same date, the insurgents camp on Vinegar Hill, outside Enniscorthy town. In the north, the Ulster Directory of the United Irishmen meets to plan rebellion in counties Antrim and Down
1884 - Oscar Wilde and Constance Lloyd are married
1917 - Birth of John Fitzgerald Kennedy, the 35th US president, in Brookline, Mass
1936 - The Free State Senate (upper house of parliament) is abolished
1942 - Bing Crosby records Irving Berlin's "White Christmas"
1953 - Death of James Downey; at the time he is probably the most famous publican (pub-owner) in the world for bringing to an end the longest ever pub strike. Downey's premises in Dun Laoghaire had been the focus of a union dispute for 14 years, and brought the pub world fame
1967 - Noel Gallagher of Oasis is born
1974 - Northern Ireland is brought under direct rule from Westminster
1999 - Thirteen RUC officers are injured as tensions explode on the streets of Portadown with both Loyalist and Nationalist rioters venting their fury in the wake of a banned parade along the lower Garvaghy Road
2000 - For the second year in a row, l'Ecrivain on Dublin's Baggot Street wins the Bushmills Malt Best Restaurant award, with proprietor Derry Clarke also taking Best Chef award
2001 - Irish artists take a stand against racism by donating original works to a special fund-raising auction. Over 100 works by both new and established Irish artists go under the hammer at the Le Chéile auction in the Royal Hibernian Academy, Dublin
2002 - Former Taoiseach Charles Haughey is €2.2m richer following the auction of a tiny part of his extensive Abbeville art collection
2002 - Arts Minister Síle de Valera hails the State's acquisition of a previously unseen collection of original manuscripts by James Joyce as "a monumental event in Ireland's literary and cultural history". The collection, stored in Paris for many years, consists of 500 sheets of handwritten notes by the author. It includes notes and drafts by Joyce on several works including his classics, Ulysses and Finnegans Wake, as well as notebooks dating from the early 1900s
2002 - John McGahern wins the €10,000 Kerry Ingredients Irish fiction award at the 32nd Listowel Writers' Week for his novel That They May Face the Rising Sun
2003 - According to the Eurydice report, Ireland has the largest number of children per class in Europe and our teachers have to work longer than most to earn the top salary
2003 - Thousands of republicans and nationalists join in a series of protests across the country to mark the cancelled date for the North's Assembly elections.
May 30
1630 - Birth of Charles Stuart who will become Charles II of Great Britain and Ireland
1784 - Belfast's first Catholic church, St. Mary's, opens for public worship
1798 - Following the massacre of Kingsborough's militiamen and yeomanry at Oulart on 27 May, rebels capture Enniscorthy and Wexford town
1807 - During the election for Co. Wexford, two of the candidates, William Congreve Alcock and John Colclough, fight a duel in front of the county sheriff, 16 magistrates and a large crowd of spectators. Alcock shoots Colclough dead; he is elected; he is also tried and acquitted for killing Colclough, but his mind is badly affected; two years later, he will be confined in an asylum for the insane
1817 - Micheal William Balfe, one of Ireland's greatest composers, gives his first public performance, aged nine
1844 - Daniel O'Connell is fined and sentenced to 12 months in prison for 'conspiracy'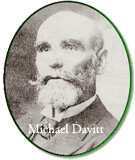 1906 - Death of Michael Davitt, "Father" of the Irish Land League. He was born at the height of the Great Famine. At four, his family was evicted and forced to emigrate to England. He joined the Fenians in 1865, became organizing secretary and was arrested in 1870 for arms smuggling. Released after seven years, he returned to County Mayo as a national hero. His travels in Connaught showed conditions had not improved. Realising that, if the power of the tenant farmers could be organised, it would be possible to bring about improvement, he arranged a convention in August of 1879. The result was a body called the National Land League of Mayo. Thus began the land agitation movement. For more details on the life of Michael Davitt, click Museums of Mayo
1944 - Eamon de Valera is returned as Taoiseach
1951 - Fianna Fáil regains power in a general election
1969 - Irish nationalist and the first Jewish Lord Mayor of Dublin, Robert Briscoe, dies in Dublin
1972 - The Official IRA announces a ceasefire, but the Provisional IRA says it will continue fighting until the British leave Northern Ireland
1973 - In a political upset, Erskine Childers defeats Tom O'Higgins by a very narrow margin and is elected President of Ireland
1983 - The new Ireland Forum of Fianna Fáil, Fine Gael, Labour and the SDLP meets in Dublin
1986 - Connacht Regional Airport at Knock, Co. Mayo (now Horan International) is officially opened by Charles Haughey
2000 - Sinn Féin's Martin McGuinness returns to his job as Northern Ireland's Education Minister
2001 - Bord Fáilte launches a major marketing campaign aimed at domestic holiday-makers in an effort to combat losses of £500m caused by the foot-and-mouth crisis
2002 - Writer John B. Keane dies at his home in Listowel

2002 - The Liss Ard estate, on the seaward side of Skibbereen and near historic Castle-townsend in west Cork goes on the market for €6m
2003 - A collection of previously unpublished works by John B. Keane is launched on the first anniversary of his death at Writers' Week, the annual literary festival in his native Listowel, Co. Kerry
2003 - Less than a year after taking up the post as chief executive of Northern Ireland's Policing Board, Bob McCann resigns for personal reasons.
May 31
1430 - Charges are made against Thomas Foster, Archdeacon of Glendalough, that he has sold the lands of the dignity, has kept concubines, has had offspring, is ignorant of letters and does not know the language of the country: if they are true, he is to be deprived on this date
1744 - Birth of Richard Lovell Edgeworth, inventor, educationist and politician
1798 - Beauchamp Bagenal Harvey is appointed as Commander of the insurgent forces In Wexford town, a civilian government led by four Protestants and four Catholics is established
1847 - Birth of Alice Stopford Green in Kells, Co. Meath. Irish historian and patriot; she is noted for proving the Irish had a rich culture before English rule. A strong supporter of the Treaty of 1921, she is nominated to the first Seanad in December 1922
1848 - At Grosse Ile, Canada, 40 immigrant vessels wait to unload. For more on this story, please click The Wild Geese
1889 - Helen Waddell, Irish scholar, translator and novelist, is born in Tokyo
1900 - During the Boer War, Piet de Wet captures the thirteenth battalion of the Imperial Yeomanry at Lindley. To British eyes, this mounted Battalion is the social and political show-piece of the new Volunteer Army; a company of Irish M.F.H.'s known as the Irish Hunt Contingent, including the Earl of Longford and Viscount Ennismore; two companies of Ulster Protestant Unionists, including the Earl of Leitrim, a whiskey Baronet (Sir John Power) and the future Lord Craigavon; and a company of English and Irish men-about-town raised by Lord Donoughmore, who had insisted on paying their own passage to South Africa. This patriotic band is commanded by a British regular, Lieutenant Colonel Basil Spragge. The surrender of Spragge's Irish Yeomanry is the cause of a ripple of mirth in nationalist circles in Ireland. In fact, there is a gallant Last Stand made by the Irish Hunt Company. Lord Longford, with blood streaming from wounds at the neck, face, and wrists, orders his men to fight to the end. "I knew it to be madness," said one of the gentlemen troopers, (son of the Irish Lord Chancellor) "and so did everyone else, I think, but not a man refused". In general, raw Irish Yeomen fought no worse than British regulars had fought in similar situations. A respectable total of 80 were killed or wounded before the White Flag went up. Piet de Wet's bag totalled about 530 men, including Spragge, Lord Longford (seriously wounded), Lords Ennismore, Leitrim, and Donoughmore (and the future Lord Craigavon), all captured, and the whiskey Baronet Power killed
1911 - The hull of the world's most famous ship - the Titanic - is launched
1922 - The Royal Ulster Constabulary is established
1937 - Birth of Mary O'Rourke, Fianna Fáil politician
1941 - German bombs fall on North Strand, Dublin; 34 people are killed and 90 are injured
1962 - General Election is held in Northern Ireland; Unionists win 34 of the 51 seats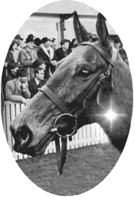 1970 - Death of Arkle, the greatest Irish steeplechaser of all time. Arkle had broken a pedal bone during a race in 1968. Stiffness caused by the injury becomes worse and in spite of his great courage, he can hardly stand. On this date, his vet, James Kavanagh, gives him his final injection; Arkle lies down in his box and goes to sleep forever
1976 - Birth of actor Colin Farrell in Castleknock, Dublin
1979 - RTÉ 2 (now 2FM) makes its debut
1998 - The Protestant community in a Wexford village receives an apology from Bishop Brendan Comiskey over a boycott more than 40 years ago.
He asks for forgiveness for a controversial incident in Fethard-on-Sea when local Catholics boycott Protestant shops and classes over a six-month period during 1957
2000 - It is announced by the British Government that Tom Constantine, a former director of the United States Drug Enforcement Administration will oversee policing reforms in Northern Ireland
2002 - As the Aer Lingus pilots' dispute enters a second day;
pilots and management agree to take their dispute to the Labour Court but all the airline's flights remain suspended, leaving thousands of passengers stranded
2002 - The people of North Kerry turn out in their thousands to pay their last respects to playwright John B. Keane.

Sources:
The Celtic League
This organization publishes the annual Celtic Calendar. To order your own copy, visit: The Celtic League.
Irish Abroad
Somewhat sporadic, but they often highlight an important date in Irish history. To visit, please click: Irish Abroad.
The Wild geese
They update Irish history weekly. To visit their keydates page, please click: The Wild Geese.



We also refer to an assortment of references. Among them are the Books of Days - see right margin on this page.



Fri, Feb 2, 2018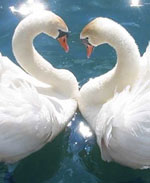 Irish God and Goddess of love
Oengus is the Irish God of love, beauty and youth. According to the old folklore, his kisses became birds. It is also said that he dreamed of a beautiful maiden, named Caer, for whom he searched all over Ireland. Eventually, he found her chained to 150 other maidens, destined to become swans at the time of Samhain. Legend has it that Oengus transformed himself into a swan and was united with his love.
Aine of Knockaine is the Irish Goddess of love. She is also known as the Fairy Queen of Munster and as a goddess of fertility beause she has control and command over crops and animals, especially cattle. Another name by which she is known is Aillen. To learn more about Irish mythology, please click Irish Myths & Legends.
Photo Credit: Wikipedia

Click for More Culture Corner.
"Cahill's lovely prose breathes life into a 1,600-year old history." The L.A. Times
This is our most popular book. We understand why; the truth is fascinating.
Click here for Saved Civilization.
---