Traditions, folklore, history and more. If it's Irish, it's here. Or will be!
"People will not look forward to posterity who never look backward to their ancestors."
-Edmund Burke
---
Quotes

Library: Books, Movies, Music

Prints & Photos

Poetry

Jokes

---
---
Shops Ireland
---
Bunús na Gaeilge
(Basic Irish)

---
---
Did You Know?
---
Himself/Herself
Write to Us
Readers Write..
Links/Link to Us
---
Advertise with us
---
Awards & Testimonials

Submissions Guide
---

Today
in
Irish
History - April
1st to 7th | 8th to 14th | 15th to 21st | 22nd to 30th

---
April 8
1719 - Birth of Viscount Edmond Pery, speaker of the House of Commons from March 1771 to September 1785
1805 - Sir William Rowan Hamilton, mathematician and astronomer, is born in Dublin
1816 - Sir Frederick Burton, painter, is born in Corofin, Co. Clare
1835 - Jonah Barrington, the Irish Parliament's leading opponent of the Union with Britain and author of The Rise and Decline of the Irish Nation, dies
1861 - John George Adair evicts 244 tenants on his estate at Derryveagh, Co. Donegal
1867 - A. E. (George Russell), pivotal Irish Renaissance poet, painter, journalist and mystic, is born
1886 - Home Rule Bill introduced in English Parliament by Gladstone


1923 - Edward Mulhare is born in Co. Cork; he grew up to become an actor and starring roles include Capt. Daniel Gregg in the 1968 release of The Ghost and Mrs. Muir
Photo Credit: Hazelyn
1930 - Birth in Dublin of Frank Cluskey, politician and Labour Party leader from 1977-1981
1930 - Writer and critic John Jordan is born in Dublin
1933 - The Army Comrades' Association parades in blue shirts on this date
1951 - A census on this date shows the population of the Republic to be 2,960,593 and that of Northern Ireland is1,370,921
1960 - The Royal Showband is forced to change its name to the Waterford Showband for an appearance at the Victoria Palace Theatre in London because two members of the British royal family are in attendance
1981 - Death of Greta Bowen, artist known as "The Irish Grandma Moses"
1999 - The peace process is plunged into a new crisis after mainstream loyalist paramilitaries make it clear they have no intention of handing over weapons and the Sinn Fein's leadership brands the Hillsborough Declaration "unacceptable"
1999 - The Department of Education unveils a new primary school curriculum which replaces the one of 1971
2002 - The IRA makes a second and substantial gesture of putting arms beyond use which is broadly welcomed by political leaders in Dublin, London and Belfast
2003 - U.S. president George W. Bush leaves Belfast at the end of a two-day summit attended by British Prime Minister, Tony Blair and Taoiseach, Bertie Ahern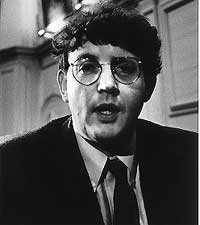 2003 - Paul Muldoon wins the Pulitzer prize for poetry. The 51-year-old Belfast poet is awarded the prestigious prize for his work Moy Sand and Gravel.
April 9
1346 - Death of Ralph de Ufford, justiciar
1793 - The Relief Act grants Catholics parliamentary franchise and certain civil and military rights
1807 - After resigning as Commissioner of the Treasury (UK) over the issue of Catholic relief, Maurice FitzGerald, MP for Co. Kerry states on this date that their war effort alone merits concessions to Irish Catholics
1837 - Edward Hallaran Bennett, surgeon, is born in Cork
1916 - The merchant ship Aud leaves Germany for Ireland with arms for the Irish Republican Brotherhood
1917 - Birth of legendary racehorse trainer, Vincent O'Brien
1921 - Dr. William Walsh, archbishop and nationalist, dies
1926 - Birth in Belfast of Lord Gerry Fitt, politician
1961 - A census on this date shows the population of the Republic to be 2,818,341 and that of Northern Ireland is 1,425,642
1961 - Mark Kelly, rock keyboard musician, is born in Dublin
1981 - IRA hunger striker Bobby Sands wins a seat in the British parliament in the Fermanagh and South Tyrone by-election
1984 - Leslie De Barra, revolutionary, wife of General Tom Barry, dies
1998 - Taoiseach Bertie Ahern is back in Norther Ireland to resume his bid with Prime Minister, Tony Blair, to save the peace talks
2000 - Nobel Peace Prize winner, Nelson Mandela, arrives in Ireland to commence a four day private visit. During his visit, he is to receive an honorary degree in law at Trinity

2001 - Celebrities from the entertainment world turn out in force for the funeral mass of former lead singer with the Capital Showband, Butch Moore, at St Canice's Church in Finglas
Photo Credit: Billy Higgins.
April 10
1346 - Following the death of Ralph de Ufford, Roger Darcy is appointed justiciar
1650 - Cromwell's New Model Army is victorious at Macroom, Co. Cork
1662 - A charter of Charles II replaces Cromwell's charter of Londonderry
1726 - Birth of William Brownlow, parliamentarian and Volunteer
1816 - Birth of Sir Charles Gavan Duffy, nationalist, in Monaghan
1838 - Fr. Theobald Mathew, with the support of William Martin, a quaker, founds the total abstinence movement in Cork
1865 - Oliver Sheppard, sculptor, is born in Cookstown, Co. Tyrone
1866 - Campobello New Brunswick Irish-American Fenians attack Campobello Island from Eastport, Maine; they are persuaded to leave by British warships and US agents
1867 - George William Russell (pseudonym A. E. Russell); poet, painter, writer, economist and mystic, is born in Lurgan, Co. Armagh
1918 - British Parliament proposes conscription in Ireland
1923 - Liam Lynch, chief of staff of the Irish Republican Army, is mortally wounded by Free State troops in the Knockmealdown Mountains, Co. Tipperary; Frank Aiken takes over as IRA chief of staff
1940 - Gloria Hunniford, TV personality, is born in Portadown, Co. Antrim
1966 - The widespread and prolonged commemoration of the 50th anniversary of the Easter Rising begins throughout the island
1990 - Death of Wexford hurling legend, Nicky Rackard
1992 - A huge IRA bomb explodes in London's financial district; three people are killed and 91 injured
1998 - The Peace Agreement comes under fire with both unionist and republican camps facing internal revolt, as the battle to sell the deal intensifies
1998 - A bronze bust of world-renowned Irish aviator, Colonel James 'Fitz' Fitzmaurice who, along with two Germans, made the first east-west transatlantic crossing in 1928, is unveiled in his hometown of Portlaoise

1998 - The Northern Ireland peace talks end with an historic agreement. The accord - dubbed the Good Friday Agreement - is reached after nearly two years of talks and 30 years of conflict.
2008 - Many of the main players who helped negotiate the Good Friday Agreement meet in Belfast for a conference to mark its 10th anniversary. Notable by their absence are former US President Bill Clinton and former British Prime Minister Tony Blair. Also absent is David Irvine who died after suffering a heart attack and later a stroke and a brain hemorrhage in January 2007.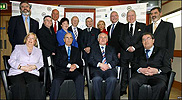 Left to right front: Monica McWilliams, George Mitchell, Bertie Ahern and John Hume.
Left to right back: Gerry Adams, David Adams, David Andrews, Dawn Purvis, Reg Empey, General de Chastelain, Liz O'Donnell, Mark Durkan, Paul Murphy and Lord Alderdice.
April 11
1603 - In the revolt of the towns, or recusancy revolt, Catholic worship is re-established in Kilkenny and the main Munster towns between this date and 10 May, in the hope that James I will grant religious toleration; Mountjoy marches south and forces the towns to submit
1700 - Richard Levinge, an Irish MP and later a prominent Tory, who had been committed by the English House of Commons to the Tower of London on 16 January for speaking ill of his fellow Commissioners of Forfeited Estates is released on this date
1878 - Kathleen Daly Clarke, Irish patriot, is born
1966 - Herbert Asquith introduces the third Home Rule Bill in the House of Commons
1971 - The GAA lifts its ban on members playing or attending 'foreign' sports such as soccer or rugby
1986 - Brian Keenan is taken hostage in Beirut
1999 - The Northern Ireland peace process faces collapse as politicians prepare to return to Stormont, with agreement on the key issue of disarmament as distant as ever
1999 - Despite reports to the contrary, manager Louis Walsh insists pop group Boyzone will stay together for at least another year
2000 - In a dramatic end to the two-month trial, a jury at the Central Criminal Court finds Catherine Nevin guilty of all four charges against her arising out of the shooting death of her husband in 1996
2000 - The newspaper known as The Examiner is re-launched as The Irish Examiner
2000 - Nelson Mandela receives a hero's welcome as spectators turn out in droves in Dublin to honour the former president of South Africa prior to his receiving an honorary degree at Trinity. He is the first African leader to be so honoured. He already is a Freeman of the City, an honour granted shortly after being freed from jail
2002 - During a remembrance ceremony at St Colman's Cathedral, candles are lit for each of the 79 people who boarded the Titanic on her maiden and final voyage which departed from Cobh, then known as Queenstown, on this date in 1912.
April 12
1654 - The Ordinance of Union comes into effect, uniting Ireland and Scotland with England
1816 - Sir Charles Gavan Duffy is born in Co. Monaghan. He is self-educated as a journalist and founds the Nation, a nationalist weekly journal with Thomas Davis and John Dillon in 1842; ultimately, he emigrates to Australia and while determined to avoid politics, he is induced to enter the Victorian Parliament where he fills in succession the position of minister of public works and minister of public lands; for a brief period he is prime minister
1824 - An Act establishes free trade in manufactured articles between Britain and Ireland
1837 - Birth in Galway of Patrick Ford, journalist in the USA and fund-raiser for Irish causes
1847 - The American relief ship, Jamestown, lands supplies in Cork for famine victims
1861 - The American Civil War begins; 150,000 Irishmen will serve with the Union forces, and 40,000 with the Confederacy
1889 - Patrick McGilligan, pro-Treaty nationalist and politician, is born in Coleraine, Co. Derry/Londonderry
1914 - George Bernard Shaw's play "Pygmalion" opens in London with Mrs. Patrick Campbell as Eliza Doolittle and Sir Herbert Tree as Professor Higgins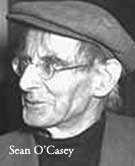 1923 - The Shadow Of A Gunman by Sean O'Casey premieres at the Abbey Theatre
1960 - The Broadcasting Authority Act grants Radio Éireann authority to provide and maintain national radio and television service
1999 - The country's biggest building project, the giant Citibank site in Dublin's financial services centre, is hit when 600 workers walk off the job in solidarity with striking scaffolders
1999 - Demands for IRA disarmament are stepped up following fresh evidence that they are harbouring advanced anti-aircraft missiles
1999 - A United Nations report points to evidence of security force collusion in the murder of leading Belfast solicitor Pat Finucane


2000 - Queen Elizabeth II presents the Royal Ulster Constabulary (RUC) with the George Cross, the highest civilian award for bravery
2000 - The Irish Red Cross launches an appeal for approximately £3 million in an effort to avert the impending famine in Ethiopia
2000 - A safety probe gets underway following an explosion at the SIFA Limited chemical plant in Co. Clare. Seven people suffering from shock and hearing difficulties are transferred to Limerick Regional Hospital and are later released
2000 - The first of two side-by-side castles on Dublin's Dalkey seafront comes up for auction. Inniscorrig, built in 1847, has a starting price of £3.5m. The Herbert Park house has a pre-auction guideline of £3m.
2001 - Ted Sweeney, the weather forecaster instrumental in saving the D Day landings from disaster, dies in his native Blacksod near Belmullet in Co Mayo. In 1944, Ted Sweeney claims a special place in world history by filing a famous weather report which delays the D Day landings in Normandy for 24 hours
2001 - Preliminary test results on a suspected foot and mouth case in Co. Tyrone are negative
2001 - The Real IRA threatens a fresh campaign of violence and vows to attack British targets in their quest for a united Ireland
2002 - A blockade by salmon fishermen at the Port of Cork passes off without incident
2003 - Hopes are raised of a breakthrough in the stalled Northern Ireland peace process, when the IRA outlines its future intentions to the Irish and British Governments. In a statement, the IRA sets out its position on the peace process, its ceasefire, and its approach to a third act of decommissioning.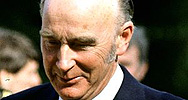 2008 - The sixth president of Ireland,, Dr. Patrick Hillery passes away after a short illness at age 84. Born on May 2, 1923 in Milltown Malvay, Co. Clare, he attended Rockwell College and University College, Dublin, studying sciences and medicine. His practice of medicine yielded to politics in 1951, when as a member of the Fianna Fáil party he won election to Parliament.
April 13
1593 - Birth of Thomas Wentworth, Earl of Strafford/Viceroy of Ireland
1722 - Charles Leslie, Irish controversialist, dies
1728 - Samuel Molyneux, former MP for the University of Dublin and son of the writer William Molyneux, collapses in the British House of Commons and dies on this date, aged 38
1780 - Alexander Mitchell, civil engineer and inventor, is born in Dublin
1742 - Handel's Messiah is performed for the first time, conducted by the composer, at Mr. Neale's Great Musick Hall, Fishamble Street, Dublin, before an audience of 700
1825 - Thomas D'Arcy McGee, Nationalist, writer, and Canadian politician is born in Carlingford, Co. Louth
1829 - The Catholic Emancipation Act receives royal assent on this date; it permits Catholic men who can afford the poll tax to enter Parliament and hold civil and military offices
1906 - Birth of Samuel Beckett in Foxrock, Co. Dublin
1920 - Liam Cosgrave, Fine Gael leader and Taoiseach, is born
1926 - Birth of Peter Carrol, optical physicist
1939 - Poet, Seamus Heaney, is born in Mossbawn, near Belfast
1952 - Jockey, Jonjo O'Neill, is born in Castletownroche, Co. Cork
1968 - Cliff Richard comes second in the Eurovision Song Contest with the Phil Coulter composition, Congratulations; It subsequently outsells the winner throughout Europe
1998 - RUC Chief Ronnie Flanagan warns that Northern Ireland could explode into renewed street violence during the Summer marching season
1998 - One of Ireland's leading three-day event riders, David Foster is fatally injured in a fall at a show near his Co. Meath home
1998 - The Northern Ireland peace settlement clears another crucial hurdle last night when the first contentious day in the marching calendar draws to a close without incident. An Apprentice Boys' parade in Belfast stops short of the Catholic Lower Ormeau Road, a flashpoint for serious violence in previous years
1999 - Track star Sonia O'Sullivan receives an honorary Doctor of Philosophy, the first such conferring by the Dublin Institute of Technology
2001 - A second foot-and-mouth outbreak in Northern Ireland is confirmed after secondary tests on samples from cattle on a large dairy farm, near the shores of Lough Neagh, prove positive
2001 - In what has become an Easter tradition, Our Lady's Choral Society choristers accompanied by soloist Emmanuel Lawlor and the National Sinfonia conducted by Prionnsias O'Duinn performs excerpts from Handel's Messiah on the site of Neal's Music Hall, Fishamble Street, where his famous musical work was first performed in 1742
2001 - Well-known musician and music center/hostel owner, Larry O'Brien, dies in a fire which guts part of the Boghill Centre near Lisdoonvarna, Co. Clare.
April 14
1661 - Birth in Dublin of Sir Thomas Molyneux, scientist, archaeologist, physician and MP; first to assert that the Giant's Causeway is a natural phenomenon
1848 - In Dublin, the tricolor national flag of Ireland is presented to the public for the first time by Thomas Francis Meagher and the Young Ireland Party
1886 - Jack Beattie, socialist politician and trade unionist, is born in Belfast
1912 - The Titanic, the world's largest ship built at Belfast's Harland and Wolfe, hits an iceberg


1917 - Birth of actress Valerie Hobson in Larne, Co. Antrim
1919 - Limerick Soviet commences general strike in protest against English militarism in Ireland; for three weeks in April, the city's Trades Council takes over the entire running of the city, publishes their own newspapers and issues their own currency. The Soviet receives worldwide publicity and is seen by the British government as a major threat to their power in Ireland
1922 - Led by Rory O'Connor, forces against the Anglo-Irish Treaty seize the Four Courts in Dublin. The provisional government later attacks the garrison, which starts the civil war
1836 - Pat Kirby, handballer, is born in Tuamgraney, Co. Clare
1972 - Terry Wogan launches his first British radio show
1998 - Patrick J. Kennedy, son of Edward and nephew of JFK, unveils a commemorative plaque and declares the fully refurbished and redecorated White House Hotel in Kinsale open once more
1998 - Poll results indicate that Unionists and nationalists in Northern Ireland will have equal representation on a power sharing executive if the 1997 General Election results are repeated
2003 - An international survey rates Dublin as one of the safer cities in the world. At 18 in the rankings, it is well ahead of many other cities.

Sources:
The Celtic League
This organization publishes the annual Celtic Calendar. To order your own copy, visit: The Celtic League.
Irish Abroad
Somewhat sporadic, but they often highlight an important date in Irish history. To visit, please click: Irish Abroad.
The Wild geese
They update Irish history weekly. To visit their keydates page, please click: The Wild Geese.



We also refer to an assortment of references. Among them are the Books of Days - see right margin on this page.


Wed, Jan 3, 2018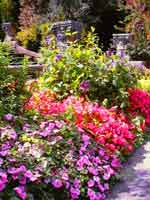 Ilnacullen, Co. Cork - an Island Garden
Located in the sheltered harbour of Glengarriff in Bantry Bay. Ilnacullin, which means island of holly, is a small island known to horticulturists and lovers of trees and shrubs all around the world as an island garden of rare beauty.
The vivid colours of Rhododendrons and Azaleas reach their peak during May and June, whilst the hundreds of cultivars of climbing plants, herbaceous perennials and choice shrubs dominate the midsummer period from June to August.
Because of its sheltered situation and the warming oceanic influence of the Gulf Stream, the climate is favourable to the growth of ornamental plants from many parts of the world.
Even for those who aren't particularly interested in gardens, there are many other scenic views, especially in the surrounding waters where seals frequent the rocks on the southern shore.
The cover photo on Bridget's book The Traditional Irish Wedding shows a wrought iron garden gate on Ilnaculen. I took that photo. To see it, go to the home page. It's part of the opening paragraph Failte.
—Russ
Resource: Copy and Image - Cork Guide

Click for More Culture Corner.
"Cahill's lovely prose breathes life into a 1,600-year old history." The L.A. Times
This is our most popular book. We understand why; the truth is fascinating.
Click here for Saved Civilization.
---