Traditions, folklore, history and more. If it's Irish, it's here. Or will be!
"People will not look forward to posterity who never look backward to their ancestors."
-Edmund Burke
---
Quotes

Library: Books, Movies, Music

Prints & Photos

Poetry

Jokes

---
---
Shops Ireland
---
Bunús na Gaeilge
(Basic Irish)

---
---
Did You Know?
---
Himself/Herself
Write to Us
Readers Write..
Links/Link to Us
---
Advertise with us
---
Awards & Testimonials

Submissions Guide
---

Today
in
Irish
History - March
1st to 7th | 8th to 14th | 15th to 21st | 22nd to 31st

---
March 15
1672 - The first declaration of indulgence suspending penal laws against Catholics and dissenters is issued by Charles II
1764 - Charles O'Conor, antiquary and historian, is born in Belanagare, Co. Roscommon
1773 - Oliver Goldsmith's She Stoops to Conquer is performed at Covent Garden Theatre, London
1774 - Isaac Weld, author, is born in Dublin
1813 - In the British House of Commons, Sir Eyre Coote (the younger), MP for Ballynakill and Maryborough, proposes the abolition of flogging in the army
1852 - Lady Isabella Augusta Gregory (née Persse), playwright, folklorist and co-founder of the Abbey Theatre, is born in Roxborough, Co. Galway
1904 - Birth of George Brent, actor, in Dublin
1878 - Sir Robert McCarrison, medical scientist and honorary physician to King George V from 1928 to 1935 is born in Portadown, Co. Armagh
1976 - The IRA is linked to a bomb that explodes on a London Underground train; the driver of the train, Julius Stephen, is shot dead while chasing a gunman who is believed to have detonated the bomb. Ten other people are injured
1993 - Kitty Linnane, leader of the Kilfenora Céili Band, dies
1998 - The US Ambassador to Ireland, Jean Kennedy Smith, confirms she will leave her post after US Independence Day celebrations in Dublin on July 4
1999 - A prominent Irish civil rights solicitor, Rosemary Nelson, is killed by a Loyalist car bomb in Lurgan, Co. Armagh
1999 - The Minister for Tourism, Sport and Recreation, Jim McDaid, unveils plans to commemorate the Year 2000. Commencing on St. Patrick's Day, "The Party Starts Here," is the official title of a 21-month long series of events, which will link over 300 separate festivals
2000 - The censor lifts a ban on more than two thirds, or 400, of prohibited books following an appeal by the Labour Party. Only 187 books and about 270 magazines and newspapers now remain on the banned list
2001 - John Gilligan is found not guilty of the murder of Veronica Guerin; however, he is sentenced to 28 years in prison on drug-related crimes. The sentence is twice what most people expected and six years more than the previous longest sentence handed down for a drugs offence
2002 - Tesco's supermarket chain in Ireland announces that, unlike its British counterpart, it has no plans to start issuing the morning-after pill to Irish teenagers free of charge.
March 16
1618 - Richard Archdekin, Jesuit, educator and missioner to Ireland, is born in Louvain
1640 - Charles I's second Irish parliament meets
1690 - French king Louis XIV sends troops to Ireland
1789 - Francis Rawdon Chesney, soldier and explorer, is born in Annalong, Co. Down
1815 - William Reeves, Church of Ireland bishop and antiquary, is born in Charleville, Co. Cork
1828 - Patrick Cleburne, American Civil War Confederate General, is born in Cobh, Co. Cork
1839 - John B. Yeats, painter and father of William Butler and Jack B. Yeats, is born in Tullylish, Co. Down
1865 - Irish-born Martin Murphy, one of the greatest pioneers of early California, dies
1955 - Singer Ruby Murray scores five simultaneous hits in the British charts
1959 - RTÉ interviews Ireland's first bangarda, Mary Brown from Roscommon
1960 - The P & O liner Canberra (45,000 tons) is launched in Belfast
1988 - At Milltown Cemetery in west Belfast, a gunman kills three mourners and injures at least 50 people attending a funeral for IRA members Mairead Farrell, Daniel McCann, and Sean Savage shot dead in Gibraltar
1991 - Members of Irish Gay & Lesbian Organization march in NYC parade
1995 - Sinn Féin leader Gerry Adams meets President Bill Clinton for the first time
1998 - In Washington, at the American/Ireland Fund dinner, Taoiseach Bertie Ahern bluntly tells Northern political leaders to display the courage necessary to make far-reaching compromises over the next fortnight to rescue the peace process from the dangers of failure
1998 - Beef exports from Northern Ireland are to resume after a three-year ban stemming from the BSE crisis
2000 - Hundreds of sprigs of shamrock are airlifted from Ireland by the RAF to Irish regiments of the British Army around the world in accordance with a decree issued by Queen Victoria 100 years ago. It is exactly 100 years since the queen decrees that all Irish regiments of the British Army wear a shamrock in their head dress on St Patrick's Day to commemorate the bravery of Irish troops during the Boer War
2000 - Northern Secretary, Peter Mandelson, announces that more troop withdrawals are likely over the coming months

2001 - President Bush, Sinn Fein's President Gerry Adams, center, and Irish Prime Minister Bertie Ahern, right, watch Irish dancers perform at the White House in Washington. Ahern meets with Bush and discusses the 1998 power-sharing deal that has brought a tenuous peace in Northern Ireland. Standing behind Bush is National Security Advisor Condoleezza Rice, left.
Photo Credit: AP
2001 - Kilmainham residents protest against a planned office development in the heart of an historic part of Dublin


2001 - Irish Defense Minister Michael Smith, center, waves the Irish flag as he celebrates St. Patrick's day with other Irish peacekeepers at Camp Shamrock near the southern village of Tibnine
Photo Credit: AP
2003 - More than 1,500 performers create a Mardi-Gras atmosphere on the streets of Limerick for the 33rd International Marching Band Parade and Competition.
March 17
1777 - Patrick Brontë, originally Brunty; clergyman and father of Charlotte, Emily and Anne, is born in Ballynaskeagh, Co. Down
1800 - Charles James Patrick Mahon, high-ranking soldier in Russia, Turkey, South America and France; duellist; & politician, is born in Ennis, Co. Clare
1794 - Sir Thomas Maclear, astronomer, is born in Newtownstewart, Co. Tyrone
1820 - Patrick Edward Connor, Union General, is born in Co. Kerry
1852 - Patrick Sheehan, 'Canon Sheehan', priest and writer, is born in Mallow, Co. Cork
1853 - The Ossianic Society is founded to preserve and publish manuscripts of the Fionn cycle
1858 - James Stephens founds the Irish Republican Brotherhood in Dublin
1864 - Charlotte Milligan Fox, collector of folk music, is born in Omagh, Co. Tyrone
1877 - Michael O'Hanrahan, author and revolutionary, is born in New Ross, Co. Wexford
1889 - Harry Clarke, artist, known chiefly for stained-glass work, is born in Dublin
1899 - First issue of Gaelic League's An Claidheamh Soluis is published
1903 - St Patrick's Day becomes a bank holiday
1944 - Birth in Northern Ireland of Pat McCauley, rock drummer for Them
1951 -Scott Gorham, hard rock guitarist, is born
1964 - Joe Cooney, Galway hurler, is born near Loughrea
1976 - Birth in Dublin of Boyzone singer Stephen Gately
1997 - President Bill Clinton sharply increases the pressure on Northern political leaders to make concessions following a White House declaration that they will throw away a chance in a lifetime if they fail to settle an agreement by May
1998 - Frankie Curry, a top loyalist dissident, is gunned down by the UVF in revenge for the killing of human rights lawyer Rosemary Nelson


1999 - From Malin Head to Mizen Head, up to a million people turn out for St Patrick's Day parades.
Photo Credit: Maxwells
2001 - For the first time, Queen Elizabeth II sends a special St. Patrick's Day greeting to President Mary McAleese
2001 - Publicans in Westport, Co. Mayo call time on hen and stag parties. Bar owners in Westport, Co Mayo say the revellers are no longer welcome and will not be served in the town's 44 pubs
2001 - Thousands of bargain hunters pack the RDS for the biggest ever Irish International Antiques and Fine Art Fair
2002 - In Dublin, an estimated 500,000 people line the parade route for the pinnacle of the €2.5 million St. Patrick's festival weekend
2003 - Two police officers and a paramedic are injured as sectarian fighting breaks out in flashpoint areas of Belfast
2003 - Snakes, sea monsters, Vikings and samba bands provide the sparkle in St Patrick's Day celebrations around the country while the saint himself supplies the weather - warm and sunny in most areas.
In the liturgical calendar, today is the feast day of St. Patrick, Ireland's patron saint.
March 18
1736 - The Irish House of Commons condemns tithe of agistment on pasturage for dry and barren cattle
1800 - Harriet Smithson, actress and wife of the composer Hector Berlioz, is born in Ennis, Co. Clare
1801 - Ambrose O'Higgins, Viceroy of Peru, dies in Lima
1825 - In accordance with the Unlawful Societies Act, the Grand Orange Lodge advises its members that further meetings would be in violation of the law
1932 - The order outlawing the IRA is allowed to lapse
1949 - Birth in Belfast of Alex "Hurricane" Higgins, snooker player and two time world-champion
1952 - Pat Eddery, jockey, is born in Blackrock, Co. Dublin
1954 - Sr. Cindy Turner DCV is born.
1998 - The funeral of Hugh Coveney, politician and former Lord Mayor of Cork, takes place at St Michael's Church in Blackrock
1998 - Founder and executive director of the Chernobyl Children's Project charity, Adi Roche, is awarded the Frantsysk Skrayna Order by Belarus's envoy to Britain and Ireland, Uladzimir Shchasny. It is the country's highest honour and the first time it has been given to a foreigner
1999 - The funeral of murdered human rights lawyer, Rosemary Nelson, takes place at St. Peter's Church in Lurgan
2000 - The end of a 30 year ban fails to bring huge numbers of people out to see the controversial cult movie, A Clockwork Orange
2000 - Geneva-based financier and professional gambler, JP McManus jumps almost 20 places to 13th in The Sunday Times Irish rich list, with an estimated worth of more than £300 million.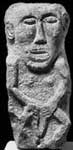 In the old Celtic calendar, today is Sheelah's Day. In ancient Ireland, it was an annual festival to honor the fertility Goddess known as Sheela-na-gig. Naked Sheela-na-gig figures appeared in Irish churches constructed before the 16th century, but most were defaced or destroyed during the prudish Victorian age.
According to some sources, the origins of "drowning the shamrock" have also been traced to this date. In the eighteenth century, William Hone reported on the celebrations surrounding Sheelah, who has been variously identified as the wife, mother, or other relative of St. Patrick - noting that, the people of the day "are not so anxious to determine who 'Sheelah' was, as they are earnest in her celebration. All agree that her immortal memory is to be maintained by potations of whisky." At the end of the day, the faithful would then take their shamrocks and drop them into their respective glasses before downing the contents.
Photo Credit: British Museum
Statue is 11th-13th century AD and from Chloran, Co. Meath, Ireland
March 19
1642 - Charles I's 'Adventurers' Act' offers confiscated Irish land in return for investment in the reconquest
1821 - Birth in Dublin of Sir Richard Francis Burton, adventurer, writer, swordsman, scholar and explorer
1824 - William Allingham, poet and diarist, is born in Ballyshannon, Co. Donegal
1861 - Joseph MacRory, Catholic Primate of all Ireland and cardinal, is born in Ballygawley, Co. Tyrone

1920 - Tomás MacCurtain, Lord Mayor of Cork for Sinn Féin and inventor of the famous "Flying Column, is killed by Black & Tans disguised as policemen. The inquest into his death returns a verdict of wilful murder against the RIC, and indicts Lloyd George and the British government
1921 - Tom Barry and the West Cork Flying Column routs a superior force from the Essex Regiment at Crossbarry
1924 - Death of Charles Villiers Stanford, composer and author
1928 - Birth of actor Patrick McGoohan
1988 - Two British soldiers who drive into a Republican area of Belfast during a funeral procession, are seized and killed
1998 - The country's beef industry takes a further blow following strong indications from the Department of Agriculture that Co. Clare is to be included in the beef export ban to Russia
1998 - The Maze prison crisis deeps after the Loyalist Volunteer Force (LVF) issues a death threat against warders.The terror gang warns it will specifically target prison officers working in H6 unit over allegations of mistreatment
2000 - The Irish and British governments begin an all out effort to build on the positive signal from Ulster Unionist Party leader, David Trimble, and rescue the endangered Northern Ireland peace process
2000 - As many as 250,000 people line the streets of Dublin to watch a spectacular fireworks display which caps off four days of celebration as the grand finale of St Patrick's Festival
2000 - Thirty five bands from the United States, Japan, Northern Ireland and across the country take part in the Limerick International Marching Band Competition, Ireland's biggest band parade
2001 - Former Taoiseach Charles Haughey is in critical condition in a Dublin hospital after collapsing at his home
2001 - Mary Robinson, UN High Commissioner for Human Rights, announces that she is stepping down from her post, saying she thinks she can do more outside the "restraints" of the UN system
Photo Credit: Laurent Gillieron, AP
2003 - Co. Clare takes top honours at the CIE National Awards of Excellence.
In the liturgical calendar, today is the feast of St. Joseph.
March 20
1761 - Robert Simms, a founder of the United Irishmen and proprietor of the Northern Star, is born
1780 - Miles Byrne, United Irishman and officer in Napoleon's Irish Legion, is born in Monaseed, Co. Wexford
1884 - Tomás MacCurtain, revolutionary and Lord Mayor of Cork is born in Ballyknockane, Co. Cork
1914 - After 60 cavalry officers at the Curragh resign their commissions - an incident known as 'the Curragh mutiny' - the War Secretary states that the army will not be used to coerce Ulster into Home Rule


1927 - Birth in Dublin Zoo of Cairbre, the lion used to introduce Metro-Goldwyn-Meyer films
1928 - William Sydney Callaghan, Methodist clergyman, is born in Dublin
1964 - Brendan Behan, writer/poet, dies at 41 in the Meath Hospital from complications caused by diabetes and alcohol
1971 - Brian Faulkner succeeds James Chichester-Clark as Prime Minister of Northern Ireland
1989 - Senior RUC men, Chief Superintendent Harry Breen and Superintendent Bob Buchanan, negotiating cross-border security co-operation in south Armagh, are ambushed and shot dead by the IRA
1993 - Two bombs explode in Warrington, Cheshire. A three-year old child is killed and more than 50 people are injured; another child dies of his injuries later. The IRA admits responsibility
2001 - Thousands of second level students across the country take to the picket lines to protest the nationwide strike by teachers
2003 - Hundreds of anti-war protesters gather outside the Dáil to protest the use of Shannon Airport by the US military.
2006 - Eczema gene identified in study led by Irish doctors. The findings are regarded as hugely significant as the first steps towards finding a cure. The study was led by Dr Alan Irvine, a consultant paediatric dermatologist at Our Lady's Hospital for Sick Children in Crumlin, Dublin, and Prof Irwin McLean, a geneticist at the University of Dundee in Scotland. Dr Irvine is from Enniskillen and Prof McLean is originally from Ballymoney, Co Antrim.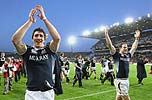 2010 - Triple Crown dream dies. Ireland saw their dream of a fifth Triple Crown in seven years dashed following a woeful performance which saw them slump to a 23-20 defeat to Scotland.
Photo Caption: Kelly Brown and Graeme Morrison of Scotland celebrate victory at the close of the match

March 21
1181 - John Cumin (or Comyn) is elected archbishop of Dublin and consecrated by the pope at Velletri on this date. He is the first Englishman to be appointed to an Irish see
1656 - Death of Bishop James Ussher. The Dublin-born cleric deduced from biblical studies the exact date of the Creation (October 23rd,4004 BCE), and the date of the end of the world: November 4, 1996. The Bishop had a cult following until then
1689 - Derry/Londonderry declares allegiance to William III
1763 - William James McNeven, physician, United Irishman and writer, is born in Aughrim, Co. Galway
1881 - The Peace Preservation Act, controlling possession and importation of arms, is enacted
1886 - Oscar Traynor, revolutionary, Fianna Fáil politician and Minister; football administrator, is born in Dublin
1970 - Dana (Rosemary Brown) wins the Eurovision Song Contest for Ireland with 'All Kinds of Everything'
1998 - Sonia O'Sullivan wins a gold medal in the World Cross-Country championships
2001 - Tests for foot-and-mouth disease are carried out on samples from sheep on a farm in Louth
2001 - Taoiseach Bertie Ahern strongly urges the release of the remaining Government funding to help complete the famine ship Jeanie Johnston
2001 - Hundreds of students gather outside Leinster House to protest the teacher's strike
2003 - The Government insists it is not a participant in the 50-member coalition of countries which the US says is providing support for the war on Iraq. The United States has published a list of 35 countries which make up its "coalition of the willing", but says another 15 members are providing back-up support and do not wish to be named.


2009 - Paul O'Connell and Rory Best celebrate at the final whistle in Cardiff as Ireland beats Wales 17-15 in a dramatic win which gives Ireland their first Six Nations Rugby Grand since the country's one and only triumph in 1948.
Photo Credit: PA


2010 - Pope Benedict apologizes to Ireland's Roman Catholics in historic papal letter read at Masses throughout Ireland. To read the contents of the letter, please click Popes Letter.


Sources:
The Celtic League
This organization publishes the annual Celtic Calendar. To order your own copy, visit: The Celtic League.
Irish Abroad
Somewhat sporadic, but they often highlight an important date in Irish history. To visit, please click: Irish Abroad.
The Wild geese
They update Irish history weekly. To visit their keydates page, please click: The Wild Geese.



We also refer to an assortment of references. Among them are the Books of Days - see right margin on this page.



Wed, Jan 3, 2018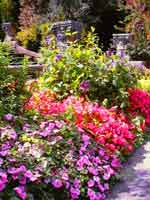 Ilnacullen, Co. Cork - an Island Garden
Located in the sheltered harbour of Glengarriff in Bantry Bay. Ilnacullin, which means island of holly, is a small island known to horticulturists and lovers of trees and shrubs all around the world as an island garden of rare beauty.
The vivid colours of Rhododendrons and Azaleas reach their peak during May and June, whilst the hundreds of cultivars of climbing plants, herbaceous perennials and choice shrubs dominate the midsummer period from June to August.
Because of its sheltered situation and the warming oceanic influence of the Gulf Stream, the climate is favourable to the growth of ornamental plants from many parts of the world.
Even for those who aren't particularly interested in gardens, there are many other scenic views, especially in the surrounding waters where seals frequent the rocks on the southern shore.
The cover photo on Bridget's book The Traditional Irish Wedding shows a wrought iron garden gate on Ilnaculen. I took that photo. To see it, go to the home page. It's part of the opening paragraph Failte.
—Russ
Resource: Copy and Image - Cork Guide

Click for More Culture Corner.
"Cahill's lovely prose breathes life into a 1,600-year old history." The L.A. Times
This is our most popular book. We understand why; the truth is fascinating.
Click here for Saved Civilization.
---