Traditions, folklore, history and more. If it's Irish, it's here. Or will be!
"People will not look forward to posterity who never look backward to their ancestors."
-Edmund Burke
---
Quotes

Library: Books, Movies, Music

Prints & Photos

Poetry

---
---
Shops Ireland
---
Bunús na Gaeilge
(Basic Irish)

---
---
---
Himself/Herself
Write to Us
Readers Write..
Links/Link to Us
---
Advertise with us
---
Awards & Testimonials

Submissions Guide

---


Todays' Irish County News



Yes, there are many news items not included here. We deliberately avoid: politics, death, disaster and other mayhem.


Sunday, March 2, 2014



---

Regional round up from Antrim to Wicklow
All the news that probably won't make the national headlines. We hope you enjoy these bits and bobs from all over the country. You can read just the blurb we have here or, if you'd like to read more details, click on the county name and headline.


Antrim: County honours its sports stars at annual awards
Another year of sporting success in the Antrim area was looked back on at the annual Antrim Sports Awards ceremony, held recently in the Ramble Inn. Organised by Antrim Sports Advisory Association, the awards are the social highlight of Antrim's sporting calendar and recognise the achievement of sportsmen and women within the Borough area.

Armagh: Mall tunnel was never intended for humans
Former Armagh County Museum curator Roger Weatherup has officially quashed an urban myth which has been widely believed in the Armagh district for decades. Legend has it a tunnel underneath the Mall led from the Gaol to the Courthouse. He explained that the tunnel wasn't high enough for human use. It was simply a passage for storage.

Carlow: Visitor numbers soar at Visual and Shaw theatre
Visitor numbers to Visual & GB Shaw Theatre increased by an outstanding 107% in 2013, according to a report given to Carlow Town Council by CEO Ann Mulrooney. Cllr Walter Lacey commented that the facilities are a vital source of employment in Carlow and is a massive help to the local economy.

Cavan: Bawn school scoops prestigious digital media award
St Mogue's College in Bawnboy has been named Digital School of the Year at the prestigious Samsung Digital Media Awards finals. The cream of the Irish Digital Media world, from S.M.E's to Multinational Corporations gathered for the Gala Event held at the Double Tree Hilton on Burlington Road last Friday evening.

Clare: Where have all the UFOs gone?
Clare, and the Burren region in particular, has been a hot bed for UFO sightings over the past decade with a large number of unidentified objects being reported over the county each year.
However, according to figures obtained from the Aerial Phenomena Research Association of Ireland, there was not a single UFO sighting in Clare in 2013. There is as yet no indication as to why the instances of UFO sighting in Clare stopped suddenly in mid-2012.

Cork: New book throws new light on county saints
A History of the Diocese of Cloyne by Dr Paul MacCotter claims that St Finbarr's story is dubious, that Blessed Thaddeus McCarthy was not all he was cracked up to be, and that St Gobnait of Baile Bhúirne was in fact a pagan goddess. It also reveals something of the rivalry between the dioceses of Cloyne and Cork and Ross.

Derry: Surprise guest at Pope John Paul II Awards
he new Bishop of Derry, Most Rev Dr Donal McKeown was a surprise guest at the annual Pope John Paul II Awards ceremony held in Derry's Millennium Forum. Bishop McKeown congratulated almost 500 young people from throughout the Derry diocese who had successfully completed the Award which is dedicated to the memory of the late Pope John Paul II

Donegal: Dúshlán is shortlisted for IFTA award
A reality TV programme based on the Carrowmenagh Evictions of December 1881 has been nominated for an IFTA. Thirteen families were turned out in the tiny Inishowen village in 1881 when they couldn't pay their rent. Dúshlán 1881: Living The Eviction filmed two families - one from America and one from Ranafast - for three days and nights in Ulster American Folk park living as their ancestors would have lived at the time of the evictions.

Down: Pole dancers shimmy their way to Guinness World Record
Hilltown woman El Fegan, founder of Polercise dance studio, helped smash a world record recently. Hundreds of pole dance enthusiasts from across the world including in Rathfriland shimmied their way to break the Guinness World Record for the most people demonstrating pole sports.

Dublin: Delighted Fingal woman scoops€241k in Euromillians draw
She was one number away from winning the jackpot which was almost €60 million, but she couldn't be happier!. The delighted winner, who wished to remain anonymous, said "I'd won €8 on a Scratch Card, so I went to the shop and decided to buy a EuroMillions ticket with my win. I'm so glad I did!" The lucky winner bought her ticket in The Kiosk in Omni Park Shopping Centre in Santry.

Fermanagh: Connie's cake earns her a big TV break
The Alan Titchmarsh Show had a special guest on Monday afternoon for a feature on 'food art' - Enniskillen woman Connie Viney. Known for her 'larger-than-life' cake sculptures and installations, Connie brought her her eight-foot walk-in wedding cake to the show. "The day was incredible", she said. "I have a new found respect for people that work in TV."

Galway: The Oyster Grill Restaurant is 'all shuck up'
Following an extensive refurbishment, the lower ground level of the four-star Hotel Meyrick has been completely transformed to host The Oyster Grill Restaurant. A welcome addition to Galway's eateries, the new restaurant will focus on gourmet dining, assembling the finest seasonal ingredients and preparing dishes with skill and creativity from the newly designed open plan kitchen.

Kerry: Valentia's answer to Peig Sayers
Máire Bean Ui Sheaghdha (nee Cremin) who was known locally as 'Mary Geo', played a valuable role in preserving an account of island customs and traditions. Her death on May 14, 1978 heralded the passing of one of the last remaining true and fluent Irish language speakers who inherited the language from the cradle, or 'on gcliabhán.'

Kildare: St. Conleth's student preview of ohn B Keane play
Sixth year students from St Conleth's Community College travelled to Dublin's Abbey Theatre to watch the drama 'Sive' by John B. Keane which they are studying as a part of their Leaving Certificate comparative study question. The audience, including the students, aughed, gasped and even cried during the brilliant adaptation.

Kilkenny: Music festival right around the corner
The 16th Annual Kilkenny Music Festival kicks off on Tuesday, March 4 for six days until Sunday, March 9. This year's festival will incorporate 88 competitions including choral, vocal, piano, wind, brass, strings and chamber music and provides a special opportunity for music lovers of all ages to support and enjoy live performances at venues throughout the city.

Laois: Ancient skull found in roots of fallen Rathdowney tree
The ancient skull and skeletal remains were discovered after a fallen tree was being removed from the rear of a house at the square, Rathdowney recently. The tree had become uprooted following the recent storm. According to the National Museum of Ireland (NMI), the remains are believed to be linked to a nearby fort.

Leitrim: Significant UK interest in county property
Joe Brady from the REA Carrick-on-Shannon branch told the Leitrim Observer that Leitrim has the highest percentage of UK buyer (of non Irish origin) interest in the country. He said their recent experience shows "more than 50% of rural properties that come on the market via our Carrick office are now being sold to UK based buyers."

Limerick: City Council vote to rename bridge after JFK
A vote has been narrowly passed by councillors in Limerick city to rename the Shannon bridge as the John F Kennedy Bridge in honour of the US president's ties with the city. JFK was also a Freeman of Limerick and visited the city during his 1963 trip to Ireland. He had planned to visit again, until his tragic assassination in November 1963.

Longford: Auld Fellahs bid a fond farewell to PV Fallon's Bar
It was a sad time for both Tom and Pat recently with the closing of PV's Bar on Ballymahon Street in Longford town. It was always a favourite bar for Pat, in particular, as he shared a great passion with its former owner, Pat (PV or Paddy) Fallon, and that passion was the greyhounds. Whatever happens to PV's now is anybody's guess, but it is hard to see it ever rekindling the magic and appeal that belonged to the PV (Paddy) Fallon years.

Louth: Local designer wins Bridal Wear Supplier of the Year award
Popular businesswoman Edel Tuite triumphed after over 31,000 brides and grooms nationwide voted on for their top suppliers and venues in a wide range of categories, which were then judged by a panel of expert industry specialists. 'I am just so thrilled as we've worked hard to get here but we wouldn't have made it without the support of all our brides and grooms,' she said. The awards were announced at a black tie ceremony in Clontarf Castle.

Mayo: Book recalls forgotten Irish mining families
Mayo men and women feature in a new book which tells the extraordinary story of an Irish mining community in England during the 20th century. The Forgotten Irish was written by Sean Carney, the son of a Donegal emigrant, who grew up in Maltby in South Yorkshire. As well as Mayo, the small village attracted hundreds of Irish immigrants from Donegal, Galway and Sligo in search of a better way of life.

Meath: Shamrock Festival launches promo video on YouTube
This year, local group Ceol Tec from Athboy set about the task of taking a well known dance track and remixing it into a trad version. Joining them in the promotional video is Patrick Coyne a dancer from Riverdance, who has a Bodhran dance off with Kane O'Rourke & DJ Ian Booth of Ceol Tec.
ED. NOTE: The video is brilliant & well worth watching:

Monaghan: Excitement building for Clones Rose competition
The competition was launched by the International Rose from Texas, Hayley O'Sullivan and will be held at 8pm on March 8th 2014 in the Creighton Hotel. Each entrant will be sponsored by a local business and Co-ordinator Bridget Flynn is delighted with the interest being shown in the event.

Offaly: Call for votes as Irish Tree of Year entry in Birr falls
The winner of the European Tree of the Year competition is not the biggest, tallest or most beautiful tree, but rather a tree with a story. The story surrounding Ireland's entry in the competition - a Grey Poplar in Birr Castle Demesne - took a twist last week, when the tree was uprooted after particularly stormy weather. It's too late to vote, but we thought you'd like to read about the tree.

Roscommon: Jobs boost for Monksland
The announcement of 40 new jobs at a new pharmaceutical company in Monksland and a €20 million investment at Alkermes has been broadly welcomed as a significant boost for the South Roscommon area. The sale of two former Élan buildings in Athlone to global pharmaceutical company, Alexion, will see the creation of the new jobs and will also pave the way for further investment by Alkermes.

Sligo: End of an era - the last mayor's ball
Guests at the event in the Sligo Park hotel included County Manager Ciaran Hayes, Minister John Perry, Bishop Christy Jones, and local councillors. The lady of the moment, Mayor Marcella McGarry said said: "This will be the last Mayor's Ball under the auspices of Sligo Borough Council and this great honour and privilege has fallen to me..."

Tipperary: Anner Hotel Purchased by three local brothers
The Anner Hotel in Thurles has been rescued from receivership by three local brothers who are pledging to restore it to it's former glory. Michael, PJ and Seamus Maher of Two-Mile-Borris a well known firm in the property and development business, have signed the contract to purchase the property and are now proud owners of the 96 bedroom, conference, business and leisure facility.

Tyrone: Silent film unveils Eglish GAA first
Sports history books will have to be rewritten after a newly discovered silent newsreel from the 1920s revealed the earliest footage of a penalty being taken at a GAA match. The grainy footage, which dates from 1929, shows Malachy Mallon English from Ballymackilduff who was hailed at the time as a sporting prodigy, taking a penalty-kick for Tyrone against Antrim at the old O'Neill Park, Dungannon.

Waterford: Campaign to save Mad Man's Wood
Waterford Council of Trade Union (WCTU) has thrown its weight behind a campaign to save a woodland in Dunmore East which is known colloquially as Mad Man's Wood as a public amenity. The Campaign encourages the public to sign the city and county wide petition calling for "the reinstatement of all damage caused, and the replacement of all trees that were removed."

Westmeath: Call to turn Castle and art gallery green for Paddy's weekend
Cllr Alan Shaw is Shaw is asking the council to write to the Manager of Athlone Art & Tourism requesting that Athlone Castle and the Luan Gallery would be "illuminated green during the St. Patrick's weekend to be part of the international drive to attract tourism and in this case to our town and tourism sites".

Wexford: Kennedys send thanks to Peter
Wexford artist and sculptor Peter Hodnett has received a letter from a member of the Kennedy family thanking him for his exquisite craftsmanship in designing the globe for the Emigrant Flame sculpture in New Ross and for a commemorative table that now sits in pride of place at their home in Washington.

Wicklow: Three months to save old caretaker's house
The Rathnew Village Active Forum has just three months to try save the old caretaker's house in Rathnew Cemetery from demolishment. Officials claim the house should be demolished in the interest of health and safety. But the forum have convinced the burial board to give them time to renovate the building which has been in existence since 1905
ED. NOTE: Be sure to click through and see the photo.



Sun, Mar 2, 2014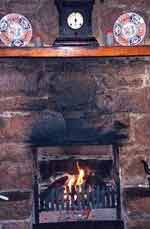 From Bog Land to Turf Fire
Ireland contains more bog land, relatively speaking, than any country in Europe, except Finland. For people in rural areas, turf cut from the bog is still a natural source of heat. Turf cutting begins in spring and then the turf is spread and rickled . Rickled means to pile the turf up in small mounds. By summer, the turf is dry and it's time to bring it home. Everything has to be prepared before the winter comes, or even earlier, because the rain would wet the turf too much. It has to be dry and in the shed before Autumn. Then and only then, can an irish country family look foreward to the cozy warmth of "a turf fire in the cabin."

Resources: The Atlas of the Irish Rural Landscape
Image: Spirited ireland

Click for More Culture Corner.
---
---
Local Time in
---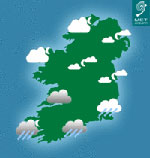 The Weather
Up the minute forecasts provided by Ireland's official source for all weather-related news. Please click Met Eireann.

---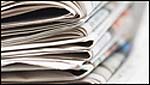 Links to the latest news from Ireland
Here you will find all the stories making headlines throughout the Republic of Ireland and the six counties to the north. This is not intended to be an all-inclusive list. These are the main sources we check every day to bring you those headlines we think you will enjoy reading.

BBC Northern Ireland
Belfast Telegraph
Breaking News Ireland
Irish Emigrant
Irish Examiner
Irish Herald
Irish Independent
Irish Times
RTE
The Irish World
The Journal Ireland

---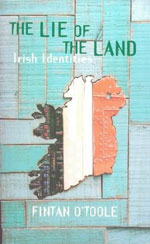 Lie of the Land
by Fintan O'Toole
A regular contributor to the irish Times and The Guardian, O'Toole applies his eagle journalistic eye to the state of ireland at the end of the 20th century. It's a riveting read as O'Toole examines with in-insight, humour and a bit of the blarney, the repercussions of a booming economy which has thrust ireland into the ranks of the richest European countries.
Click here for Lie of the land.

---