Traditions, folklore, history and more. If it's Irish, it's here. Or will be!
"People will not look forward to posterity who never look backward to their ancestors."
-Edmund Burke
---
Quotes

Library: Books, Movies, Music

Prints & Photos

Poetry

---
---
Shops Ireland
---
Bunús na Gaeilge
(Basic Irish)

---
---
---
Himself/Herself
Write to Us
Readers Write..
Links/Link to Us
---
Advertise with us
---
Awards & Testimonials

Submissions Guide

---

Todays' Irish County News



Yes, there are many news items not included here. We deliberately avoid: politics, death, disaster and other mayhem.


Monday, May 6, 2013



---

Regional round up from Antrim to Wicklow
All the news that probably won't make the national headlines. We hope you enjoy these bits and bobs from all over the country. You can read just the blurb we have here or, if you'd like to read more details, click on the county name and headline.


Antrim: Local man to reach new heights for Marie Curie
Antrim man Mark Weatherill is preparing to trek Mount Kilimanjaro in aid of Marie Curie. The local driving instructor is hoping to raise at least £12,000 collectively with his two friends Julie and Jenny McIlveen, a pre-school assistant at Crumlin Integrated Primary.

Armagh: County hosting 'Tour of Ulster'
Ahead of the Giro d'Italia, which will begin in Belfast in May 2014, the Donnelly Group will be providing the Italian flair in the form of Fiat sponsorship to the Tour of Ulster this weekend. The Tour of Ulster is one of the premier stage races in the Irish Cycling calendar, with a top field of riders due to take part.

Carlow: Graigue on film in major tourism plan
A film crew arrived in the Barrowside town last weekend to begin filming a promotional video showcasing the town and one of its greatest natural assets – the River Barrow. The video, which will highlight the town of Graiguenamanagh and the nearby picturesque area of St. Mullins, will feature a voiceover from Broadcaster Derek Davis of RTE fame.

Cavan: Cavan Town scoops Europe award
The town has won the Council of Europe's 'diploma of honour', the highest award given to local and regional authorities for their active promotion of European unity and its ideals. The honour is bestowed on towns who have involved themselves in events which promote European unity such as twinnings and exchange visits and only a small number, up to 30 awards European wide, are granted each year.

Clare: Grave situation looming for PJ
A request for a 90-year-old West Clare man to repaint his family vault has been condemned as a case of "bureaucracy gone mad." Clare County Council has given PJ Curtin, Craggaknock, Mullagh, three weeks to repaint his family vault in a nearby burial ground or else pay for any costs incurred by the council in doing so. However, Mr Curtin hasn't any intention of repainting this vault.

Cork: Sean nos singer recognized at Dublin event
Sean nós singer, Máire Ní Chéilleachair received yet another award. Sean Nós Cois Life paid tribute to Máire's passion and commitment to sean-nós singing with a celebratory night in Dublin. Pobal Mhúscraí are delighted that this prestigious recognition has been given to Máire, who is so proud of her Cill na Martra background.

Derry: Finishing line in sight for 'Marathon Man' Hugh
Hugh McLaughlin has become a familiar sight in Limavady, and is known now as the 'The Marathon Man'.Passing motorists have been tooting their horns for weeks at the 37-year-old actor, and shouting words of support as he completes marathon after marathon in the town square.

Donegal: County man designs Dublin tourism guide
Shaun Bradley is one of 16 designers behind a unique Dublin tour guide designed by people with Down syndrome for people with Down Syndrome. It has been designed to help young people with Down Syndrome to easily navigate their way through the streets of the capital.

Down: Couple deliver last 'pinta' after 35 years of early starts
Rathfriland milkman Raymond Olene and his wife Megaw have decided to take a well-deserved break after working six days a week for almost 2,000 weeks. The husband-and-wife team are so dedicated to their daily round that they've had just one week's holiday since taking on the business in the 1970s.

Dublin: Helen becomes chief of the Irish Girl Guides
A Fingal teacher has taken on the role of Chief Commissioner of the Irish Girl Guides (IGG). Helen Concannon, who has been a leader in her local Guide unit of River Valley, Swords, since she moved to the area 12 years ago, was officially appointed at IGG's Council Meeting, which took place in Ballsbridge.

Fermanagh: Lady Anthony celebrates 60th birthday with charity bike ride
Fermanagh cyclist Lady Anthony Hamilton admits her forthcoming 400 miles' charity cycle from Paris to London may be a "strange way" to celebrate her 60th birthday. But then, the active figure is happy and willing to go the extra miles for her chosen cause, Help for Heroes.

Galway: An Tóstal Salthill Festival celebrates sixty years
Originally conceived in 1953 by Bord Fáilte, An Tóstal is a major national festival to celebrate Irish customs and traditions making it the original "Gathering". After a wait of more than 57 years An Tóstal made a welcome return to Salthill in 2011. Since then the festival has been growing yearly and has established itself as one of the most popular events on Galway's summer calendar.

Kerry: Coursing club raises €100k in just a week
If ever you doubted the incredible influence of people power then look no further than Glin, where a staggering €100,000 was raised in just over a week to help buy a new field for the local coursing club. The club is relishing the thought of finally owning its own grounds for the first time in its 110-year history.

Kildare: Mullaghmast man attends his 84th Punchestown Festival
Ninety one-year-old Bill Martin who has been attending Punchestown races for the past 84 years, assisted President Michael D Higgins to formally open the racing festival, last week. Bill was said to be surprised and delighted when he was introduced to President Higgins prior to the opening of the racing festival.

Kilkenny: Miracle twins make edical history
Amy and Katies Jones-Elliott from Glenmore in South Kilkenny were born 87 days apart. Their mother Maria went into labour four months early and gave birth n June 1 to Amy. Maria remained at Waterford Regional Hospital and almost three months later gave birth to Katie.

Laois: Audio guide history of the Rock of Dunamaise launched
The 25-minute guide for the Laois landmark is free-of-charge and was devised in partnership between Laois Co Council and Abarta Audio Guides.The guide details the rich history of the Rock of Dunamase, from being mapped by Greek philosopher Ptolemy in the second century, to enduring Viking raids.

Leitrim: Australian doctor takes part in Famine Attic Experience
Dr Neisha Wratten made the trip to Carrick-on-Shannon in honour of her Great Great Grandmother, Bridget Cannon, who was an inmate in the workhouse during the Great Famine and who was subsequently shipped to Australia under the Earl Grey Scheme when she was only 16 years old.

Limerick: Christian Brothers school to close after 122 years
Generations of young men have been taught in St Fintan's CBS, Doon which was founded in 1891. Now, the closing ceremony of the Monastery, as it is known by many, takes place on Sunday, May 12. Principal Eddie Bourke said "The day will celebrate the proud contribution of the Christian Brothers. It is a community day of celebration."

Longford: Green light for second stage of St Mel's rebuild
Approval clears the way for work to proceed on renovating the interior which includes the fitting of windows and relocation of the tabernacle, bishop's chair, alter and baptismal font to the central aisle as wellas a new organ and a tiered choir stall. Also covered by the application is the reconstruction of four confessional areas located in the alcoves along the east and west aisles of the building, and an elevator which will provide access to all floors.

Louth: A Viking fortress discovered at Annagassan
The extensive site was uncovered following targeted research excavation. Finds of Viking ship rivets and cut-up Viking silver and looted Irish metalwork also appears to be amongst the excavated material.

Mayo: Navy's flagship vessel to feature in 1798 reenactment
The Irish Navy's flagship vessel, the LÉ Eithne, will be in Killala Bay next August to take part in the 'In Humbert's Footsteps' festival, one of he most elaborate and ambitious Gathering festivals to take place in Mayo this year.

Meath: Eureka Kells to get new school building
The long awaited new school building for Eureka Secondary School in Kells is set to become a reality. Funding for the school was announced as part of the Government's stimulus package and the new facility is expected to be completed in 2016.

Monaghan: New exploration of Black Pig's Dyke proposed
The exploration of this important archaeological earthwork which is believed to date to around 100 BC is one of a series of 31 initiatives to be undertaken as part of the implementation of the 2012-2017 Co Monaghan Heritage Plan, which was formally launched by Co Mayor Hugh McElvaney recently.

Offaly: Plans afoot to break the coin mosaic world record
Organisers are hoping to get perhaps €6,000 closer to the community fundraising target of €200,000 that will make the Tullamore Community Arts Centre a reality, while at the same time bursting past a world record with a 30 metres square mosaic created by local school children.

Roscommon: Hezeldene, Drum man Ireland's top earning boss
Owen Killian, chief executive of international food group Aryzta earned €15.5m in pay and bonus share deals in 2012. Mr Killian, was rewarded for having completely transformed Aryzta from the Irish-focused IAWS croissant and agri-business firm into a €4bn global power.

Sligo: School teacher named county's new rose
Olwyn Parslow was up against against six other competitors at the gala event in The Clarion hotel. A member of Sligo Musical Society, Olwyn expertly sang 'All That Jazz' from 'Chicago' . It's now on to Portlaoise for Olwyn; the regional finals begin on May 30th.

Tipperary: Sarah wins national charity award
Local animal charity employee, Sarah Connolly of Paws Animal Rescue has won Animal Charity Employee of the Year in the brand new Petplan and Association of Dogs and Cats Homes (ADCH) Animal Charity Awards. Sarah has worked at Paws Animal Rescue for 16 years, having joined the organisation when she was just 13 years old.

Tyrone: 'Frock Around the Clock' returns to Cookstown!
Ireland's longest running vintage fair, 'Frock around the Clock', will be returning to Cookstown's historic Lissan House for the second time on Sunday 19th May with another extravaganza of vintage treasures for sale and a big helping of timeless glamour, nostalgia and fun for all the family.

Waterford: Patrick wins Pay Your Bills for a Year competition
Patrick Brady, a customer of Spar in Barrack Street in Waterford is to get a one year's respite from paying his household bills after being announced as Spar Ireland's "Pay your Bills for a Year" competition. Owner of Spar Barrack Street, Gerry Grey said "We are delighted to see one of our customers win this fantastic prize..."

Westmeath: Kinnegad pupil crowned county spelling bee champ
Eason, in association with RTÉ 2FM's Tubridy, announced St Etchen's pupil Aisling Kelly from Kinnegad as the winner of the Westmeath County Bee heat. Aisling will now take part in the Provincial Spelling Bee competition before the overall final in June.

Wexford: 100 years since one of the largest salmon was landed
This year marks the 100th anniversary of what is believed to be one of the largest salmons ever caught in the River Barrow. The fish, which was caught by the Murphy's of MacMurrough on the outskirts of New Ross in February 1913 under Woodville House near the Ferrybridge, weighed in at a hefty 54.5 pounds.

Wicklow: Blessing of the Graves at St. Kevin's in Glendalough
The Blessing of the Graves will take place in Glendalough Cemetery on Saturday 11 May, 2013 at 8 p.m. following 7 p.m. Mass weather permitting. If if the weather does not cooperate, the ceremony will then be held in St. Kevin's Church.



Mon, May 6, 2013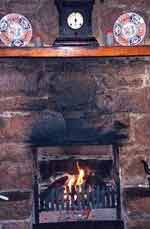 From Bog Land to Turf Fire
Ireland contains more bog land, relatively speaking, than any country in Europe, except Finland. For people in rural areas, turf cut from the bog is still a natural source of heat. Turf cutting begins in spring and then the turf is spread and rickled . Rickled means to pile the turf up in small mounds. By summer, the turf is dry and it's time to bring it home. Everything has to be prepared before the winter comes, or even earlier, because the rain would wet the turf too much. It has to be dry and in the shed before Autumn. Then and only then, can an irish country family look foreward to the cozy warmth of "a turf fire in the cabin."

Resources: The Atlas of the Irish Rural Landscape
Image: Spirited ireland

Click for More Culture Corner.
---
---
Local Time in
---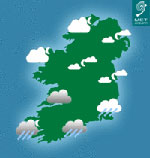 The Weather
Up the minute forecasts provided by Ireland's official source for all weather-related news. Please click Met Eireann.

---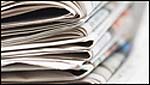 Links to the latest news from Ireland
Here you will find all the stories making headlines throughout the Republic of Ireland and the six counties to the north. This is not intended to be an all-inclusive list. These are the main sources we check every day to bring you those headlines we think you will enjoy reading.

BBC Northern Ireland
Belfast Telegraph
Breaking News Ireland
Irish Emigrant
Irish Examiner
Irish Herald
Irish Independent
Irish Times
RTE
The Irish World
The Journal Ireland

---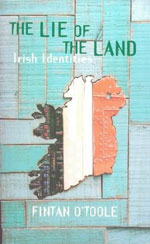 Lie of the Land
by Fintan O'Toole
A regular contributor to the irish Times and The Guardian, O'Toole applies his eagle journalistic eye to the state of ireland at the end of the 20th century. It's a riveting read as O'Toole examines with in-insight, humour and a bit of the blarney, the repercussions of a booming economy which has thrust ireland into the ranks of the richest European countries.
Click here for Lie of the land.

---